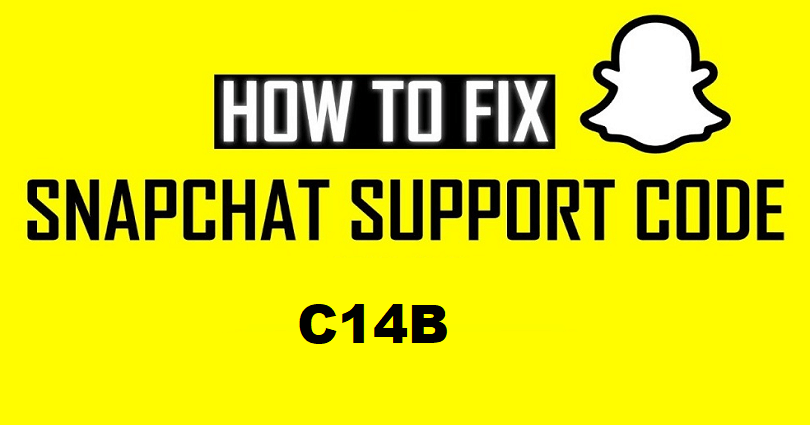 When you try to sign in to Snapchat, you might be getting a Support Code C14B error.
The error message will be, "Please check your connection and try again".
Snapchat is a photo and video app that allows you to share your memories with your dear ones.
They are regarded as "Snaps", which include photos or videos that are available for 24 hours.
After 24 hours, the system will remove the photo or video automatically.
The app is replete with different filters called Lenses that and the developer of them is Snapchat community.
In addition, you can also perform chat, video chat and expose yourself with Bitmojis and Friendmojis.
There is another feature available on the app that is, "Snap Map" which helps you to share your location with your friends.
Since Snapchat's launch, the app had faced different bugs and glitches like log-in errors.
In this article, I will tell you how to fix Snapchat Support Code C14B when you can't log in to your account.
What is Support Code C14B on Snapchat?
Support code C14B on Snapchat means that your internet connection is not active or its speed is not very fast.
Otherwise, you are making too many login attempts or it is a result of a bug/glitch.
The error can also be caused by a third-party app or plugin.
To check the outage of Snapchat, go to downdetector.com/status/snapchat.
If there's a spike in the graph, it indicates the outage of Snapchat and the only way is to wait for the servers to fully functional again.
How to fix Snapchat Support Code C14B
To fix Snapchat Support Code C14B, you have to try to unlock your account on Snapchat.
Before you begin, it is ideal to unroot your Android device and uninstall third-party apps.
If you have a slow or inactive internet, you can switch to another connection that is fast.
If the error still persists, the last resort is to contact Snapchat support to seek help.
Method 1: Unlock your Snapchat account
Go to this URL: https://accounts.snapchat.com/accounts/unlock.
Sign in to your Snapchat account.
To unlock your account, you need to hit the "Unlock" button.
Force close the Snapchat app and reopen it and try logging in again.
Source link: https://support.snapchat.com/en-US/article/locked.
Method 2: Remove third-party apps and unroot your Android device
Remove third-party apps by uninstalling them or plugins that are associated with Snapchat.
If your android phone is rooted, unroot it.
Uninstall and reinstall the Snapchat app (this process will remove Snapchat's cache and the latest version of the app will be installed).
Source: https://support.snapchat.com/en-US/a/account-questions.
Method 3: Stop using VPN and switch your network
Stop using VPN if you're connected to one.
If you're not using a VPN, try using it.
If you're connected to a Wi-Fi network, switch your internet from Wi-Fi to mobile data.
If you're connected to mobile data, switch to a Wi-Fi network for the internet.
Source: https://support.snapchat.com/en-US/a/account-questions.
Note: After moving to mobile data/Wi-Fi or stop using your VPN, force exit Snapchat app, relaunch it, and try to sign in to your account.
Method 4: Contact Snapchat support
Go to this link https://support.snapchat.com/en-US/i-need-help.
I can't access my account > I see an error message when I log in.
Choose "Yes" followed by "Need help with something else?".
Fill up the form completely and submit it.
Wait for a few days to get a response from Snapchat via email.
You can use this description as an example: "Hi Snapchat support, I'm facing a support code C14B error when I try to log in to my account. I want your assistance to access my account".
Note: You have to provide the email address that is associated with your Snapchat account. Another way to contact them is to go to Snapchat Support on Twitter (@snapchatsupport) by tagging them or sending them a direct message.
What's Next
How to Fix Snapchat Support Code C04A
How to Fix Snapchat Support Code C14A
How to Fix Snapchat Support Code SS09
Arsalan Rauf is an entrepreneur, freelancer, creative writer, and also a fountainhead of Green Hat Expert. Additionally, he is also an eminent researcher of Blogging, SEO, Internet Marketing, Social Media, premium accounts, codes, links, tips and tricks, etc.