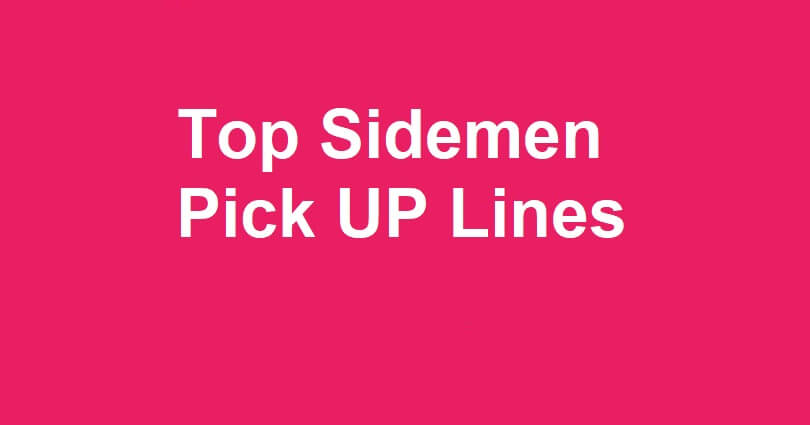 The Sidemen is a renowned group of British YouTubers who are famous in the digital world.
They have Behzinga, KSI, Miniminter, Zerkaa, TBJZL, Vikkstar123, and W2S.
Due to their entertaining content, gaming collaborations, hilarious challenges, they are prominent.
They have used their wit, pranks and diverse videos to attract millions of subscribers.
The success of sideman is beyond YouTube, with its merchandise, collaborations, and with a charity football match.
The most popular videos include "Tinder in real life" where they invite different girls to say pickup lines to.
This post has the list of the top 20 funniest, dirty, and best Sidemen pickup lines from Tinder by Josh, Simon, KSI, and other members.
Sidemen Pick Up Lines
Here are the best 20 sidemen pickup lines:
My love for you is larger than my forehead.
Our future could be as bright as my jacket, it's reflective.
If looks could kill, you'd be harmless.
Will you be my Tinderella?
I'd suck your dad's d*ck just to get a taste of what you're made of.
What do your underpants and Ket*mine have in common? I like to sniff them both.
My cat died, can I play with your p*ssy instead?
Your bone structure is giving my bone structure.
A B C D E F G R U D T F with me?
Do you like to draw? Because I like to put in the D raw.
I'm 6 foot and 3 inches. That's 2 different measurements.
I was recently declared the fastest entertainer in the world, which means I'm used to coming second.
I have a minor drug problem.
My girlfriend said she's open to letting someone join in.
Can I have your Instagram? Because my parents always told me I should follow my dreams.
I didn't get many GCSEs, but you can have my D.
I don't mean to be James Blunt, but you're beautiful.
Are you from China? Because I'm China get in your pants.
I'm a thief, I'm here to take your virginity.
I'm known as the dad of the group, but I can be your daddy.
What's Next
Best, Cute, and Aesthetic Carrd Templates
Best Wallpaper Engine Wallpapers
Good, Cool, and Aesthetic Spotify Playlist Names
Arsalan Rauf is an entrepreneur, freelancer, creative writer, and also a fountainhead of Green Hat Expert. Additionally, he is also an eminent researcher of Blogging, SEO, Internet Marketing, Social Media, premium accounts, codes, links, tips and tricks, etc.