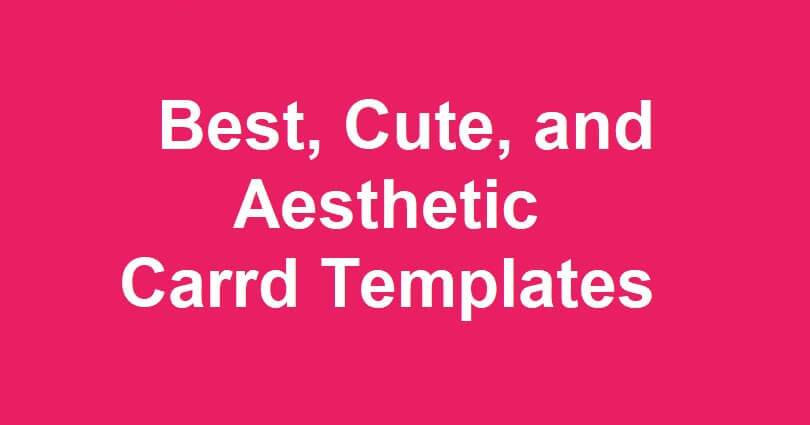 Carrd is a platform that helps the users they can build a one-page website for different purposes such as personal portfolios.
It gives a simple and responsive design to make sure that sites look great on every device.
Users can create their own designs or use the existing templates.
Carrd comes with a free plan that can help you to build up to three sites and access all core features.
You need to upgrade to Carrd Pro in order to get additional features such as custom domains, more sites, forms, and widgets.
You can also use a free 7-day trial with the help of PayPal or major credit/debit cards.
This post has 5+ best, cute, and aesthetic Carrd templates you can download for free (k-pop, anime, and artists).
A new free aesthetic cafe and strawberry-themed menu Carrd template (without Carrd Pro), it is by @strxwbwerry on Tumblr.
You will be able to access it but if it does not work, you can DM the creator.
In case, you are looking for a custom Carrd, you can message the creator too.
If it is not working, it shows that the creator's subscription has expired.
2. Instagram-themed template
A minimalist Instagram-inspired Carrd template to display your portfolio of work.
The template contains links and buttons on it which are fully functional.
You can link your social media profiles by using the clickable social media icons available at the bottom of the template.
To create a personal portfolio or showcase your artwork, you can use this template.
3. My Melody
It is inspired by My Melody and it is a cute Carrd template.
It is known as the best friend of Hello Kitty and a white rabbit from Japanese characters company that is, Sanrio.
My melody is from Fruta.
When you use it, do not remove the credits.
4. Cat Heaven
A simple static Carrd and its theme is based on cats—the title card cat and three small cat-heads are links.
It is usable for a personal or single use (just get rid of the "CATNIP" section).
All the drawings are associated with the template hidden behind a section (free or pay what you need).
The images it contains are drawn by hands by @crowdits on Tumblr, except for the"tbhk" images.
5. Mac Finder
A cool and black template and the inspiration are taken from the Finder on the Mac.
The personal or profile page is free of cost for all users.
The social media icons and links are clickable and available on the sidebar.
You can download it without any cost as this template is without any requirements.
6. Kpop Carrd template
A Kpop Carrd template contains a "Likes" and a "Dislikes" section.
It also uses three links which allow you to link to different websites.
The theme can be used free of cost and without any requirements.
In the image section, you can add a picture of yourself.
What's Next
Best Wallpaper Engine Wallpapers
Good, Cool, and Aesthetic Spotify Playlist Names
Cool, Aesthetic, and Good Twitter Usernames
Arsalan Rauf is an entrepreneur, freelancer, creative writer, and also a fountainhead of Green Hat Expert. Additionally, he is also an eminent researcher of Blogging, SEO, Internet Marketing, Social Media, premium accounts, codes, links, tips and tricks, etc.