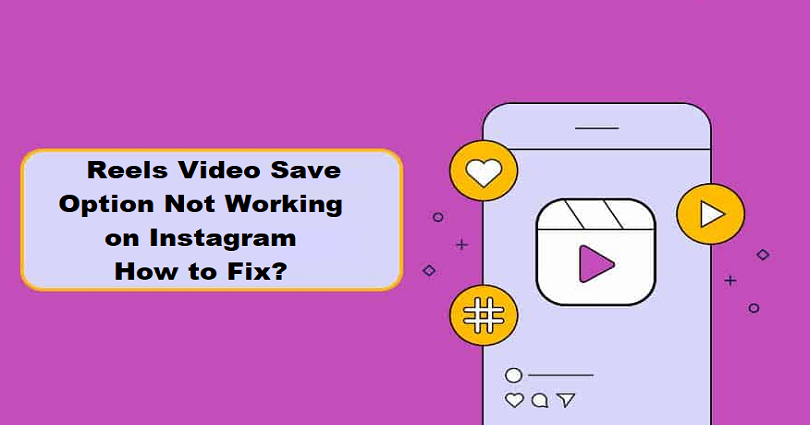 Is the Reels video save option not showing on Instagram and are you looking for a solution to fix it?
You will see the option when you try to add the Reel to your story.
A "three dots" icon will be there, and when you choose it, it must show a "Save" option.
However, a lot of users reported that the "three dots" icon is not showing or missing.
The icon available is now changed by a "draw" option.
In this post, I will tell you why is the Instagram Reels video save option not showing, not working, or missing, and how to fix it.
Why can't I save Instagram Reels?
You can't save Instagram Reels due to a bug on the app.
Some accounts are displaying the "Save" option while other accounts are not.
After testing it personally, I have seen that it's only working on one of my accounts.
The rest of the accounts on IG are unable to use the feature.
A lot of IG users are reporting about the missing Reels save option.
Here are some examples:
"Instagram has the audacity to try to be like TikTok but it's too busy isolating half their user base and they can't even include an option to save Reels".
"You have some bugs with Reels. There is no option to save them anymore. Also, my account has been de-monetized for a while now & I've done everything you've asked but I can't get it reviewed. I realize that this is a shot in the dark but is anybody out there? Can you help?".
"Instagram is a funny app because all the content is Twitter content, but they purposely don't let you save Reels so you can't repost them anywhere else".
How to fix Reels video save option not showing on Instagram
To fix Reels video save option not showing on Instagram, you need to use an older version of IG or use an Instagram Reels downloader.
Apart from that, you can also create new account, or switch accounts or update the app to its newest version.
To record the video, you can use the screen of your phone and crop it after that.
Solution 1: Use an Instagram Reels downloader
Go to Instagram and copy the URL of the Reel (Watch the Reel > three dots > Link).
Go to an Instagram Reels downloader such as https://sssinstagram.com/reels-downloader.
You need to paste the Reel's URL into the text box and select "Download".
Select "Download .mp4".
Select "Download" and view your downloads.
After completing the downloading, tap on the Reel.
Select the "Save" icon accompanied by "Save Video".
It is an ideal way to save Instagram Reels without the save option.
Solution 2: Download an older version of Instagram
You can copy this link and paste it into your browser: https://instagram.en.uptodown.com/android/versions.
After opening it, download an older version of Instagram.
After installation, open the older version of IG and check if the save option is there (if not, go to that page again and download an even older version of the app).
Note: This fix is only for Android users. If you're an iOS user, you cannot use it.
Solution 3: Switch accounts
If you are using more than one Instagram account, you can try using other accounts by switching them and see if you have the option to save Reels.
Your other IG accounts might contain the option to save Reels.
Lastly, a new Instagram account can also be created if you only have one account.
If all of the above fixes fail, you need to wait for Instagram to fix the save option glitch for Reels.
Having said that, the aim of Instagram is to mitigate cross-posting of Reels, so they might have blocked the save option for some users intentionally.
It is another reason some accounts still contain the option to save Reels while others don't.
There is no doubt in saying that platforms like TikTok is beating Instagram in every angle which allows Meta to take this action.
What's Next
How to Fix "Instagram keeps stopping"
How to Fix "Allow Instagram to access your camera and microphone"
Arsalan Rauf is an entrepreneur, freelancer, creative writer, and also a fountainhead of Green Hat Expert. Additionally, he is also an eminent researcher of Blogging, SEO, Internet Marketing, Social Media, premium accounts, codes, links, tips and tricks, etc.