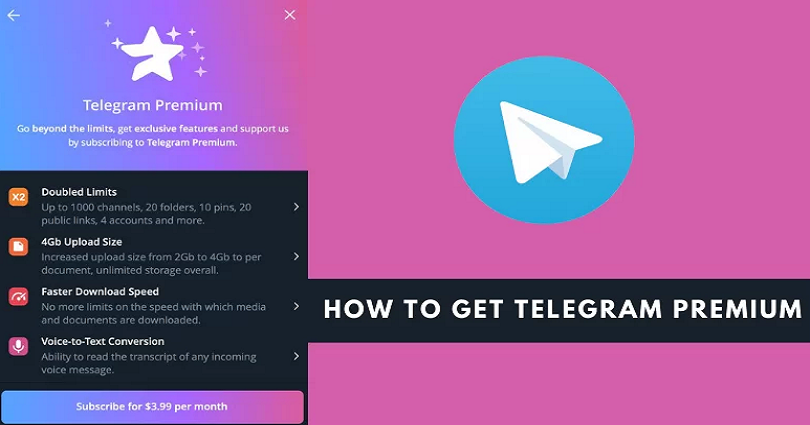 Telegram is one of the most downloaded apps in the world that has more than 700 million monthly active users.
They have completed this milestone without spending a penny on advertising.
As Telegram is growing day by day, therefore, they are launching Telegram Premium.
It will enable you to support the app's development with incentives.
If you subscribe to Telegram Premium, you will get more features and keep the app free on the App Store and Google Play Store.
In this post, I will tell you how to get Telegram Premium on iPhone or Android and what is it about.
What is Telegram Premium?
Telegram Premium offers you access to multiple features such as doubled limits, higher file uploads, faster downloads, and so on.
Additionally, you can use still use the existing features for free.
Here is a message from Telegram, "Premium subscribers will help improve and develop the app for decades to come, while Telegram will remain free, independent, and uphold its users-first values, redefining how a tech company should operate".
Telegram Premium costs between $4 to $8 keeping in view your location.
For instance, if you're living in Singapore, it will cost you about $7.48 per month.
If you are not a premium user, you can also use the premium benefits.
You can download an extra-large document if a premium user sends you.
In addition, you can also see stickers sent by premium users and increased counters on premium reactions.
How to get Telegram Premium
Here's a step by step guide on how to get Telegram Premium:
Firstly, update Telegram to the latest version.
Tap on "Settings".
Now, tap on "Telegram Premium".
Subscribe to Telegram Premium and access it.
Just remember that Telegram Premium does not have a free trial.
After subscribing to it, you will be automatically charged every month until you cancel it.
You can cancel it on iOS by going to Settings > Apple ID > Subscriptions > Telegram > Cancel.
To cancel it on an Android device, go to the Google Play Store > Profile Icon > Payments & subscriptions > Subscriptions > Telegram > Cancel subscription.
Telegram Premium is a paid option because the features come with additional expenses for Telegram.
When you subscribe to it, it will help Telegram to cover its expenses and enable the app to stay free for everyone.
If you've already subscribed to Telegram Premium but you don't have it, you need to tap on "Restore Purchases" available at the bottom of the screen.
What's Next
How to See Who Rewatched Your Story on Snapchat Plus
List of Snapchat Plus Features
Why is Snapchat Plus Not Showing?
Arsalan Rauf is an entrepreneur, freelancer, creative writer, and also a fountainhead of Green Hat Expert. Additionally, he is also an eminent researcher of Blogging, SEO, Internet Marketing, Social Media, premium accounts, codes, links, tips and tricks, etc.