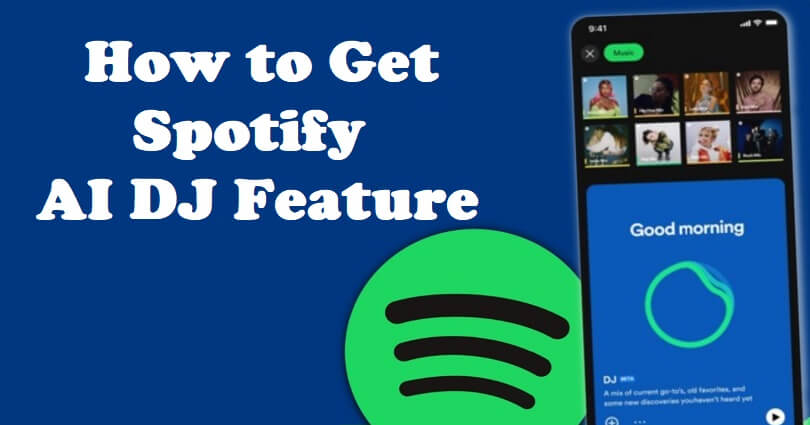 Spotify aim at personal preferences when it comes to music to give you the music of your choice.
Therefore, they have introduced playlists such as "Discover Weekly" and the annual Wrapped campaign.
Now, they are using the AI in order to connect with your favorite artists.
You will be able to listen to a personalized music lineup with commentary with DJ and the voice will also be realistic.
The songs will be sent as per your preference and listening history.
You need to give your feedback to DJ in order to get a better lineup from it.
In this article, I will tell you how to get Spotify AI DJ, what is it, and how to access or use it in your country (e.g., the US, Canada).
What is Spotify AI DJ?
The Spotify AI DJ, or DJ, is a personalized lineup of songs along with realistic commentary that is organized for you.
The DJ will be able to learn about your music taste keeping in view your playlists and listening history.
This artificial intelligence uses personalization tech, generative AI, a dynamic AI voice platform of Spotify,
Spotify's personalization technology will produce a lineup of music keeping in view your taste.
Generative AI has OpenAI's technology that is focused on music editors of Spotify.
The DJ will commentate using a realistic voice with the help of a voice model and Sonantic acquisition.
Your feedback on your likes and dislikes will help DJ to improve it.
How to Get Spotify AI DJ
To get Spotify AI DJ, you have to get a subscription to Spotify Premium.
After subscribing to Spotify premium, visit the home page of the application.
In the end, select the "Music" tab and hit the play button from the DJ card.
As a result, DJ will play a lineup of music that is selected for you along with commentary.
If you dislike the song, you need to tap on the DJ button to go to a new genre/artist/mood.
Here's a step by step guide on how to use the Spotify AI DJ:
Get Spotify Premium subscription @ $9.99 per month.
Visit the home page of Spotify.
From the top, select the "Music" tab.
Select "Play" on the DJ card.
Note: At the time of writing this article, the Spotify AI DJ is only available in the US and Canada—Spotify premium is also necessary to access the feature (source: Spotify's Newsroom).
Spotify Premium users who are not in the US and Canada will not be able to use DJ.
The DJ will be rolled out soon around the globe by Spotify.
The ETA is not given yet, so if you are not in the United States or Canada, the feature will be available in your country soon.
You can only wait for it.
What's Next
How to Share Spotify Wrapped 2022 on Instagram Story
Good, Cool, and Aesthetic Spotify Playlist Names
Arsalan Rauf is an entrepreneur, freelancer, creative writer, and also a fountainhead of Green Hat Expert. Additionally, he is also an eminent researcher of Blogging, SEO, Internet Marketing, Social Media, premium accounts, codes, links, tips and tricks, etc.