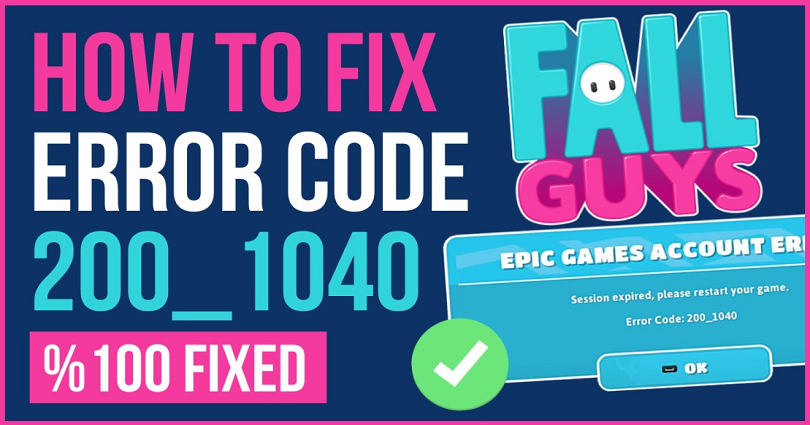 Are you getting a Fall Guys Error Code: 200_1040 and do you want to fix it?
The last part of the error message is: "Session expired, please restart your game".
To fix it, you can either try to log in again after logging out from Epic Games or verifying Fall Guys' game files.
In addition, you can also flush your DNS and reboot your PC.
But you get started, you should check if Fall Guys is down on DownDetector.
Fall Guys recently made the game free to play, that is the reason that you might face connectivity problems due to overcrowded servers.
In this case, you have to be patient and wait until the servers are less crowded before you try playing the game.
Here are 4 ways to fix "Error Code: 200_1040":
1: Log out of Epic Games and log in
Firstly, open the Epic Games launcher.
Click on your profile icon.
Now, sign out of your account.
Log back into your account on Epic.
2: Verify Fall Guys' game files
Firstly, open the Epic Games Launcher.
Click on "Library".
Now, search for "Fall Guys".
Click on the three dots.
Click on "Verify" to verify the files.
3: Flush your DNS
Use the window search and search for "cmd".
Enter ipconfig/flushdns > ipconfig/registerdns > ipconfig/release.
Enter ipconfig/renew > netsh winsock reset.
Reboot your computer.
4: Wait it out
Fall Guys recently made the game free to play that is why the servers are overcrowded.
Consequently, there is an increase in players trying out the game.
The Fall Guys servers will be overloaded when there are lot of players are trying to log in.
As a result, you will get connectivity issues like the "Session expired" or "200_1040" error.
You may not be able to connect to the game due to the overwhelming number of players even if you have a good internet connection.
The best way is to wait for a few hours and try playing the game again.
What's Next
How to Fix Fall Guys Error Code 200_001
How to Fix "Failed to login, please check your connection" in Fall Guys
How to Fix Can't Invite Friends in Fall Guys
Arsalan Rauf is an entrepreneur, freelancer, creative writer, and also a fountainhead of Green Hat Expert. Additionally, he is also an eminent researcher of Blogging, SEO, Internet Marketing, Social Media, premium accounts, codes, links, tips and tricks, etc.