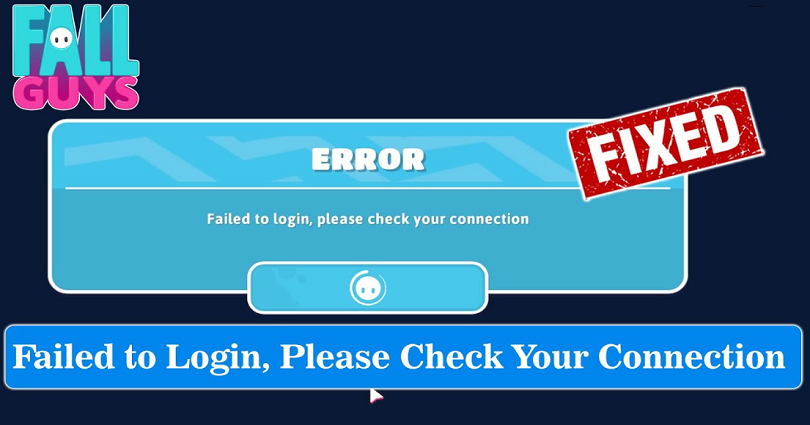 Are you getting the "Failed to login, please check your connection" in Fall Guys and do you want to fix it?
You are facing the error because the date and time are not set correctly in your Nintendo Switch.
To fix this, you have to synchronize the clock from the internet in your date and time settings.
If you're on PC, PS4/PS5, or Xbox, it shows that the Fall Guys' servers are full and it will not allow you to log in.
To fix this, you can either try flushing your DNS, try verifying the game files, logging out and into Epic Games.
Otherwise, you need to wait it out before you try again to log in.
Here are 5 ways to fix "Failed to login" in Fall Guys:
1: Synchronize the clock from the internet
Firstly, press the home button.
Now, press "X" to close the current game.
Scroll to the right and select "System Settings".
Scroll down and select "System".
Now, scroll down and select "Date and Time".
Turn on "Synchronize Clock via Internet" to synchronize it.
2: Verify the game files for Fall Guys
Firstly, you need to open the Epic Games Launcher.
Click on "Library".
Now, search for "Fall Guys".
Click on the three dots.
Then, click on "Verify".
3: Log out and log into Epic Games
Firstly, open the Epic Games launcher.
Click on your profile icon.
Click on "Sign Out" which is available at the bottom of the menu.
Now, again log into your Epic Games account.
4: Do a DNS Flush
Go to windows search and Run "cmd".
Enter ipconfig/flushdns > ipconfig/registerdns > ipconfig/release.
Enter ipconfig/renew > netsh winsock reset.
Restart your PC and launch Fall Guys.
5: Wait until the servers are less loaded
The final way is to wait until the servers have fewer players.
There is no way to check it straight.
However, it's highly suggested that you try to login into Fall Guys every hour.
If you're experiencing the "Failed to login" error, it's most likely because there are too many existing players on it.
Consequently, the login will fail because Fall Guys is unable to handle the traffic.
The login issue has become a burning question on Twitter.
The login issue occurs on all devices—Nintendo Switch, Xbox, PC, PS4, and PS5.
So, you are not alone—everyone is encountering login issues in Fall Guys because their servers can't handle the traffic.
What's Next
How to Fix Can't Invite Friends in Fall Guys 
Apex Legends Codes to Redeem for Free
Funny, Cool, And Best Gaming Names
Arsalan Rauf is an entrepreneur, freelancer, creative writer, and also a fountainhead of Green Hat Expert. Additionally, he is also an eminent researcher of Blogging, SEO, Internet Marketing, Social Media, premium accounts, codes, links, tips and tricks, etc.