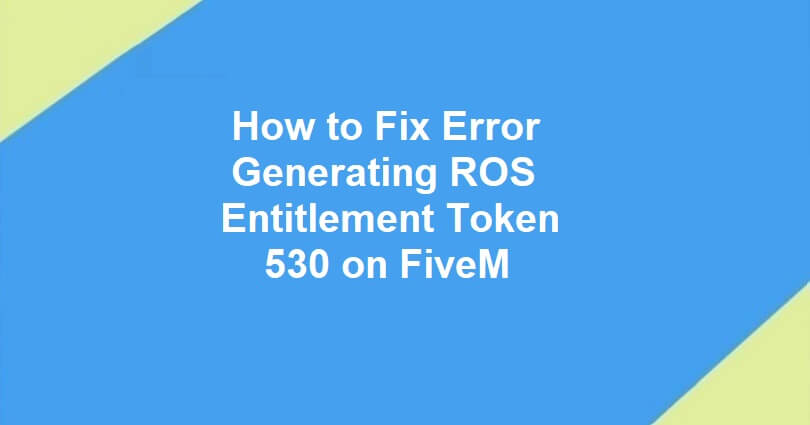 FiveM is a modification launched for GTA V that allows multiplayer gaming on dedicated servers.
It is powered by Cfx.re, it has a community of more than 100k active users.
FiveM gives the integration of custom cars, weapons, maps and so on.
It focuses on retaining the original AI of the game and sync quality.
This modification helps in creativity, allowing users to come up with their own customized servers.
In this article, I will tell you how to fix Error Generating ROS Entitlement Token 530 or 502 on FiveM.
What is error generating ROS Entitlement Token on FiveM?
Error generating ROS Entitlement Token means that ROS (Rockstar Online Services) is not able to generate a valid entitlement token for your account.
To verify your eligibility to play FiveM's multiplayer mode, you have to get this token.
You will get the error when Cfx.re is facing an outage.
Cfx.re has been facing downtime on a regular basis, it is common that it is down now.
How to Fix Error Generating ROS Entitlement Token 530 on FiveM
To fix Error Generating ROS Entitlement Token 530 on FiveM, the first thing you need to do is to check the status of FiveM/Cfx.re.
The Cfx.re status page will let you know about the outage if it is having one, you have to wait until the problem is fixed from their end.
To find out if FiveM is down, copy and paste this link into your browser and hit enter: https://downdetector.com/status/fivem/.
For Cfx.re's status use this link and copy and paste it into your browser: https://status.cfx.re/.
If FiveM/Cfx.re is facing an outage, the best bet is to wait for the servers to get online again (this process can take less than an hour).
The Cfx.re status page will give updates related to outage (for instance, whether it's resolved or still going on).
So, in short, you can do nothing from your side in order to fix the Generating ROS Entitlement Token 530 error.
The error is happening because of an outage from Cfx.re's end and you need to have patience and wait for them to be back up again.
What's Next
How to Fix FiveM Could Not Contact Entitlement Service Status Code 530
How to Fix Reshade Not Working on FiveM
How to Fix Generative Fill Not Showing in Adobe Photoshop
Arsalan Rauf is an entrepreneur, freelancer, creative writer, and also a fountainhead of Green Hat Expert. Additionally, he is also an eminent researcher of Blogging, SEO, Internet Marketing, Social Media, premium accounts, codes, links, tips and tricks, etc.