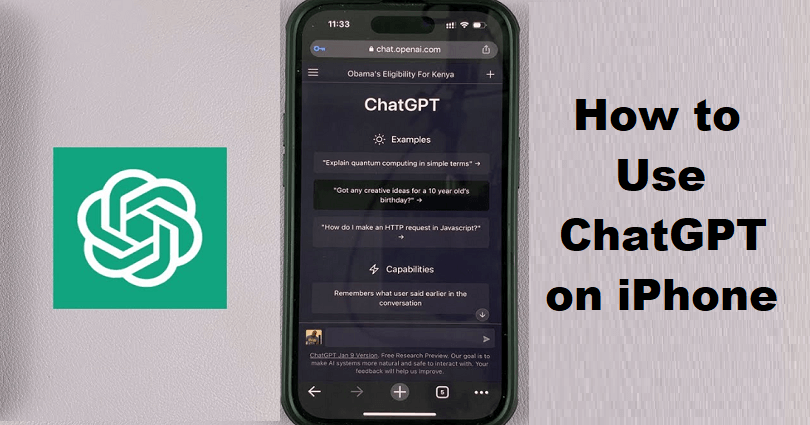 Do you want to download Chat GPT on iPhone or an iOS device and trying to do it?
ChatGPT is an AI (artificial intelligence) that is designed to answer queries, write codes and provide information.
It is smart enough to deny inappropriate requests, answer follow up questions and assume them.
This company is paying attention to developing and promoting advanced AI tech.
The aim of OpenAI is to build AI that helps humanity to do advanced research from AI.
In 2015, it was founded in San Francisco, California and the founders are Elon Musk and Sam Altman.
In this article, I will tell you how to use, add, and download ChatGPT (Chat GPT) on iPhone or an iOS device as an app icon.
How to use Chat GPT on iPhone
Open your web browser, such as Chrome browser.
Visit this link: chat.openai.com.
Hit the "Sign up" button.
Sign up from either of email, Google, or Microsoft.
Start asking questions (e.g. what is SEO?) or making requests.
Just keep in mind that Chat GPT is currently not available in every country.
The countries which are not allowed to use ChatGPT service are Russia, Saudi Arabia, and China.
If you are not able to use the service on your iPhone, use a VPN.
The other way to deal with it is to wait until it is released in your country too.
How to download ChatGPT on iPhone
Tap on the "Export" icon.
Scroll down and choose "Add to Home Screen".
Select a name and select "Add".
After selecting "Add", ChatGPT will be added to your home screen as an app icon.
To access it, you need to tap on the Chat GPT app icon.
Whenever you tap on the icon, it will take you to the ChatGPT website.
There isn't a ChatGPT iPhone app yet, so this method can be used to get the feeling of the app by adding an app icon to the home screen.
This way, you will be able to use the website in one tap (the process of going to a browser will not be needed).
What's Next
How to Fix ChatGPT Error Code 1020 Access Denied
How to Fix "An error occurred" on ChatGPT
How to Fix "We're experiencing exceptionally high demand" in ChatGPT
Arsalan Rauf is an entrepreneur, freelancer, creative writer, and also a fountainhead of Green Hat Expert. Additionally, he is also an eminent researcher of Blogging, SEO, Internet Marketing, Social Media, premium accounts, codes, links, tips and tricks, etc.