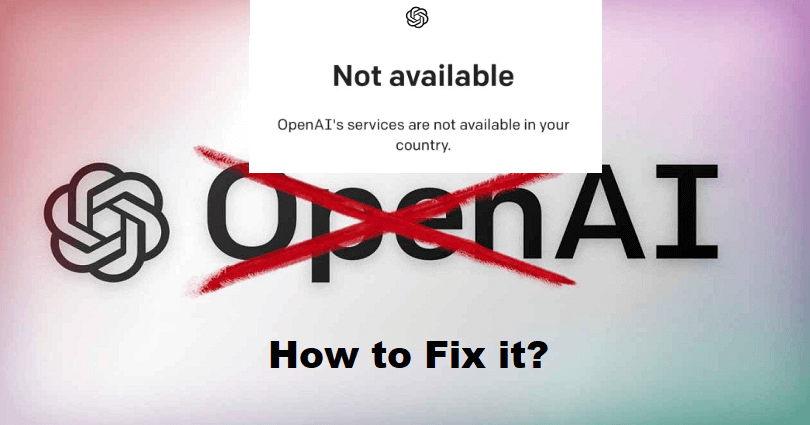 Are you facing an "OpenAI's services are not available in your country" error in ChatGPT?
The developer of ChatGPT is OpenAI and it is also an AI that replies you in a conversational manner.
You will get answer to follow-up queries, reject requests that are not appropriate and question assumptions.
This company is paying attention to developing and promoting advanced AI technology.
The aim of OpenAI is to build AI that helps humanity to do advanced research from AI.
In 2015, it was founded in San Francisco, California and the founders are Elon Musk and Sam Altman.
In this article, I will tell you why are OpenAI's services not available in your country and how to fix it to access ChatGPT.
Why are OpenAI's services not available in my country?
OpenAI's services are not available in your country because some countries do not have the API access to it.
OpenAI gives access to its API to different regions and countries.
However, the API is not available for all countries of the world.
According to their team, geographic diversity and distributed benefits are of great value for them.
Currently, the team is working to make it available for more locations, so you can revisit ChatGPT in order to check whether your location has the access or not.
Currently, it supports countries like the United States, Canada, the United Kingdom, and so on.
Most countries in Europe and Asia can also use OpenAI's services too.
How to fix "OpenAI's services are not available in your country"
To fix "OpenAI's services are not available in your country", the best way is to connect to a VPN to use the country in which OpenAI's services are available such as the US.
The next thing is to give them an email address, you can also use a temporary one.
After that, you have to verify your phone number and you can do it with the help of a temporary phone number from countries like UK, Canada, USA etc.
#1: Connect to a VPN
If you're a mobile user, you can download a free VPN app from the play store like VPN – Proxy Unlimited Shield and connect to the VPN of another country like US, UK, CA.
If you're a PC user, you can use VPN Chrome extensions like browsec and use the location of another country including US, UK, CA.
Note: After connecting to a VPN, close and reopen ChatGPT and you are good to go.
#2: Use a fake/temporary email address
Visit this link: https://chat.openai.com/ and select "Sign up".
Provide your real/new email address or use a temporary one from this link: https://temp-mail.org/.
Choose "Continue", create a password, and after that, hit "Continue" again.
Access the inbox of the email to verify your account.
Fill your first name and last name, and hit "Continue".
#3: Use a virtual/temporary phone number
To get a temporary phone number, check this guide on Free virtual mobile numbers and it has the list of temporary phone numbers which are available at one place.
Open one of those websites and get a number and copy and paste it and try sending a code—keep trying until you get a number that is not associated with the maximum number of accounts.
After receiving the code on your temporary phone number, enter it to start using ChatGPT.
Tip: If all the numbers in the list are used, you can also find more numbers on websites until you are able to get one that is working.
What's Next
How to Fix ChatGPT is at a Capacity Right Now
How to Fix "Too many requests" in ChatGPT
How to Fix ChatGPT Network Error
Arsalan Rauf is an entrepreneur, freelancer, creative writer, and also a fountainhead of Green Hat Expert. Additionally, he is also an eminent researcher of Blogging, SEO, Internet Marketing, Social Media, premium accounts, codes, links, tips and tricks, etc.