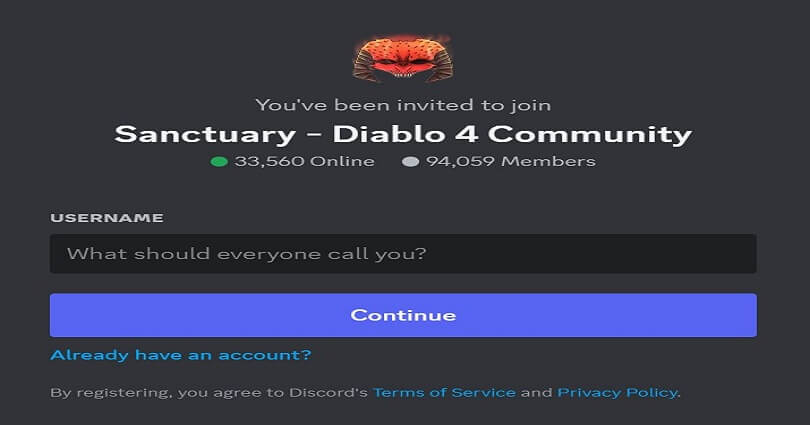 Diablo IV gives you unique experience in the realm of action role-playing games.
It is replete with never-ending array of evil creatures to defeat, you can master different skills, terrifying dungeons, and legendary loot to get.
The adventure can be started alone or with your companions and it will allow you to go through dark and beautiful locations.
Go to the shared world that allows you to gather in towns to team up or trade items to encounter the world bosses.
To battle the bosses that plague the world, you need to create as well as personalize your character.
You need to select from 5 classes, experiment using powerful equipment and choose your abilities and talents.
This post has the Diablo 4 Discord server, what the server is about, how to join it, and more.
What is the Diablo 4 Discord server?
The Diablo 4 Discord server consists of the official Diablo 4 community.
The community allows you to share, discuss and learn about Diablo 4.
The name of the server—Sanctuary is known as the physical realm of the Diablo universe.
You can also recruit clan members as the server contains clan recruitment channel on it.
Diablo 4 Discord server
The Diablo 4 Discord server link is https://discord.gg/diablo4.
The server contains over 68,000 members and the server is also official one for Diablo 4.
It contains different channels—#general-chat, #diablo-4-chat, #ask-diablo-experts, and so on.
The most popular channel of this server is the #general-chat channel where you are allowed to talk about anything.
You have to select "Complete", agree to the rules of the server, and select "Submit" to unlock all the features of the server.
Diablo 4 server rules (as described on the server)
Respect Discord ToS, community guidelines, Blizzard code of conduct, and legal policies.
Do not engage in RMT, botting, data mining, exploits, and scams.
Help us to maintain a respectful, courteous, and healthy environment for all.
Do not engage in NSFW and controversial discussions.
Do not advertise without the staff's consent.
Please write in English outside of language-specific channels.
Do not ping Blizzard representatives and admins.
What's Next
Arsalan Rauf is an entrepreneur, freelancer, creative writer, and also a fountainhead of Green Hat Expert. Additionally, he is also an eminent researcher of Blogging, SEO, Internet Marketing, Social Media, premium accounts, codes, links, tips and tricks, etc.