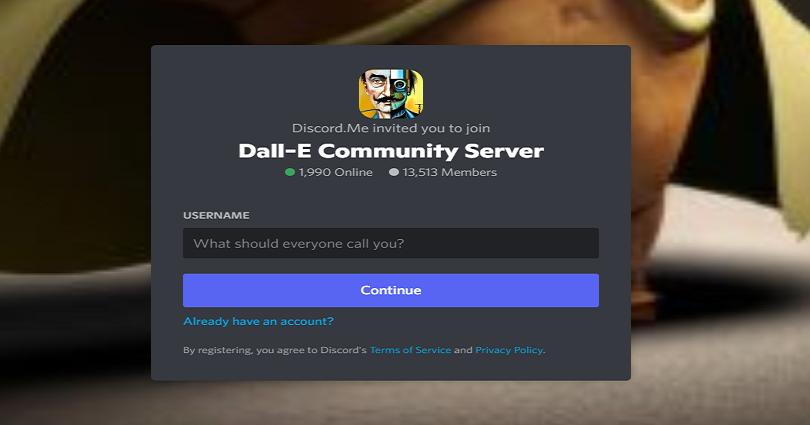 DallE/DallE 2 is an AI that can produce images from text descriptions which is the same as Midjourney.
It contains a lot of capabilities including creating anthropomorphized versions of animals.
This AI has the ability to combine unrelated concepts, render text, and transform existing images.
The Ai is currently based invite-only and you have to join the waitlist in order to use it.
DallE contains an unofficial Discord server where your images can be shared.
In this post, I will tell you the DallE Discord server link and what the server is about.
DallE Discord server link
The DallE Discord server link is https://discord.com/invite/F2ZBZYxn.
The server contains over 13,500 members and you can use the AI to generate images from text.
It has multiple channels including #good-style-prompts, #research-discussion, #prompt-discussion, and so on.
The most popular channel of the server is the #general-chat channel.
In the #general-chat, you can share anything related to Dall-E, Dall-E 2, or Midjourney.
Unluckily, there isn't a Dall-E bot on Discord because it does not exist yet.
Therefore, the AI cannot be used on the Discord server.
The server can only be used for sharing images and discussing the AI.
The server contains 3 main rules—Be kind and respectful to others, No NSFW content, and keep swearing to the minimum.
If you break one of the rules, you will be banned.
What is the DallE Discord server?
You can request prompts from members who have access to Dall-E 2.
Visit the #prompt-requests channel.
Type "#prompt-requests <your request" (e.g. #prompt-requests Garden in Space).
Visit the #prompt-fulfilled channel and find your prompt.
Apart from it, the DallE Discord server can be used for making friends and talking about artificial intelligence.
The specific artificial intelligence that can be discussed is Dall-E 2.
Just remember that the DallE Discord server is not official.
In short, the server is not owned by OpenAI, the AI research and deployment company.
Additionally, you cannot use DallE on the server because it lacks a Discord bot.
Having said that, the server has the Midjourney bot that can be used.
There are also many discussion channels including #research-discussion and #prompt-discussion.
What's Next
Is Midjourney Free? Midjourney Pricing
The Beginner's Guide to Use Midjourney AI
How to Add Midjourney Bot to Your Discord Server
Arsalan Rauf is an entrepreneur, freelancer, creative writer, and also a fountainhead of Green Hat Expert. Additionally, he is also an eminent researcher of Blogging, SEO, Internet Marketing, Social Media, premium accounts, codes, links, tips and tricks, etc.