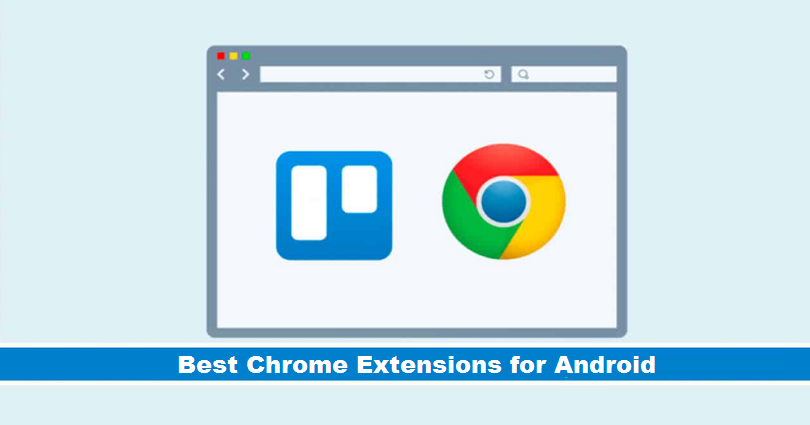 Best Chrome Extensions for Android in 2023
Before we start discussing the best chrome extension for android, it is necessary to know that it is not as easy as you install chrome extensions on your web browser, PC or laptop. If you can go for another mile to make things work, then get started.
There are the best chrome extensions that enable the users to create to do list, save money and block ads on Chrome browser whenever you use the browser. Chrome for android currently does not support chrome extensions, but you can try these methods to enjoy the features you want to enjoy:
You can install the extensions on your smart phone with the help of another web browser (Yandex)
Install the application from Google play store that offers those features
Once you are ready to install the extensions, here are the best ones to install.
1: LastPass – The Password Manager
This extension keeps your passwords in one place. Everyone wants to create passwords that are secured as much as possible. If your password is 12345678 it will be easy to remember but not a safe one. If your password GR@z!#yyEc, you cannot remember it right? It is difficult to remember.
LastPass helps you to create strong passwords for every website and sync them with all devices and you can log in to accounts automatically whenever you want to use your favorite applications.
The main part is you need to remember the strong password generated by LastPass to access the vault.
Pros:
It is convenient in terms of logging in and you do not have to remember all the passwords.
Cons:
The sign in process is not available for some sites
2: Google Calendar
It is a helpful extension that enables you to become organized. You can also add new events from sites while browsing them. The appointments and events can be seen without leaving the page. You can change, delete or repeat the calendar entries with ease and the sync process can be done with other applications too.
Pros:
Use it on desktop version too to keep yourself up to the date with your schedule
Cons:
Customization options do not fulfill all the needs
3: Evernote Web Clipper
This Google Chrome extension for android helps you to save the entire web pages or partially save them. If you are working on your project and you see some amazing content haunting you, you can save it to read them later and go ahead with your work.
Whenever you find something interesting, you need to click on the elephant icon to save the full article. It saves the simplest version of it without any formatting or pictures.
If you do not have time, you can clip something using two clicks. By using the right click, you can clip, screenshot or bookmark a page and it also has customizable keyboard shortcuts as well.
Whenever you get some time, just visit evernote.com and log in to your account using the credentials and you will be able to see your clipped content.
Pros:
You can use the account on all the devices due to sync option
Cons:
By using bookmarks, you end up with a lot of items you do not need or never use
4: Save to Pocket: URL Saver
You haven't liked the Evernote? Here is another alternative to capture the web pages that is, save to pocket. It is also known as read it later similar to web clipper of evernote.
It allows you to save links, images, web pages, files and so on and a sync option is also present to access it on all your devices.
It is one of the chrome extensions for android available in free and premium versions.
When you save something with the help of this extension, it also recommends relevant content that may attract you.
Pros:
You can watch the saved content while traveling or waiting in line
5: Adblock Plus: Ad Blocker
Adblock plus is an ad blocker for Google chrome, that enables you to block ads and you will not even notice them disappearing. It is one of the famous ad block extension for chrome. Furthermore, it also restricts the tracking and block social media ads and video ads.
After installation, you can see the number of ads blocked by clicking on the icon of adblock plus.
Pros:
Installation is easy, install it and forget about the ads
Cons:
You are blocking the only way of generating income of some websites like ours
6: Google Hangouts: Online Conversations
It is an expert communication extension that helps you to make calls, videos, write messages etc. You can also chat in groups that support up to 150 people and the video calls can be joined by 10 persons for free of cost. Offline messages are also supported by this tool and friends can check the messages when they are online.
Pros:
Unorganized conversations with dear ones far away
Cons:
Some users reviewed the interface is difficult to understand and navigate in the beginning
If you are not good at grammar, you should consider using the Grammarly extension. You will feel confident as you have a support of an English teacher who is correcting your spelling, grammar and punctuation while writing content. It is compatible with your emails, social media sites and many other sites while you are writing.
Pros:
Suggests new or suitable words for your content
Cons:
8: Instant Dictionary: Dictionary
A lot of times you go through the text and do not know the meaning of words, so if you come across such words, search online for the meaning of that word or install instant dictionary extension. This extension is necessary whether you are a student or reader, get the definition of that word by double-clicking on it.
Pros:
Get the meaning of word while reading it
Cons:
Some users experienced timeout issues
9: Honey: Coupon Code Finder
Do you do online shopping? Yes, everyone does these days. Honey will help you to save money whenever you are purchasing any product online it comes up with the coupons and promo codes available online.
Honey can find the cheapest seller for the product you are looking for and also tracks the price or sale so you know when to make a purchase.
Pros:
Gets you the best deals without doing a lot of research (adds coupons automatically)
Finds the best prices on Amazon
10: Hotspot Shield: Free VPN
To access the geo restricted websites while browsing the internet, you need a VPN. This will help you to access different websites including social media, Hulu and Netflix service which are not accessible in some regions.
Related Read: Chrome Extensions for VPN
Pros:
Free of cost
Comprehensive interface that shows the bandwidth speed
Fast browsing with no restrictions on bandwidth
Secure servers available
11: TL DR: Article Summaries
If you are a reader and love to browse articles on the web but most times you do not have enough time to read the entire article, you can use TL;DR extension to summarize the article. Additionally, it can also summarize the text you select only. The summary length can also be specified to get the gist of the article. It saves a lot of time and restricts you from wasting your time.
Pros:
Get the gist of the article without wasting time
Cons:
Some users reviewed some technical issues/difficulties
12: Todoist: Task List
It enables you to stick to your goals with its straightforward task list. You can use tags to set the priorities and separate the work from home. If you have not fulfilled your task, you can move them to the next day as well. It also shows productivity stats to boost your enthusiasm.
Pros:
Simple interface to keep track of your priorities/tasks
Cons:
The view type is only available in list
13: FoxClocks: World Clock
It is another android extension for chrome that is beneficial for people working with different time zones across the world. You can see the time around the world at the bottom of your web browser. Want to avoid the time zones for a few minutes? You can disable it temporarily from your chrome extensions tab.
Pros:
Keep you updated with the schedule to meet colleagues in distant places
14: Pablo: Quote Creator
Have you ever wanted to post quotes with beautiful images on your social media platforms? If yes, now you do not have to create it Pablo will do it for you. Your job is to post the quote and select the perfect background photo with other design elements in it.
Pros:
You do not need design experience to handle it
15: Bitmoji: Personal Emoji Generator
Have you ever created a cartoon version of yourself? If not, try to install this Bitmoji Chrome extension on android to compose your own personal emoji. After creating it, you can use it in your email, social media sites. Furthermore, this emoji creator can also create text with your emoji including "Cheers", "I love you" etc.
Pros:
Bitmoji makes the conversation more fun with dear ones
Final Words
That's it, guys. I have tried to compile the best chrome extensions for android after doing a lot of research. But one thing you need to keep in mind these android extensions for chrome will only work on other web browsers like Yandex.
Do not forget to share this post.