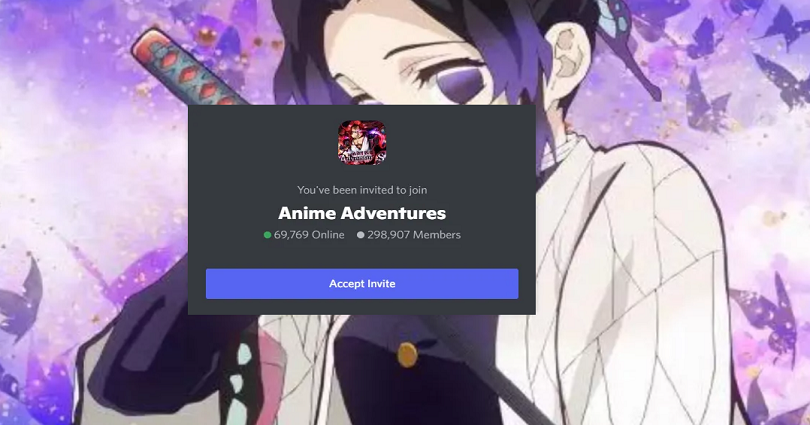 A cataclysmic event has begun that spawned a lot of threats in multiple worlds.
However, it also united all the heroes together and they need your help for that.
In Anime Adventures, your task is to call the strongest heroes and save the world.
You can collect strong characters to get assistance in your battle.
Lead a team of anime troops to fight a battle with enemies in a tower defense style.
Level up your troops to get powerful abilities by unlocking them and develop your squad.
This post has the Anime Adventures Discord server link, game link, and server rules.
Anime Adventures Discord server link
The official Anime Adventures Discord server link is https://discord.com/invite/adventures.
The server is about to complete 300k members.
It has multiple channels including announcements, giveaways, polls, and more.
The announcement channel has information regarding server maintenance and in-game updates.
The most active channel is the #general channel which allows members to chat in it.
There's also a #portuguese-general channel designed for Portuguese speakers.
What is the game link for Anime Adventures?
The game link for Anime Adventures is this: https://www.roblox.com/games/8304191830/UPD-2-Anime-Adventures.
To play Anime Adventures, you need a Roblox account.
If a Roblox account is not made, you can create one here: https://www.roblox.com/.
After creating an account, you can search for "Anime Adventures" game in Experiences or use the link above to play the game.
Anime Adventures Discord server rules
Be respectful to other members. Any form of disrespect (hate speech, racism, sexism, etc.) or general toxicity is not allowed.
NSFW content is off-limits and will result in a ban.
Do not spam on any channel. This includes any form of mic spam.
Be mindful of channels and their purposes. Keep bot commands out of <#general>. Keep off-topic conversations out of game discussion chats.
Staff know the rules, and listen to them. If you feel that you are being mistreated, contact someone with the ADMIN rank.
Do not mention players without permission. If you are told not to ping someone, you will be punished. Do not ping the Developers.
Political, sensitive, and controversial topics are not allowed.
No advertising or excessive link sending. You may get access to post links through leveling roles, but you still have to follow advertising rules.
Excessive swearing is not allowed. Mild and infrequent swearing is allowed as long as it's not directed at anybody.
Do not try to sneak your way around the rules. Use common sense, if staff says to do something, you should do it. Multiple repeat minor violations will also result in a ban.
Discussing or sharing exploits is not allowed. Even joking about exploiting can result in moderator actions being taken.
Do not impersonate anyone. Including staff, content creators, and members (if the member did not give permission.)
Leaking content or making fake leaks may get you banned from the server
What's Next
Pet Simulator X Discord Server
Arsalan Rauf is an entrepreneur, freelancer, creative writer, and also a fountainhead of Green Hat Expert. Additionally, he is also an eminent researcher of Blogging, SEO, Internet Marketing, Social Media, premium accounts, codes, links, tips and tricks, etc.