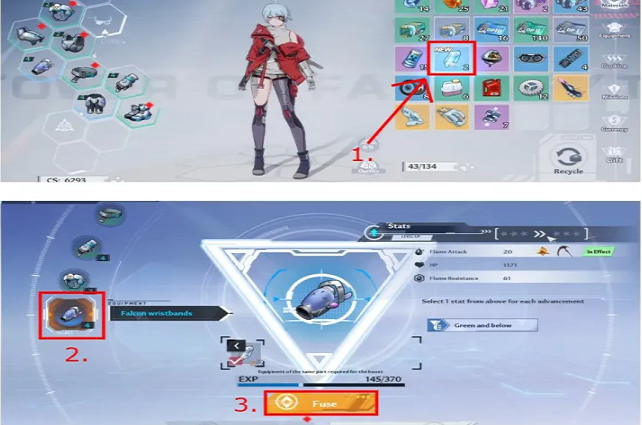 Tower of Fantasy contains a lot of missions/quests that you need to complete for rewards.
The game also contains side quests, stories, cutscenes, bosses, and so on.
You can get the rewards in the game are in-game currencies.
From the log, one task to perform is to level up a piece of equipment to 1 star.
When you finish the task, you'll receive 2 crystals and 500 gold.
In this post, I will guide you on how to advance any equipment to 1 star Tower of Fantasy without using a bunch of materials.
How to "Advance any equipment to 1 Star" in Tower of Fantasy
Here is a step by step guide on how to advance any equipment to 1 star in Tower of Fantasy
Firstly, open your backpack.
Select "Crystal".
Select "Use".
Now, choose a 0-star piece of equipment.
Select "Select All".
Lastly, select "Fuse".
After fusing multiple crystals with a piece of equipment, the equipment will be advanced to 1 star.
As a result, your equipment will get a boost in stats including better volt resistance, flame resistance, hp, and more.
Crystals can add experience for the sake of advancing equipment.
They can be acquired by collecting crystal ores, stowed equipment, purchasing them from the item vendor in Banges, and so on.
If you visit your equipment menu and select a piece of equipment, you can enhance it by using materials.
But if you go into your backpack and you are equipped with crystals, you can advance equipment by using them.
This will enable you to save your materials so you can use them in the future.
What's Next
How to Solve Lava Pit Puzzles in Tower of Fantasy
How to Find Strawberries in Tower of Fantasy
Raincaller Island Signal Station Password in Tower of Fantasy
Arsalan Rauf is an entrepreneur, freelancer, creative writer, and also a fountainhead of Green Hat Expert. Additionally, he is also an eminent researcher of Blogging, SEO, Internet Marketing, Social Media, premium accounts, codes, links, tips and tricks, etc.