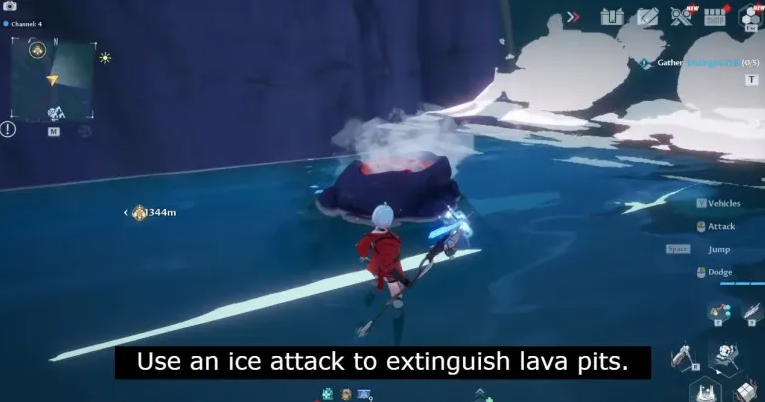 Tower of Fantasy contains a lot of missions/quests that you need to complete for rewards.
The game also contains side quests, stories, cutscenes, bosses, and so on.
You can get the rewards in the game are in-game currencies.
You need to finish an activity that is, to extinguish lava pits.
By extinguishing lava pits, the rewards will be given to you from the pit like a gold nucleus.
However, you might not have any idea or know how to do so because you will not get any hint.
In this post, I will tell you how to extinguish or solve the lava pit puzzles in Tower of Fantasy to get their rewards.
How to solve Lava Pit puzzles in Tower of Fantasy
Here are the steps on how to solve Lava Pit puzzles in Tower of Fantasy
Change to an ice weapon.
Use an ice attack (for instance, ice melee weapon, ice projectiles) in order to extinguish the lava pit.
When you use an ice attack on the lava pit, it will be extinguished.
Walk to the lava pit and get the reward inside it.
The reward that you'll receive from this quest is a gold nucleus.
In rare cases, lava pits will be spawned on walls.
In this case, an ice arrow or an ice projectile can be used to extinguish it.
But if a lava pit is on the ground, an ice attack should be used on it.
As a result, the lava pit will be opened to reveal a supply potion inside.
If a white marker is visible on the map but the lava pit is empty, it means that it's not live yet.
Therefore, it is necessary to wait for a few days for the lava pit to be active.
What's Next
How to Solve "Gather firedragon fruit" in Tower of Fantasy
How to Get FF79 Alloy Lubricant in Tower of Fantasy
Deconstruction Device PDC1 Password in Tower of Fantasy
Arsalan Rauf is an entrepreneur, freelancer, creative writer, and also a fountainhead of Green Hat Expert. Additionally, he is also an eminent researcher of Blogging, SEO, Internet Marketing, Social Media, premium accounts, codes, links, tips and tricks, etc.