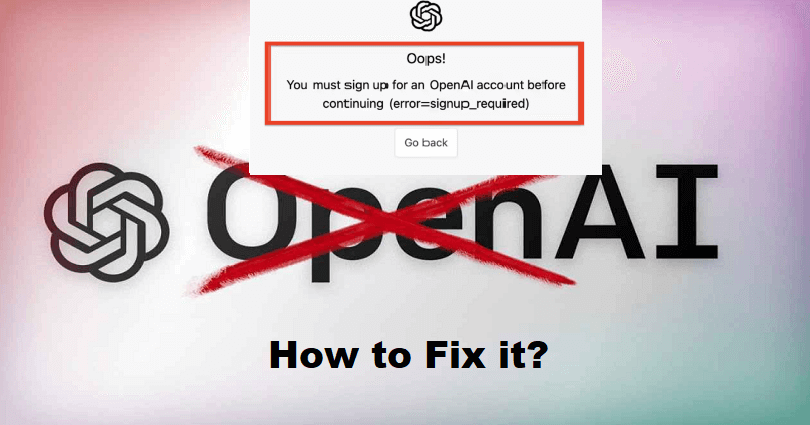 Are you facing a "You must sign up for an OpenAI account before continuing" error in ChatGPT?
The developer of ChatGPT is OpenAI and it is also an AI that replies you in a conversational manner.
You will get answer to follow-up queries, reject requests that are not appropriate and question assumptions.
This company is paying attention to developing and promoting advanced AI technology.
The aim of OpenAI is to build AI that helps humanity to do advanced research from AI.
In 2015, it was founded in San Francisco, California and the founders are Elon Musk and Sam Altman.
In this article, I will tell you how to fix "You must sign up for an OpenAI account before continuing" in ChatGPT.
What does "error=signup required" mean in ChatGPT?
In ChatGPT, "error=signup required" means that you are not signed in.
The reason behind it is that you need to have an account to use ChatGPT.
If you do not own an account, you cannot access it.
However, if you're already signed in and you are getting the error, it is happening due to a bug/glitch.
To fix this bug, try to remove your browser's cache and reopen ChatGPT.
How to Fix "You must sign up for an OpenAI account before continuing"
To fix "You must sign up for an OpenAI account before continuing", the ideal way is to create an OpenAI account.
After making a new account, sign in to it and you will be able to access ChatGPT.
Here's a step by step guide on how to do this:
Visit this link: https://chat.openai.com/auth/login.
Hit the "Sign up" button.
Enter your email address > Continue > Create a password > Continue.
Verify your email address.
Enter your first name > Last name > Continue.
Verify your phone number > Send code.
Also, keep in mind that ChatGPT is not available in some countries such as Azerbaijan, Saudi Arabia, Hong Kong, and so on.
To bypass this, the best bet is to use a phone number that can use ChatGPT in order to access it.
Countries that can use ChatGPT include the United States, Canada, the United Kingdom, and most parts of Asia and Europe.
If you are living in a country which does not have access to ChatGPT, you can read this guide to use a fake/temporary phone number to create an account.
If you're already signed in but the error is still shown to you, you need to clear your browser's cache to start using ChatGPT.
To clear it, go to Google Chrome > Three Dots > More Tools > Clear browsing data > Cookies and other site data + Cached images and files > Clear data.
What's Next
How to Fix "OpenAI's API is not available in your country"
How to Fix "Too many requests" in ChatGPT
How to Fix ChatGPT Network Error
Arsalan Rauf is an entrepreneur, freelancer, creative writer, and also a fountainhead of Green Hat Expert. Additionally, he is also an eminent researcher of Blogging, SEO, Internet Marketing, Social Media, premium accounts, codes, links, tips and tricks, etc.