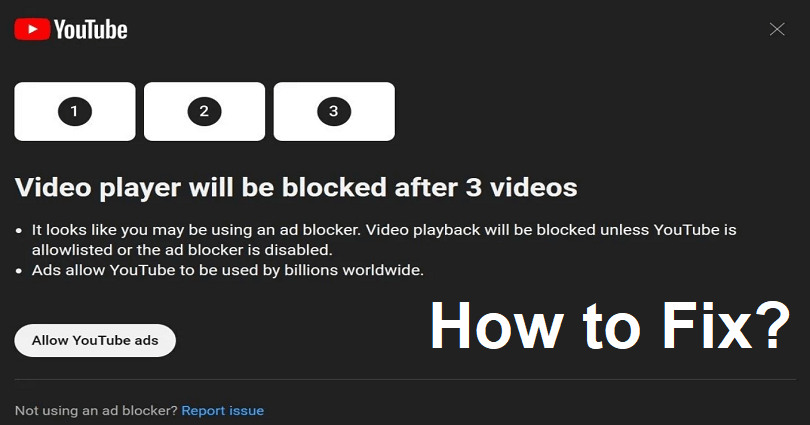 Are you facing an "Video player will be blocked after 3 or 2 videos" error on YouTube?
The next part of the error is, "It looks like you may be using an ad blocker".
Then, "Video playback is blocked unless YouTube is allowlisted or the ad blocker is disabled".
Followed by, "Ads allow YouTube to be used billions worldwide".
Lastly, "You can go ad-free with YouTube Premium, and creators can still get paid from your subscription".
In this article, I will tell you how to remove, bypass, or fix "Video player will be blocked after 3 or 2 videos" on YouTube.
How to Fix "Video player will be blocked after 3 videos" on YouTube
To fix "Video player will be blocked after 3 videos" on YouTube, you will have to use a VPN and connect to a country in which the error message does not show up such as India, Russia and Israel.
In order to make it work, you can download the uBlock Origin extension and apply some filters or remove them.
Solution 1: Use a VPN
Use your existing adblocker (for instance, AdBlock).
Choose one of the VPN extensions from this list and add it free.
After adding any of them, follow the instructions on the screen.
Select one of these countries either Russia, Israel, or India VPN.
Open YouTube and start watching some videos.
The adblocker that you have such as AdBlock should work now.
Note: YouTube does not stop adblockers in certain countries – all you need to do is to connect to that country through VPN in order to bypass the error.
Solution 2: Download uBlock Origin
Delete all the existing adblock extensions from your browser whether you are using Chrome or Firefox.
If you have Google Chrome, you need to click on the puzzle icon.
Select "uBlock Origin" in order to click on the extension options.
Now, click on the "My filters" tab.
Copy and paste the following code there:

youtube.com##+js(set, yt.config_.openPopupConfig.supportedPopups.adBlockMessageViewModel, false)

youtube.com##+js(set, Object.prototype.adBlocksFound, 0)

youtube.com##+js(set, ytplayer.config.args.raw_player_response.adPlacements, [])

youtube.com##+js(set, Object.prototype.hasAllowedInstreamAd, true)

Click on "Apply changes" and start watching YouTube videos and the error will not come back.
Note: When you apply these filters to uBlock Origin, both the "Video player will be blocked after 3 videos" error and ads on videos will not disturb you.
Note: if this extension is not working, you can also use other ad blockers for Chrome.
Solution 3: Remove custom config (uBlock Origin)
Get the latest version of uBlock Origin by updating it.
Delete your custom configurations by removing your custom filters, disabling "My filters", and disabling all additional lists you've enabled.
Update Filter lists by following these steps: Click on the uBO icon > Dashboard button > Filter lists pane > Clock icon at the end of the uBlock filters – Quick fixes list > Update now button.
Disable all other extensions which also include your browser's built-in blockers, and the ones that are not in your browser such as DNS blocking, ad/tracking AV protections. Prevent yourself from disabling the "Firefox Multi-Account Containers" add-on. Disable built-in blockers for these browsers including Opera, Vivaldi, Brave, or Edge. Close all open tabs to make these steps function properly.
What's Next
How to Fix "Ad blockers are not allowed on YouTube"
Arsalan Rauf is an entrepreneur, freelancer, creative writer, and also a fountainhead of Green Hat Expert. Additionally, he is also an eminent researcher of Blogging, SEO, Internet Marketing, Social Media, premium accounts, codes, links, tips and tricks, etc.