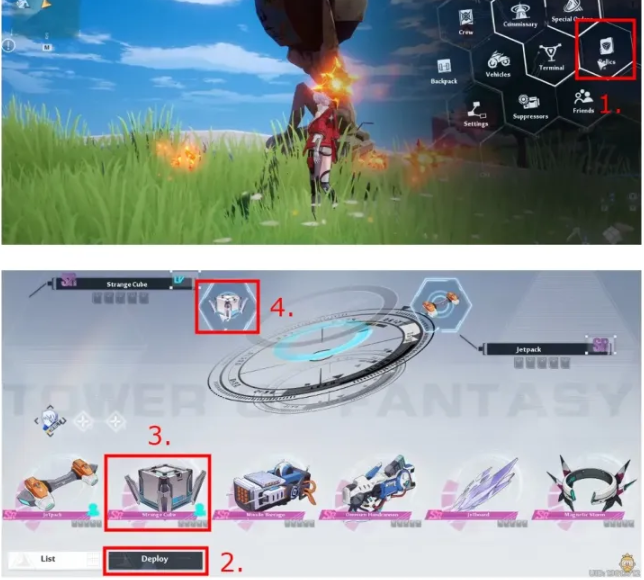 Tower of Fantasy contains a lot of missions/quests that you need to complete for rewards.
The game also contains side quests, stories, cutscenes, bosses, and so on.
You can get the rewards in the game are in-game currencies.
You have to complete a quest that is, to unearth Singularity Rocks/Ball Puzzles.
This will enable you to get Supply Pods from the statues.
However, you might not be familiar with the guide on how to destroy these statues because there are no instructions.
In this post, I will tell you how to unearth Singularity Rocks/ball puzzles or get supply pods from statues in Tower of Fantasy.
How to unearth Singularity Rocks in Tower of Fantasy
Firstly, open your Relics.
Select "Deploy".
Now, select the "Strange Cube".
Place the "Strange Cube" into the left slot.
Lastly, deploy the "Strange Cube" to the Singularity Rock.
To get the Strange Cube, you have to go to Ruin A-02, near Robarg (the red plant lady).
After deploying the "Strange Cube" to the Singularity Rock/Statue/Rock Puzzle, it will be destroyed.
In the end, you can collect the reward that was inside the rock.
The rewards are different so it will vary what you get.
Black nucleus is one of the rewards that you can receive.
What's Next
How to Solve "Dabry's Sturgeon in Blue River" in Tower of Fantasy
How to Solve "Gather 5 portunids" in Tower of Fantasy
HT201 Shelter Electronic Lock Password in Tower of Fantasy
Arsalan Rauf is an entrepreneur, freelancer, creative writer, and also a fountainhead of Green Hat Expert. Additionally, he is also an eminent researcher of Blogging, SEO, Internet Marketing, Social Media, premium accounts, codes, links, tips and tricks, etc.