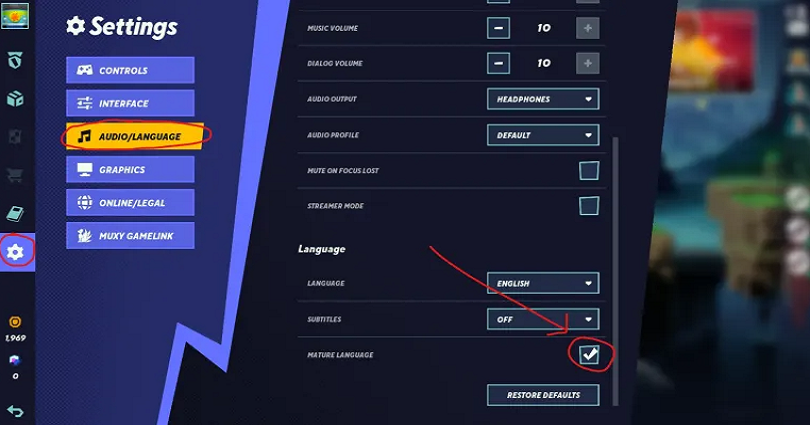 MultiVersus is rated "Teen" by ESRB due to fantasy violence in it.
The game also contains mature language, but by default, it's disabled.
If it's disabled, the game's characters cannot use profanities in their dialogues.
Usually, a "Teen" rating is ideal for people aged 13 years old and above.
In this post, I will tell you what is mature language in MultiVersus is and how to turn it on.
What is mature language in MultiVersus?
Mature language in MultiVersus is an additional language option in the game that is disabled by default.
When you enable it, some characters will get new voice lines that have profanities.
The characters who use mature language are Batman and Harley Quinn.
Having said that, the mature language in MultiVersus will not be indecent as compared with other games including Mortal Kombat, because the game is rated "Teen" and not "M".
How to turn on mature language in MultiVersus
Firstly, go to Steam and launch MultiVersus.
Click on the gear icon.
Now, select "Audio/Language".
Enable "Mature Language" under "Language".
Lastly, click on "Yes".
After clicking on "Yes", some characters will have new voice lines that have mature language.
You can hear the voice lines while playing a match with the characters.
Family-friendly characters do not curse in the game because their personalities will be affected.
The family friend characters are Steven Universe, Finn, and Jake.
Alternatively, characters like Harley Quinn are famous for cursing in various animations and movies.
Gamers of all ages can play MultiVersus, so mature language is disabled by default.
For now, inappropriate voice lines are limited, the reason for this is that majority of the characters in the game are family-friendly.
After updates of the game, more characters will be added to the game—which will make room for more mature language or lines.
What's Next
How to Redeem a MultiVersus Code
How to Connect WB Account to Twitch for MultiVersus
How to Fix Offline Mode in MultiVersus
Arsalan Rauf is an entrepreneur, freelancer, creative writer, and also a fountainhead of Green Hat Expert. Additionally, he is also an eminent researcher of Blogging, SEO, Internet Marketing, Social Media, premium accounts, codes, links, tips and tricks, etc.