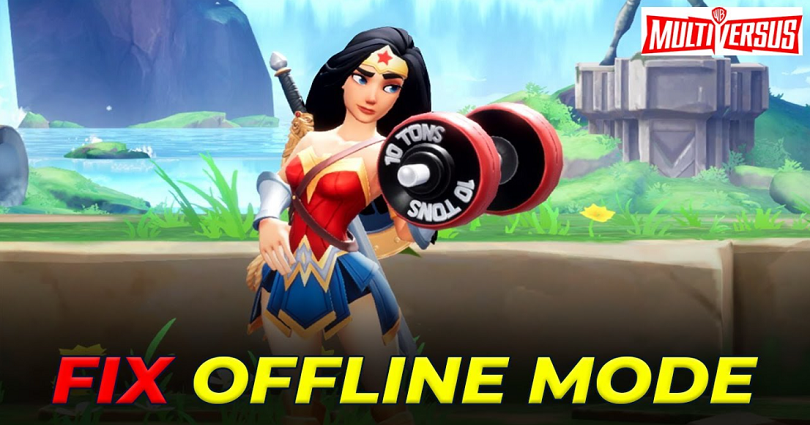 Are you stuck in offline mode in MultiVersus and do you want to get out of it?
Even if your internet connection is good, you might not be able to play online mode.
A lot of users are complaining about this issue on Twitter.
A tweet from a user on Twitter, "I can't play online, every time I log in, it says offline mode. Can someone please help me to fix this?".
Here is another tweet post by a user, "I wanted to stream the game but I'm stuck in offline mode".
In this post, I will tell you why is MultiVersus in offline mode and how to fix it to play online.
Why is MultiVersus in offline mode?
MultiVersus is in offline mode because you are under age means that your age is under 18 years.
It could also mean that the servers of MultiVersus are down or due to a glitch.
Otherwise, your internet speed is not good or you don't have an internet connection.
In addition, you can check if the game is down by visiting MultiVersus' Twitter page.
If the game has any issue, they will tweet about it on Twitter.
How to fix offline mode in MultiVersus
To fix offline mode in MultiVersus, your task is to delete the "SaveGames" folder.
You can also try to shift from your Wi-Fi network to another one if you're connected to one.
If the servers of the game are down, the best is to wait for it to be back up.
If there's a problem in the game, MultiVersus will publish a tweet about it on Twitter.
Method 1. Delete the "SaveGames" folder
Firstly, search for "%appdata%" from the Windows search bar.
Click on "AppData" from the URL field.
Next, go to "Local".
Scroll down and click on "MultiVersus".
Now, click on "Saved".
Lastly, delete "SavedGames".
After deleting the "SavedGames" folder, try starting MultiVersus again.
If you are taken to provide your age, you need to ensure that you select "18 years old" or above.
After doing this, the game should work in online mode instead of offline mode.
Method 2. Wait for MultiVersus to fix the issue
If there's an ongoing problem in the game, another way is to wait for MultiVersus to fix it.
To get more information, you can check the MultiVersus Twitter page.
For instance, in July, MultiVersus tweeted about the log in issue that they are investigating the log in issue.
The login issue affected a lot of users and as a result, some of them are stuck in offline mode.
After a few hours, a tweet from MultiVersus said that the issue has been fixed for the majority of users.
However, they are still working on a fix for the remaining users.
Therefore, you need to have to be patient and wait for a fix to be implemented.
Method 3. Switch your Wi-Fi network
If you're stuck in offline mode, it can happen because of your internet connection.
If your internet connection is not working, you won't be able to play MultiVerse in online mode.
To fix this, you can try to change your Wi-Fi network.
After switching your Wi-Fi network, restart the game and see if you can play the game in online mode.
What's Next
How to Fix Unable to Connect to Warframe
How to Fix Error Connecting in Growtopia
Arsalan Rauf is an entrepreneur, freelancer, creative writer, and also a fountainhead of Green Hat Expert. Additionally, he is also an eminent researcher of Blogging, SEO, Internet Marketing, Social Media, premium accounts, codes, links, tips and tricks, etc.