In this post, I am going to show you how to add YouTube Subscribe Button in WordPress.
How to Add YouTube Subscribe Button in WordPress
Do you want to get more subscribers on your YouTube channel? If you have a blog that is getting enough traffic. You should add a subscribe button on your blog to make it an easy task for your visitors to subscribe to your channel. In this post, you will get to know how to add a YouTube subscribe button in WordPress.
Method 1: Manually Adding YouTube Subscribe Button Code
First of all, you have to visit YouTube subscribe button page on the Google Developer's website.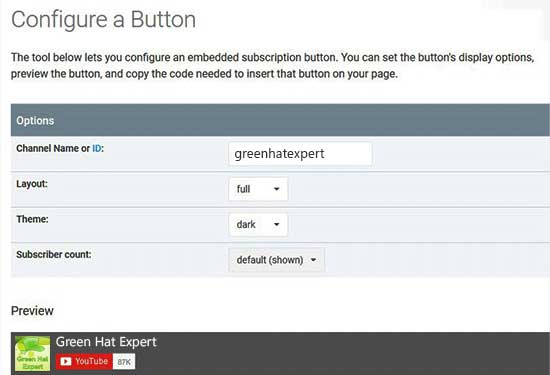 After reaching there, enter your YouTube channel name, select a theme, layout and subscriber count option. It will give you a live preview of how your button will display on the site.
After satisfaction, you can scroll down to copy the embed code.

Then, go to login and login to the WordPress admin area of your site and go to Appearance> Widgets. Now you have to drag and drop a text widget to your widget area and paste the YouTube subscribe button code inside the widget.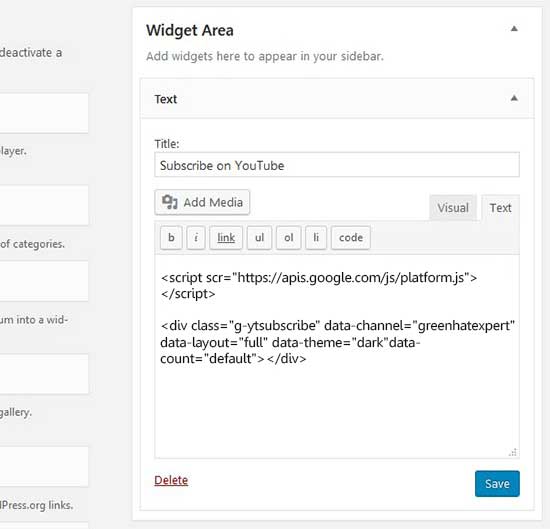 After completion, do not forget to save your changes and visit your site to see the YouTube subscribe button working.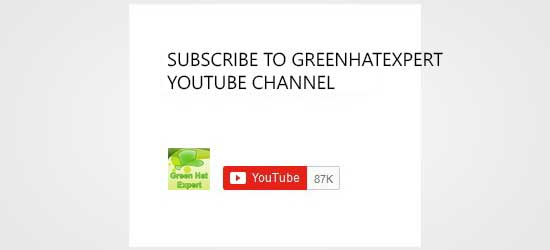 Method 2: Using Plugin to Add a YouTube Subscribe Bar
There is another way to add a YouTube subscribe button on your site by adding it below every YouTube video on your website. It has additional exposure as well that can help you to increase your subscribers.
First of all, you need to install and activate the YouTube Subscribe Bar plugin.
After activation of the plugin, you will go to Settings> YouTube Subscribe Bar in order to add YouTube channel ID.
Select a button theme or layout of your choice to show the subscribers count.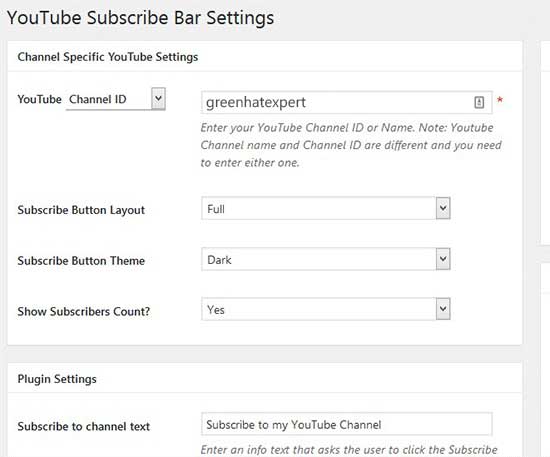 Additionally, the YouTube subscribe bar plugin also enables you to add some text before the button and you can also edit its styling. Use this area to add a call to action such as "Subscribe to My YouTube Channel or Subscribe to My Channel"
After completing this task, make sure to click on the Save Changes button to save your settings.
So this plugin will show your YouTube subscribe bar below every YouTube video on your website. This YouTube subscribe bar will display on the videos from your channel and third-party channels, so try to share useful content on your website to attract more subscribers on your YouTube channel.
Note: YouTube subscribe bar plugin will be functional only on Embed Videos. It will not work on embedded videos by iFrame.
I hope that you have learnt how to add YouTube Subscribe button in WordPress.
You may also want to check our guide about how to add SSL and HTTPS in WordPress.
Do not forget to share this post and also like our Facebook page to get more updates.
Arsalan Rauf is an entrepreneur, freelancer, creative writer, and also a fountainhead of Green Hat Expert. Additionally, he is also an eminent researcher of Blogging, SEO, Internet Marketing, Social Media, premium accounts, codes, links, tips and tricks, etc.