How to Add Your WordPress Site in Yandex Webmaster Tools
Do you want to add your website to Yandex webmaster tools?
Do you want to connect your site to Yandex webmaster tools?
If yes, this post is for you.
Webmaster tools including Google search console and Bing webmaster help you to optimize your website, manage robots.txt, check site errors, monitor the traffic and so on. In this post, I shall show you how to add your WordPress site in Yandex webmaster tools to monitor your search engine traffic.
What is Yandex?
Yandex is another popular search engine like Google and Bing. It is based in Russia.
You can optimize your website for SEO in Yandex to get more visitors from Russia.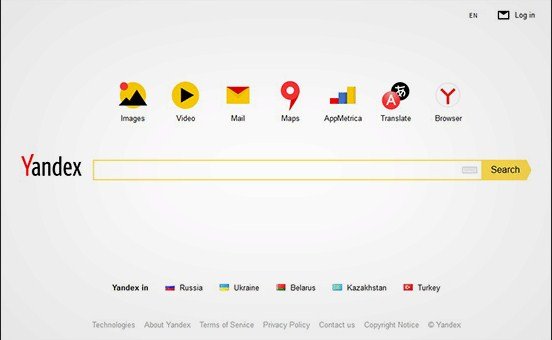 Yandex has a variety of tools like image search, generalized search engine, email, maps, videos and so on. It also has webmaster tools that help you to monitor traffic stats, rank your website, search queries, keywords etc.
You can connect your WordPress website with Yandex by using Yoast SEO plugin. It is similar to Bing webmaster tools and Google search console.
Adding WordPress Site in Yandex Webmaster Tools
Before I start, you will need a Yandex webmaster tools account to get started or connect your website. After creating your account, login to your WordPress site to configure Yandex webmaster tools using Yoast SEO plugin.
Now let's have a look at how can you add your website in Yandex webmaster tools and start optimizing it.
Step 1: Create an Account at Yandex
First of all, you need to login to your Yandex webmaster tools account. If you do not have an existing Yandex account, then you can create one using this link.
After creating the account, you will see the Yandex webmaster page.
On this page, you will have to click on the (+) button in the top bar to add your site in Yandex.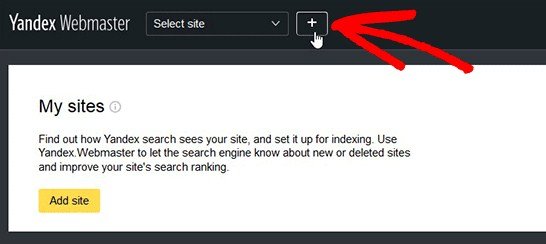 In the address field of website, you will add the full domain name of your website and click on the Add button.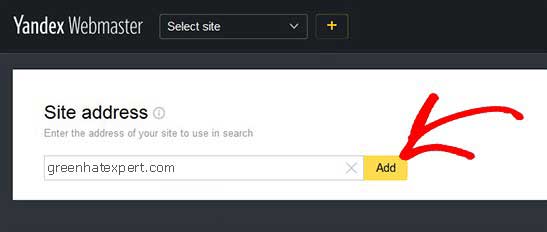 Note: If you have 'www' in your domain URL, then you have to add it before the domain name like (www.greenhatexpert.com)
On the next page, you will be asked to verify website ownership by adding meta content in your WordPress website. Now copy the content code from this page because you will need it in the second step.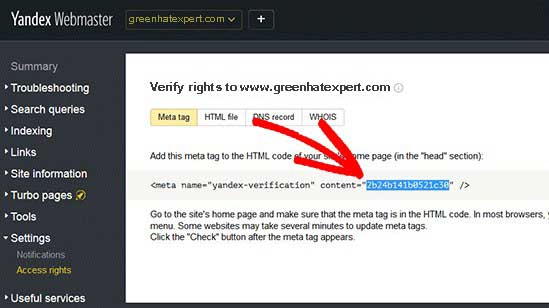 Step 2: Login to WordPress Admin Area and Add the Code
Now login to your WordPress admin area and put the verification code in the Yoast SEO webmaster settings.
Simply go to SEO>General area and click on the Webmaster tools tab.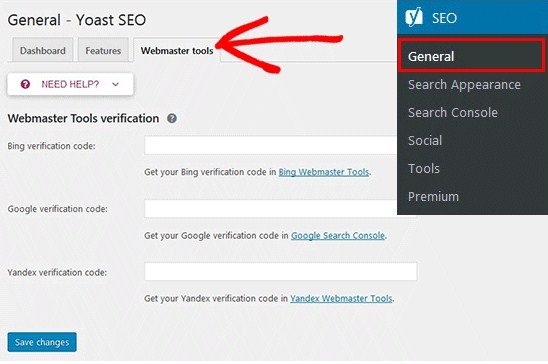 Now paste the code in the Yandex verification code field and click on the save changes button to save changes.

After adding the code in your website, you need to revisit the Yandex webmaster tools page where you copied the code and now click the Check button to verify the ownership.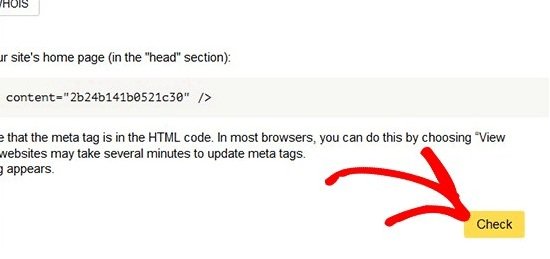 After successful verification, it will display your username which you can use to manage your website in Yandex webmaster tools. In addition, you can also delegate the rights to other users by adding their username and clicking on the Delegate rights button.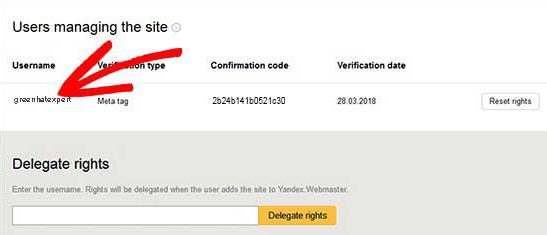 now you have verified and added your website in Yandex webmaster tools. You can see search errors, traffic stats, search queries, internal and external links, robots.txt analysis, site information, audit pages for mobile on the Yandex dashboard. Use the menu on the left side of the screen to get any information that you need.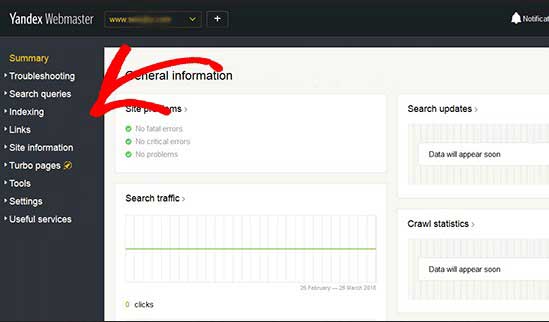 Yandex webmaster tools also offer options for website optimization which are filtered from troubleshooting to important settings like .htaccess and robots.txt.
I hope that this post helped you to learn how to add your WordPress site in Yandex webmaster tools.
You may also want to read our post on Mobile SEO.
Do not forget to share this post.
Arsalan Rauf is an entrepreneur, freelancer, creative writer, and also a fountainhead of Green Hat Expert. Additionally, he is also an eminent researcher of Blogging, SEO, Internet Marketing, Social Media, premium accounts, codes, links, tips and tricks, etc.