GTMetrix is one of the tools that a number of people use to get more detailed reports about the site's performance. It is a free tool which analyzes the page speed performance of your page using Google Page Speed and Yslow.
GTMetrix not only gives scores of your pages or website but also gives actionable suggestions on how to fix them. In this post, I shall show you how to use GTMetrix plugin to improve your WordPress site performance.
The benefit of using the GTMetrix WordPress plugin is that it allows the users to run analyses using their WordPress dashboard. It also enables you to schedule reports on daily, weekly or monthly basis. GTMetrix plugin also allows you to receive alerts about the status of your site using WordPress admin.
You need to register for a free GTMetrix account. The free account API is limited to a certain number of requests per day.
If you do not want to use the plugin, then you can always use their website by simply going to GTMetrix website.
In addition, you can also add the GTMetrix Bookmarklet in your Google Chrome, Firefox, and internet explorer.
Now I have covered all.
How GTMetrix helps you improve your WordPress site performance?
GTMetrix gives a detailed report that tells you what do you need to fix. Check the example of report: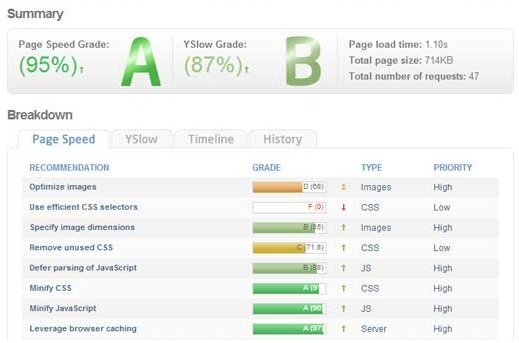 If you notice that the same websites have two separate grade 95% A from Google Page Speed and 87% B from Yslow. If your Yslow score is low, it means that your site is not smart enough for Yslow system. They cannot always detect your CDN. You need to go to your user settings to define the CDNs vs Google automatically detects it.
As you can observe in the report, it will show all the things that you need to work on priority level. In my case, it was optimizing images. The best part of using GTMetrix is that when you click the tab, it tells you exactly which image needs to be optimized and how much size you can reduce.
In addition, it also enables you to preview the optimized version of the image. You need to right click on the optimized image and save it. GTMetrix is doing the work for you.
It is one of the examples. Every tab has a little "what does this mean" icon. If you click on it, it will elaborate the full details that what does each item mean.

GTMetrix is a gem for those bloggers or website owners who want to optimize their sites. Instead of downloading the Yslow extension or visiting Google Webmaster tools to get Google Page Speed score. You can get all these tools using GTMetrix.
If you even have GTMetrix WordPress plugin you can get these features.
What do you know about GTMetrix?
What are your ideas about GTMetrix?
Have you ever used it?
Let us know and share your experience.
Do not forget to share this post.
Arsalan Rauf is an entrepreneur, freelancer, creative writer, and also a fountainhead of Green Hat Expert. Additionally, he is also an eminent researcher of Blogging, SEO, Internet Marketing, Social Media, premium accounts, codes, links, tips and tricks, etc.