In this post of Green Hat Expert, we shall discuss 5 excellent websites for checking Google Keyword Ranking.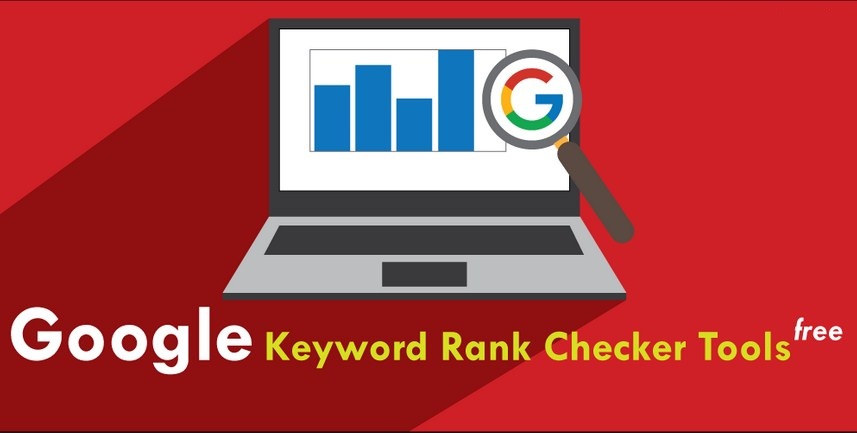 How to Check Google Keyword Ranking or Keyword Ranking in Google
First of all, you need to pick the right keyword which is a necessary element of SEO. After the selection of the right keyword rank them and track the keyword position in search engine.
It is essential for an SEO professional or a blogger to keep an eye on their Google Keyword Ranking. There is another problem with the bloggers and website owners that they start writing and publishing articles without focusing on any keyword.
It will take 10-15 minutes to do a keyword research and SEMRUSH or the Google keyword search tool will help you to find keywords. You have to ensure that you take the benefit of these tools if you want to complete this very important step.
Once you have finished composing an SEO-optimized post by using your focus keywords. Then your next mission is to keep in view the search engine rankings and start building backlinks using the proper anchor text.
**Again, we want to remind that a proper keyword selection is one of the main factors involved in order to get a better ranking in Google's search engine.**
A piece of advice: every blogger should use the keywords that users search frequently. Especially, you should use those keywords which will show your website in the first three pages of search engine results.
If you are following the proper on-page SEO, it means that there is a great chance that you will appear in the top 5 pages of Google
If you want to improve SEO, you need to manage the keywords and also find out which keywords will be helpful for your domain and which are not. It is a good information which can help you to work on strongest keywords and it will also boost your ranking in Google and other search engines.
If you want to get Google keyword ranking, you need a tool which can give you ranking position in Google search results. It will save you from manually checking of hundreds of search results and pages.
We have created a list of some excellent free online tools to check your Google keyword ranking or target keyword position in Google.
5 Useful Google Position Checker Tools:
1: SEMrush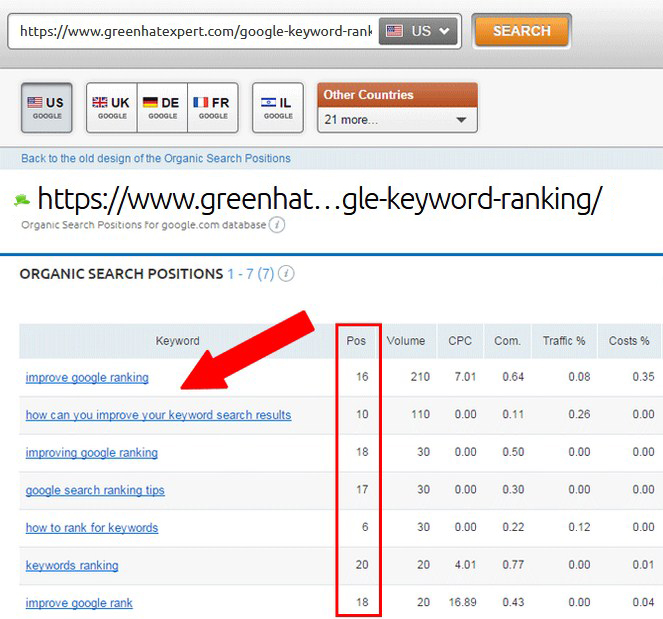 SEMrush is our favorite tool on this list because it gives a complete solution for keyword checking.
You just need to enter the URL of a website or a single URL of a blog post. It will show you your Google keyword ranking or your rank keywords. Additionally, you can also click on keyword result to check keyword competition and further details.
It includes Google and Bing and you can select search based on your target geographical region.
SEMrush is a professional software or tool which is easy to use. If you want to try it for two weeks for free before making any decision of subscription.
You can use this linkto get a free 14-day trial of SEMRUSH.
Generally, SEMRUSH is one of the amazing tools to check the position of keywords in search engine results.
2: Ahrefs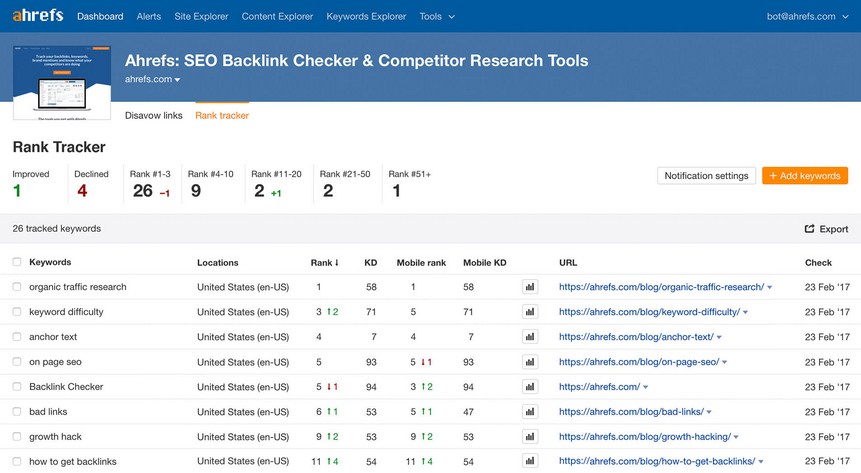 We are happy with SEMRUSH but in any case, you want to replace the first option. You should consider Ahrefs.
It is replete with features and it can detect your Google keyword ranking of your website automatically. Additionally, you can also separate your ranking based on country.
Check out Ahrefs
3: SERP Watcher
We support SEO tools of Mangools which work great and give great UI. SERPWatcher is the latest tracker of Google keyword ranking and position of any domain. You can get keyword position based on devices and Geo location. There are several paid plans to track more and more keywords. The price of the tool is reasonable and you can get the paid tool at affordable price.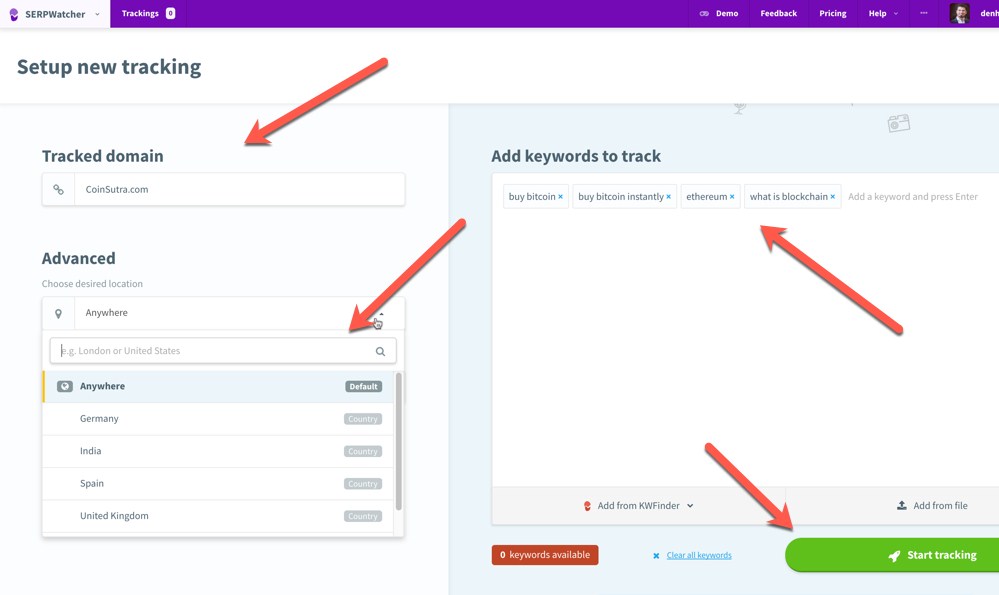 Join SerpWatcher
4: Google Rank Checker
Google rank checker is another SEO tool which is free and it will also help you to track Google keyword ranking. You can also check the keyword position in Google search engine.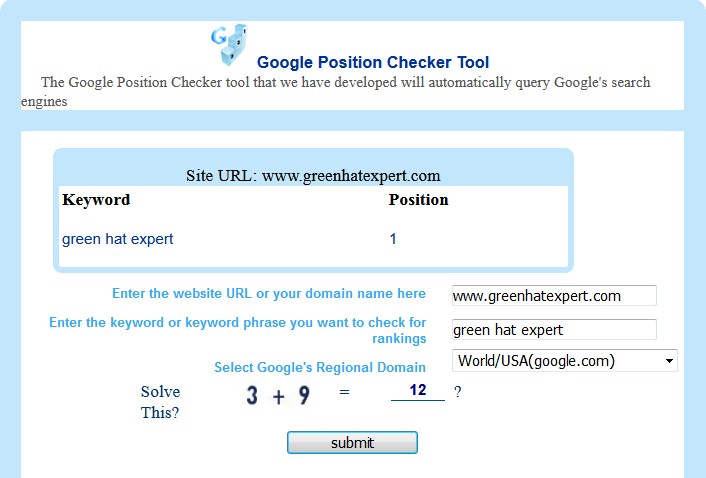 If you want to use this service, you have to put a keyword in the search bar. Additionally, you have to put the domain name too then it will show you the position of the specific keyword in Google.
It is very easy.
5: SERP's Keyword Rank Checker
It is another famous free keyword rank checker tool that gives more than search engine positions. In addition, it also shows the CPC of the keyword and its volume data.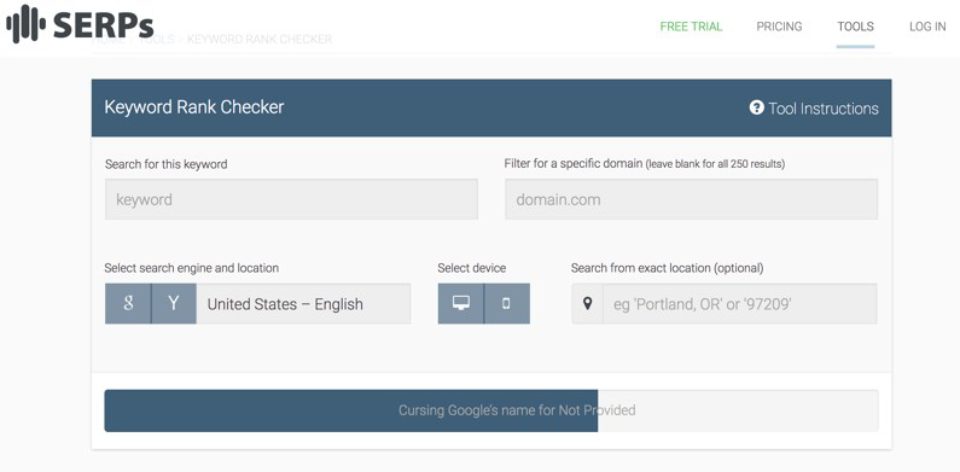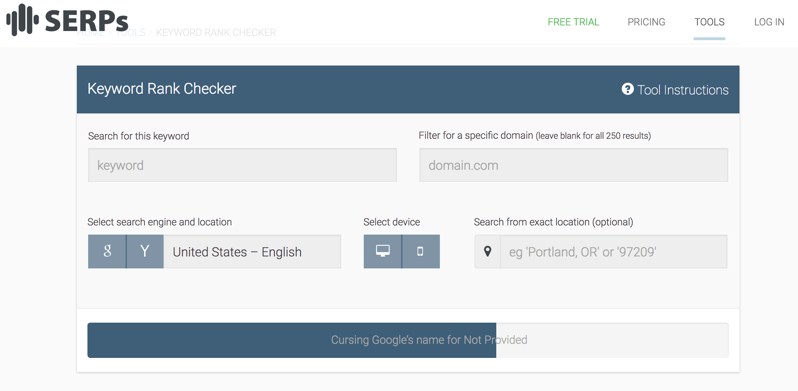 When you check the Google keyword rank and you can also choose the search engine location along with desktop and mobile device. So this tools is ideal to check one or multiple keyword ranking.
Bonus 6: SEOCentro Rank Checker
SEOCentro is another best Google keyword checking tool which we have found. This tool will help you to check the performance of specific keywords in different search engines including Google, Bing and Yahoo etc. Additionally, it will also give you the complete report of a specific keyword such as it's ranking in different search engines and its history.
To conclude this discussion, we want to tell you that SEMrush is our best choice on this list. You can use these tools to track Google keyword ranking not only in Google but also in Bing. In addition, they also offer backlink checker along with site audit with some really cool features.
If you are using any other keyword position checker tools which work well for you, let us know by commenting below.
Do not forget to share this post.
Arsalan Rauf is an entrepreneur, freelancer, creative writer, and also a fountainhead of Green Hat Expert. Additionally, he is also an eminent researcher of Blogging, SEO, Internet Marketing, Social Media, premium accounts, codes, links, tips and tricks, etc.