How to Get a Free SSL Certificate for Your WordPress Website
Do you want a free SSL certificate (HTTPS) for your WordPress site?
Everyone needs an SSL certificate to accept online payments and secure their site during this task. Starting today, July 1st, 2018, Google Chrome will show all sites which are not using HTTPS as insecure. In this post, I shall show you how to get a free SSL certificate for your WordPress site with ease.
What is SSL?
SSL refers to Secure Sockets Layer. It is an internet protocol for securing data transfer between the browser of the user and the website they are visiting.
Every web user transfers info when they visit sites. This information can often be sensitive such as credit card information, payment details, or login details.
Using the normal HTTP protocol means this information can be taken over by rogue people. This is where SSL or HTTPS is useful.
Websites using HTTPS require an SSL certificate issued by one of the recognized certificate issuing authority. This certificate is verified and highlighted in the browser of the user's address bar with HTTPS and green secure sign instead of using HTTP.
Do I need an SSL Certificate for my WordPress website?
SSL / HTTPS is suggested for all websites on the web. However it is absolutely needed for all websites that collect user information such as credit card information, login information, payment details and so on.
If you are running a membership site, an online store, or ask users to log in, then you need to get an SSL certificate straight away.
Most online payment services also ask your website to use SSL/HTTPs before you start receiving payments.
Apart from security, SSL certificate also gives a positive impression of your brand on your visitors. Google also suggests using SSL and provides a tiny bump to SSL enabled sites in the search engine or search results.
Last but not least, if your website is not using a SSL certificate, then Google Chrome will show your visitors that this website is not secure. It creates a negative impression.
How Does SSL Certificate Work?
SSL protects information by encrypting the data transfer between the website and the browser of the user. When a user visits an SSL/HTTPs website, their browser first verifies if the SSL of the website is valid or not.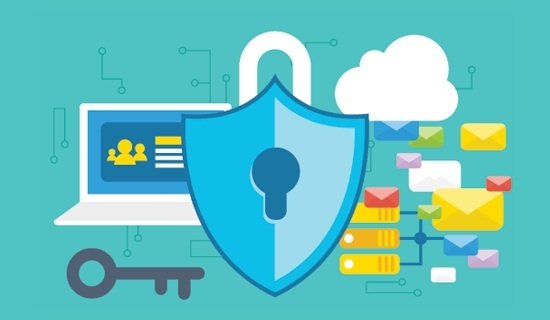 If everything is working fine, then the browser uses special keys to encrypt the data transfer. This data is then sent back to the intended server (website) where it is decrypted with the help of unique SSL key.
How Much Do SSL Certificates Cost?
The price of SSL Certificates is different from one certificate authority to another. Their cost could be anywhere between $50-200 per year. Some providers provide add-on services with their certificates which may also affect the pricing of your SSL certificate.
If you are going to purchase an SSL certificate, then I suggest GoDaddy. They are the largest domain name registration service in the whole world, managing more than 76 million URLs.
They have simple SSL certificate plans starting from $69.9 per year. After you have bought an SSL certificate, you can ask your hosting provider to install it for you.
How Can I Get a SSL Certificate for Free?
A number of website owners are hesitate to use SSL because of the additional cost. This left many of these sites vulnerable to data and information robbery.
A non-profit project known as Let's Encrypt decided to fix this by establishing a free certificate authority. Due to the importance of the project, it quickly got the support of major companies including Facebook, Google Chrome, WordPress.com, Shopify and so on.
If you want to install Let's Encrypt by yourself, then you should have the know how of coding, server knowledge, and Shell / SSH access to use command line tools. Therefore, it is quite difficult for beginners to properly setup Let's Encrypt SSL on their website.
Thanks to the best WordPress hosting companies are now also offering free SSL certificate or HTTPS along with their hosting plans. Selecting one of them saves you from the irritation of installing a SSL certificate on your own.
Here are the best WordPress hosting companies that provide free SSL certificate with their hosting plans.
Bluehost
WPEngine
GreenGeeks
Liquid Web
Dreamhost
SiteGround
InMotion Hosting
If you are already using hosting of one of these companies, then you can turn on your free SSL certificate from your hosting dashboard with ease. You can also ask your hosting provider's support to set it for you.
If your web hosting company does not offer free HTTPS, then you have to switch your hosting provider and move your site to the hosting listed above.
Setting up WordPress After Enabling Free SSL Certificate
Once you have enabled your free SSL Certificate, you have to set up WordPress to begin using HTTPS instead of HTTP in all your URLs.
The easiest way to do this is by finding and installing the Really Simple SSLplugin on your WordPress. For more details, see our step by step guide on how to install a WordPress plugin.
After activation, the plugin will check to see if your SSL certificate is working. After that, it will turn on http to https redirect the URLs and change your site settings to start using SSL/HTTPs.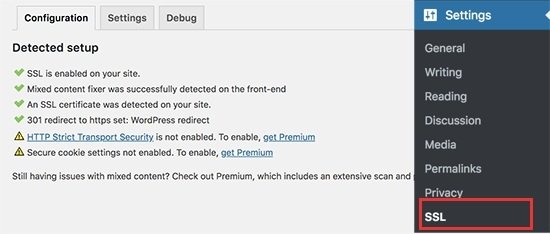 While this plugin tries to fix all mix content problems, there may still be some files loading from HTTP instead of HTTPS. To solve that, you will need to find those files with the help of Inspect tool and fix them.
Most commonly, these files are loaded by poorly coded WordPress plugins. If you are unable to get rid of them, then feel free to uninstall those plugins and find a suitable replacement for it.
I hope that you liked the post on how to get a free SSL certificate for your WordPress site.
You may also want to see my guide on How to Add SSL and HTTPS in WordPress.
Do not forget to share this post.
Arsalan Rauf is an entrepreneur, freelancer, creative writer, and also a fountainhead of Green Hat Expert. Additionally, he is also an eminent researcher of Blogging, SEO, Internet Marketing, Social Media, premium accounts, codes, links, tips and tricks, etc.