In this post of Green Hat Expert, we shall discuss the Best Drag and Drop WordPress Page Builders in 2018.
5 Best Drag and Drop WordPress Page Builders Compared (2018)
Are you looking for an easy way to customize or build your WordPress website?
So you need drag and drop WordPress page builder plugins for this purpose.
Best WordPress page builders will allow you to edit, create and customize the layout of your site without any coding. In this article, we shall review and compare 5 of the best drag and drop WordPress page builders.
Why Use a Drag and Drop Page Builder for WordPress?
When a blogger starts his WordPress website then he considers it a difficult task to customize or change his page layouts.
There are a number of premium WordPress themes available which has different page layouts. They are extremely hard to customize if one does not aware of CSS/HTML coding.
So this is the reason that user asks the question "how to make WordPress drag and drop?" or "is there an easy drag and drop WordPress page builder?"
When the users shift from Wix to WordPress or from Weebly to WordPress, they wish that WordPress should have a drag and drop site builder.
There are many drag and drop page builder plugins available for WP.
These plugins enable you to customize every element or component on your website without coding.
It includes adding multiple columns, full width images, content slider and parallax backgrounds etc.
Users can use these elements to create their own layouts within the WordPress themes.
There are several types of drag and drop page builders and there are some which are available in theme frameworks.
On the other hand, there are some plugins, so we shall compare them. It will help you to choose the best page builder for WordPress.
Our criteria for comparing these WordPress page builders include flexibility, ease of use and design output etc.
Let's check the best page builder for WordPress.
Beaver Builder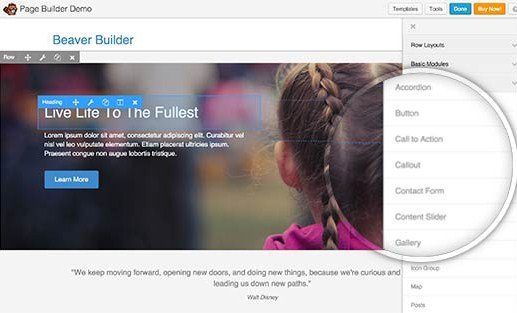 Beaver Builder is a premium WordPress drag and drop builder plugin for users. It is the best WordPress page builder plugin available on the market.
It has built in tour that enables the users to become familiar with its interface and it is extremely fast.
It has a live drag and drop interface. You have to drag elements from the right sidebar and drop them on your page to add them. Additionally, you can click on any component in a page to edit it.
It consists of many basic and advanced modules and it will fulfill your requirements.
In addition, you can add modules such as carousel, sliders, backgrounds and content blocks, buttons and much more.
If you are a beginner, Beaver Builder is an easy one to use.
Pricing: Starting from 99$ for unlimited sites.
Our Grade: A+
Review: Beaver Builder is one of the easiest page builders for WordPress in the market. It has pre-made templates to give you a start. It has the ability to customize everything and details and it makes it an easy one for WordPress.
Elementor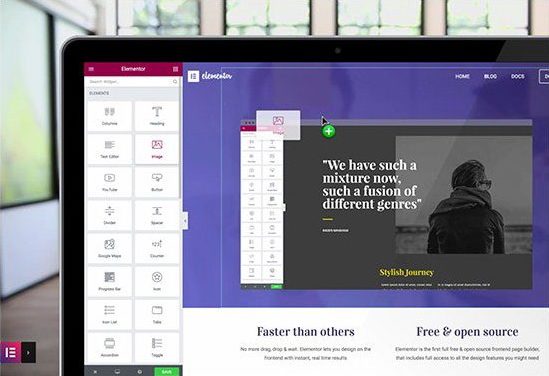 Elementor is another powerful drag and drop WordPress page builder. It is fast and you will automatically get to know how fast and responsive it is.
It is a live page builder because when you make changes to your page, you will see your page live as you edit in Elementor.
You can select the number of columns for every section and create sections too.
You can drag and drop widgets from the left panel. It has a number of widgets such as commonly used website elements.
From basic image and text widgets to advanced sliders, icons, social media tabs, testimonials etc. Each widget has its own settings.
Elemenator also enables you to add widgets made by other WordPress plugins.
If you do not want to build your own layout, Elemenator has ready to use templates which you can use for your pages.
You need to point and click in order to edit any item on the page and you can replace it with your content.
Pricing: Starting from 49$ and the license is for a single site.
Our Grade: A
Review:Elemenator is also one of the best page builder plugins on the market and it is super fast. Additionally, it is easy to use and has a number of modules and templates.
Divi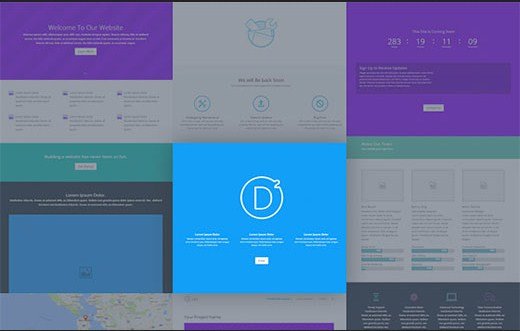 Divi is another drag and drop WordPress page builder and theme. It is also super fast WordPress and easy to use.
It consists of 20+ different templates or layouts and you can use it for different kind of websites.
You can also compose and save your Divi layouts.
Export a layout from one Divi installation into another easily.
It has several elements which you can drag and drop anywhere in your layout.
Pricing: Starting from $69 per year
Our Grade: B
Review: Divi is a good page builder and its functionality is majestic. It enables you to work with other WordPress themes. It consists of tons of shortcodes which can make it difficult for you to change themes or page builder in the future.
Themify Builder
If you are a WordPress user and using the theme that is, Themify. It means that you already have Themify builder in your theme.
If you are not a Themify theme user, you can also get Themify builder plugin.
It is also a simple page builder which has many ready to use modules which you can use for your posts and pages. Usually, you require separate WordPress plugins to install in order to get these modules.
You can either edit your page from your live site or from the admin area using Themify builder.
If you are using live editing, you will be able to see the change live on your site.
Themify builder has ready to use layouts which you can apply to your posts in a moment.
Pricing: $39
Our Grade: C+
Review: Page builder consists of promising features but you have to learn it. Learning can become a frustration for you. It is free.
Page Builder by Site Origin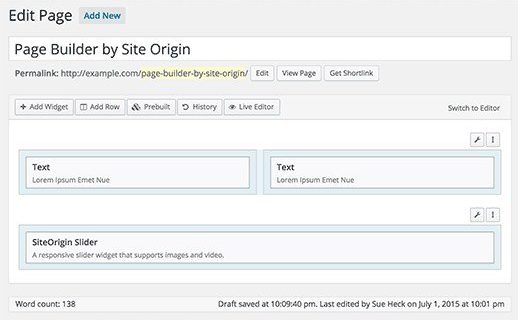 This page builder has more than 1 million installs. Site Origin's page builder is another eminent WordPress page builder on the market. The price is one of the basic reason because it is free of cost. It is a fully functional plugin that is free.
Site Origin page builder is easy to use and it is compatible with any standard WordPress theme. Use WordPress widgets for components and it has its own widgets. You can download and install its widgets. It also has a history tool which can allow you to redo or undo your changes or actions. So it is a time saver and you can work with it by peace of mind. It is because you know that you can undo your actions.
Pricing: Free
Our Grade: C
Review: Site Origin page builder is free of cost plugin which has a drag and drop interface and you can also create and customize layouts.
Conclusion
After doing the comparison between drag and drop WordPress page builders, we have come to the conclusion that Elementor and Beaver Builder are the best choice.
If you can spend a little money to get the best builder in the market with guaranteed support from developers. You need to select these two plugins and it is the perfect choice to make.
I hope that you will like this article about the best WordPress drag and drop page builder plugins in 2018.
If you have liked our post, do not forget to share this post to share your love.
Arsalan Rauf is an entrepreneur, freelancer, creative writer, and also a fountainhead of Green Hat Expert. Additionally, he is also an eminent researcher of Blogging, SEO, Internet Marketing, Social Media, premium accounts, codes, links, tips and tricks, etc.