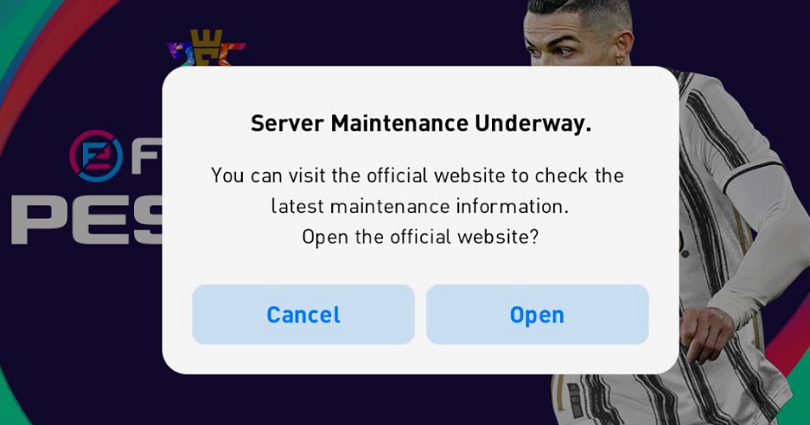 Are you getting a "Server Maintenance Underway" error in eFootball and do you want to fix it?
The next part of the error message, "Please try again later".
If yes, you won't be able to play the game.
eFootball, previously known as PES, is a football video game and the developer of the game is Konami.
The game can be played on PlayStation, Xbox, PC, and mobile.
In this post, I will tell you what "Server Maintenance Underway" is in eFootball/PES, how to fix it, and how long it lasts for.
What does "Server Maintenance Underway" mean in eFootball?
Server Maintenance Underway in eFootball means that the game is under upgradation.
After the completing of update, you will be able to play it.
To fix bugs and glitches, online games need to have constant updates and add new things.
The server will go through a period of maintenance when eFootball is about to have an update.
After the maintenance, you need to update the game to its newest version from the App Store or Google Play Store.
Sometimes, the maintenance can take a few hours to complete.
The span of the maintenance depends on whether there are any technical issues or not.
A large-scale update usually needs a longer time to complete whereas a small update will need a shorter time to complete.
How to fix "Server Maintenance Underway" in eFootball
To fix "Server Maintenance Underway" in eFootball, your best bet is to wait it out.
The time of maintenance may last for a few minutes to an hour.
In some cases, it may last more than an hour.
This entirely depends on the scale of the update.
If an update is a large-scale, it requires a longer time to complete the maintenance.
Every year, eFootball goes through multiple large-scale updates.
In June 2022, there was an update when the game was undergoing maintenance for multiple hours.
Konami published an apology for it on their website by an announcement.
Here is what they stated there, "We would like to apologize for the inconvenience caused during the large-scale maintenance".
Additionally, they also mentioned that further maintenance may be carried out without an announcement or warning.
It is happening because they are trying the full launch of season 2.
Unluckily, you cannot do anything from your side in order to speed up the process.
Therefore, the ideal way is to be patient and wait until the maintenance is completed.
After the completion of the maintenance, you need to update the game from the App Store or Google Play Store.
How long does server maintenance last in eFootball?
In eFootball, server maintenance typically lasts for 30 minutes.
The update is on a larger level, the maintenance will last more than an hour.
Alternatively, if the update is a small one, it'll typically take less than half an hour to complete.
Unluckily, eFootball does not tell the estimated time of the maintenance.
Therefore, the ideal way is to check back frequently if you want to know the status of it.
In addition, use Twitter to check the latest tweets about the status of eFootball by searching for "eFootball" and filtering the search results to "Latest".
Final Words
To keep the game smooth, updates to eFootball are necessary.
Additionally, some updates contain bug fixes that improve the user experience of the game.
Past updates contain updates related to control, goalkeeper, camera, shooting, and defense fixes.
To get rid of the glitches, general fixes are also done.
Certain updates will also result in the change of minimum system requirements for the game.
Therefore, if you're using an old device, your device will not be compatible with the latest updates.
What's Next
Funny, Cool, And Best Gaming Names
Arsalan Rauf is an entrepreneur, freelancer, creative writer, and also a fountainhead of Green Hat Expert. Additionally, he is also an eminent researcher of Blogging, SEO, Internet Marketing, Social Media, premium accounts, codes, links, tips and tricks, etc.