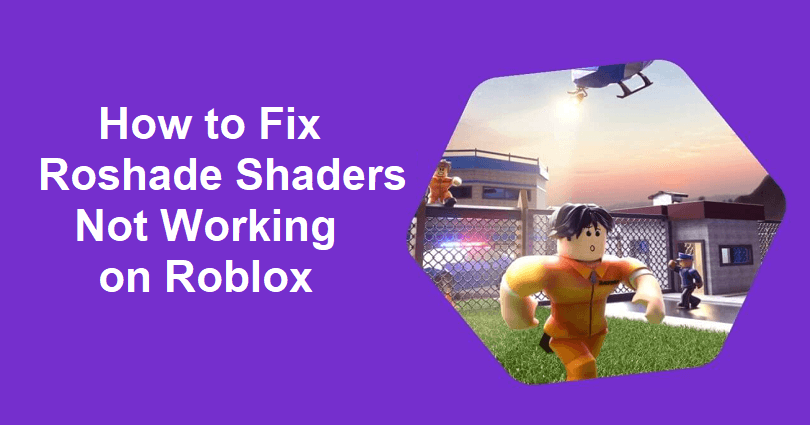 Roshade is a tool that can improve the visuals of Roblox games and it does it by applying shaders through Reshade, a post-processing injector.
Users can use Ray Tracing by using Roshade Pro, which makes the lighting more real and improve the experience.
Microsoft frequently checks this tool for viruses that is why it is safe and it has an encrypted code signature for verification.
You can unlock additional features from Roshade Pro including additional presets, a ray tracing option, and GFX shaders for a professional look.
Apart from that, it also contains presets that do not need an RTX graphics card.
Unluckily, many users reported that the shaders are not working after the new update by Roblox.
In this article, I will tell you how to fix Roshade shaders not working on Roblox after the new update.
Why are shaders not working on Roblox?
Shaders are not working on Roblox due to the new Byfron update.
According to Zeal, the maker of Roshade, Reshade is not working with Roblox because of the implementation of Hyperion, Roblox's anti-cheat system.
Another good thing is that the Reshade injector works with the x64 version of Roblox and its new anti-cheat.
The developers have tested it and concluded that there are no issues with the injector.
However, Roblox still blocks the overlay and graphics that ReShade gives.
It indicates that you can load Reshade on Roblox but you will not be able to use or see its effects as well as settings.
In order to whitelist the overlay with Reshade's digital signature, the developers have already contacted Roblox.
Unluckily, they cannot fix the problem themselves as it needs the approval of Roblox.
Zeal also stated that he is optimistic that Roblox will take into account their request and enable them to use ReShade without any restrictions.
How to fix Roshade not working on Roblox
To fix Roshade not working on Roblox, the best bet is to sign the petition to save Roblox Shaders.
After signing it, the next step for you is to wait for Roblox's approval to whitelist Roshade.
Sign the petition
Visit this link: https://chng.it/cNhrCRJ6qY.
Provide your first name, last name, and email address.
Choose "Sign this petition".
Choose "No, I'll share instead" followed by "Skip for now".
Source: The announcements channel in the Roshade Discord server.
Wait for Roblox's response to whitelist Roshade
The implementation of Hyperion triggers the Roblox's anti-cheat system, as a result, it blocks the overlay and graphics that ReShade gives.
You can still load ReShade on Roblox, but you will be restricted from seeing or using its effects and settings.
The developers of Roshade have already contacted Roblox to request them to whitelist ReShade, and they are waiting for the response now.
In order to use it again, you have to wait for Roblox to whitelist Roshade.
What's Next
How to Force Restart Roblox on Mobile or PC
How to Fix "Failed to load library" in Roblox
How to Fix White Screen in Roblox
Arsalan Rauf is an entrepreneur, freelancer, creative writer, and also a fountainhead of Green Hat Expert. Additionally, he is also an eminent researcher of Blogging, SEO, Internet Marketing, Social Media, premium accounts, codes, links, tips and tricks, etc.