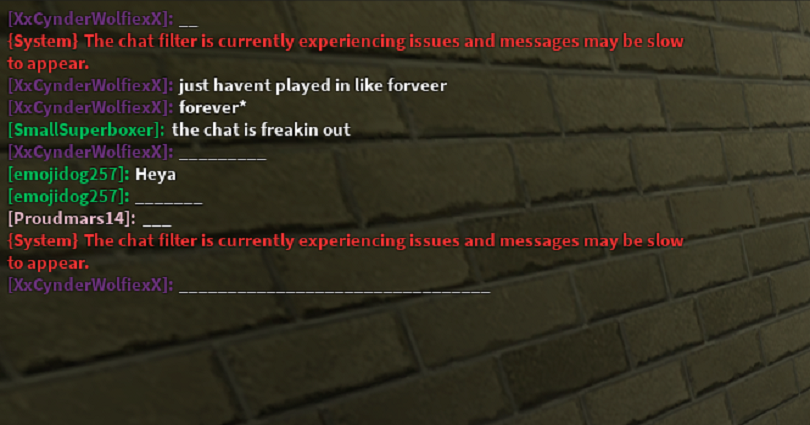 Are you getting a "The chat filter is currently experiencing issues" error in Roblox and want to know how to fix it? Read the guide for it.
The full error message is "The chat filter is currently experiencing issues and messages may be slow to appear".
If you are facing it, messages that you send in Roblox may fail.
In some cases, the messages may take a longer time to appear in the chat.
Usually, it happens due to downtime in the Roblox servers.
In this post, I will tell you how what is the Roblox chat filter and to fix "The chat filter is currently experiencing issues".
What is the Roblox chat filter?
The Roblox chat filter restricts players from sending personal information and profanity.
It replaced "Safe Chat", a filter that stops players from sending messages which were not pre-programmed.
Roblox used to have a blacklist of words and they stored it in the "diogenes.fnt" file.
If a message sent by the players contains a word from the blacklist, they will be automatically banned.
For now, the text filter is made available by the CommunitySift service that uses rules and text classification.
Apart from filtering profanity, it can also censor the private information so that Roblox can remain COPPA-compliant.
Having said that, the chat filter is frequently down and players are not able to send messages.
The service also censors words that are not characterized as profanity including "hi" or "okay".
The filter has gone through different updates and now it can detect a normal conversation.
However, false positives still arise when someone tries to look up a username.
How to Fix "The chat filter is currently experiencing issues" in Roblox
To fix "The chat filter is currently experiencing issues" in Roblox, the first step is to check if Roblox is down.
If Roblox is down, the best way to fix the chat filter is by waiting it out for the servers to be back up.
There are various methods you can use to check if Roblox is down.
Firstly, you can visit downdetector.com/status/roblox/ site and look at the graph.
If the graph contains a huge spike, it indicates that a lot of users complained that Roblox is down.
Secondly, you can also visit the official Roblox status page.
The page will also let you know if there is anything wrong with Roblox.
The information includes the Roblox website, mobile app, Xbox app, games, avatar, and more.
If everything is green (operational), it means it is working fine.
However, if there is a service disruption or degraded performance, it indicates that Roblox is not up.
Lastly, you can visit Twitter and search for the term "Roblox down" and check the latest tweets.
If there are a lot of people complaining about it, it shows that you are not alone in who is facing the downtime.
The engineering team usually takes more or less an hour to fix service disruptions.
However, in some cases, it may take multiple hours if the issue is complex.
Therefore, you should be patient and wait until the servers are back up before you start chatting again.
What's Next
Good, Aesthetic, and Cute Roblox Usernames
Arsalan Rauf is an entrepreneur, freelancer, creative writer, and also a fountainhead of Green Hat Expert. Additionally, he is also an eminent researcher of Blogging, SEO, Internet Marketing, Social Media, premium accounts, codes, links, tips and tricks, etc.