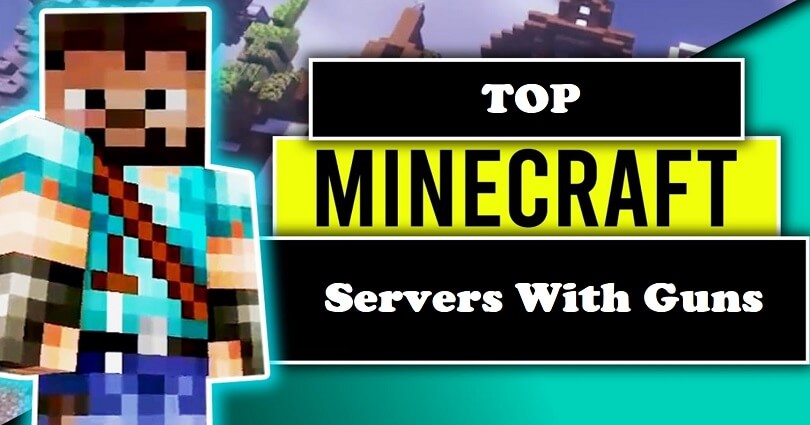 Minecraft can add guns with a mod or a plugin.
You need to join servers with guns in order to experience combat in the game.
These servers contain installed gun plugins and usually have a custom resource pack.
However, you can leave the custom resource pack and use the default blocks to play.
This post has the top 7 best Minecraft servers with guns, inspired by games like Call of Duty and Battlefield.
To add your server to the list, you need to buy a Minecraft server promotion from our Facebook page. https://www.facebook.com/greenhatexpert/
1. Grand Theft Minecart
Server IP address: topg.gtm.network
There are three cities in Grand Theft Minecraft including MineSantos, Sanktburg, and New Mineport where you can loot chests and obtain gear.
Players who commit murder will face police as they are roaming in the cities.
When your level is increased, you get access to more powerful vehicles and weapons and can buy houses and apartments to store your things.
To become the Crime Lord of Los Santos, you need to create or join a gang and you can explore more opportunities in Grand Theft Minecart.
2. Mob Arena
Server IP address: mobarena.mc.gg
For fighting mobs, Mob Arena is a dedicated Minecraft server.
You can get in combat with creepers, zombies, skeletons and so on.
Select from a myriad of classes that has guns and mythical weapons including the Mjolnir.
Join your friends to get rid of powerful bosses and break records.
3. Gun Colony
Server IP address: guncolony.com
GunColony is a server that has custom plugins to promote realistic gunplay, such as block penetration, custom hitboxes, and a semi-auto mode.
The scenario mode enables players to get historical battlegrounds with authentic maps, teams and weapons.
It has different games modes including Arms Race, Defusal, Demolition, Mob-Arena, Elimination, Free-For-All, and Team Deathmatch.
The weapon customization is also possible for up to 5 modifications inspired by COD: Modern Warfare, it can be unlocked by playing and leveling up their weapons.
4. CCNet
Server IP address: play.ccnetmc.com
CCNet is a server that allows the players to build moving, fully-functional warships, ground vehicles, and aircraft to continue the war.
The server has a dynamic, player-run economy with more than 1 thousand player shops boosted by custom plugins to increase the discovery of the shop.
The players can fight in wars with dozens of players, give rise to intense combat with all kinds of vehicle such as deploying their navy.
The Slimefun plugin helps players to build the productive capacity of the nation and industrialize.
5. Havoc Games
Server IP address: play.havoc.games
The Havoc Games network started as a small Walking Dead-themed zombie server but later in 2012, it has become a bigger server network that has custom game modes.
The network has multiple game modes including The Walking Dead, Minewars, custom Towny Earth, and The Mining Dead PvE servers.
The PvP servers, including Warzone, TMD Ragnarok, and Armageddon, come with increased difficulty by combating against the dead and the living.
The custom features of the network include being adapted and improved so that the players can enjoy the engagement.
6. YomNetwork
Server IP address: play.yomnetwork.ca
Join WarZone PvP, a Kit PvP-type server with guns that is available in a massive destructible city.
The players begin at a C130 Aircraft, select their loadout and kits, and then skydive out of the plane into the WarZone.
The server comes with more than 80 types of unlockable guns and weapons, enabling the players to combat hundreds of other players.
To rank up and unlock more guns, players can utilize money and the server will facilitate the players who want to join the battle.
7. StarWorksMC
Server IP address: play.starworksmc.us
StarWorks is considered a family rather than a community, it has passionate players who consider Minecraft more than a game.
Their aim is to boost welcoming environment in which everyone gets preference and every voice is preferred and heard.
The server is against soulless, corporate Minecraft servers that only prefer profit rather than collaboration.
Join the DayZ game mode, team up with players, and utilize guns.
What's Next
20 Biggest Discord Servers in the world
Arsalan Rauf is an entrepreneur, freelancer, creative writer, and also a fountainhead of Green Hat Expert. Additionally, he is also an eminent researcher of Blogging, SEO, Internet Marketing, Social Media, premium accounts, codes, links, tips and tricks, etc.