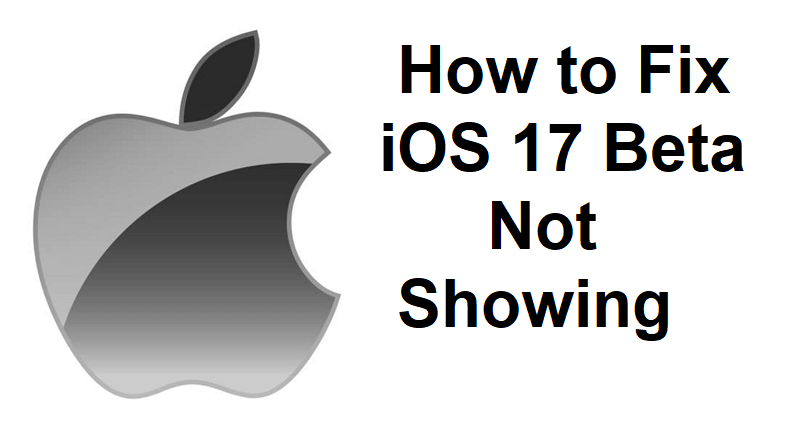 iOS 17 comes up with new methods to express yourself and help you to share content in a different manner.
The new plus button can be used to see the things you send the most such as photos and audio messages.
You can allow your friends and family to know about your location when you reach any such as your home.
You can use the new catch-up arrow to jump straight to the first message that you have not seen in the conversation.
Before the launch of the software, you can download and test its beta version.
However, a lot of users are not able to do it as the iOS 17 beta option is not showing up.
In this article, I will tell you how to fix iOS 17 Beta not showing, not working, or missing in your software update for iPhone or iPad.
Editor's note: after testing this guide myself I've written this article and it really works- it is a bug/glitch that is not fixed yet. (carefully follow the given instructions)
Step 1: Use your main Apple ID to join the Apple Beta Software Program (if you haven't already)
To get started, if the "Beta Updates" option is not available for you, you have to join the Apple Beta Software Programme—here's are the steps on how to do this:
Visit this link: https://beta.apple.com/sp/betaprogram.
Choose the "Sign up" button.
Provide your main Apple ID and password.
Enter the verification code.
To agree to the agreement, select "Accept".
Check if you have "Beta Updates" by following these steps: go to Settings > General > Software Update.
Note: You do not need to follow this step if you already have the "Beta Updates" option.
Step 2: Create a new Apple Developer account (Sign up process)
You have to create a new apple id after joining the Apple Beta Software program:
Visit this link: https://developer.apple.com/ and select "Account".
To create a new Apple ID, you need to select "Create yours now".
Provide your information such as (name, country, phone number, etc.) and select "Continue".
After that, you need to verify your email address and phone number.
Agree to the agreement and select "Submit" and your Apple ID will be created.
Note: You need a new Apple ID for iOS 17 Beta option to show up—this is a working bug/glitch that hasn't been addressed yet!
Step 3: Use your new Apple Developer account to Get Beta Updates
After creating a new Apple ID, you have to use it to get Beta updates rather than using your main Apple ID:
Go to the Settings app > General > Software Update > Beta Updates.
Tap on your current Apple ID (e.g. arsalan@hotmail.com).
Select "Use a different Apple ID…".
Use the email address and password of the new Apple ID that you've just created and select "Sign In" to sign in.
Restart your phone.
In the Settings app, go back to the "Beta Updates" page.
Lastly, choose "iOS 17 Developer Beta", go back, and select "Download & install"!
Note: First back up your phone then download iOS 17 Developer Beta.
What's Next
How to Fix Apple Music Replay 2022 Not Working or Showing Up
How to See Your Apple Music Replay 2022
Arsalan Rauf is an entrepreneur, freelancer, creative writer, and also a fountainhead of Green Hat Expert. Additionally, he is also an eminent researcher of Blogging, SEO, Internet Marketing, Social Media, premium accounts, codes, links, tips and tricks, etc.