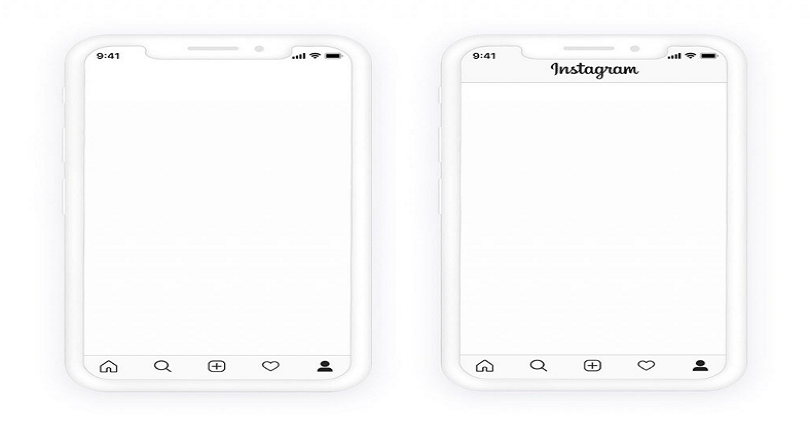 Are you getting a white screen on Instagram and do you want to fix it?
If yes, you are in the right place.
If you are facing it, you won't be able to see posts in your feed.
The error is observed on both the Instagram app and the website.
Some users experienced a blank screen when they try to log in to Instagram.
Other users who are using the website version only viewing a logo with a white background.
In this post, I will tell you why you're getting a white screen or background on Instagram and how to fix it.
Why am I getting a white screen on Instagram?
You're getting a white screen on Instagram due to a bug on the app.
After updating Instagram, you usually get this type of bug.
Certain Instagram updates contain bugs and glitches in the app.
A white screen bug is one of them.
Some users are not able to log in to their account due to a blank white screen.
The rest of the users are able to log in to the app, but are getting a white screen.
In some cases, you might see "Couldn't refresh feed" error.
On Twitter, a user named as Sandeep tweeted that the issue has been happening for 12 hours.
Another user on Twitter, Ali tweeted that they deleted and reinstalled Instagram multiple times, but a white screen error is not fixed.
How to fix Instagram white screen
To fix the Instagram white screen, you first step is to ensure if Instagram is down.
If it's down, you have to wait for 24-48 hours or for a new update to release.
If Instagram is not down, use the incognito browser and log into your IG account.
In addition, you can also change your network or update Instagram to the newest version.
Method 1. Check if Instagram is down
The first thing you need to do is to check if Instagram is down so you don't have to waste your time trying to solve the issue by yourself.
You can use the two methods to do this such as visiting DownDetector or using Twitter.
DownDetector gives information regarding the outage of websites and services.
To check if Instagram is down, search for the term "Instagram" on DownDetector and see the graph.
If there is a spike on the graph, it indicates that Instagram may be down and you need to wait.
To see if Instagram is back up, you can determine it from the graph.
Another method you can use to check if Instagram is down is to search for "Instagram Down" on Twitter.
After searching for "Instagram Down", check if anyone is tweeting it.
In addition, you can also search for the issue that you're facing on the app (e.g. Instagram white screen).
Method 2. Log in to Instagram using an incognito browser
The second way is to log in to Instagram from an incognito browser.
This method was recommended by a Reddit user and the username of the user is enthra2k and a lot of users said that it worked.
Firstly, go to an incognito browser (e.g. Incognito mode on Chrome).
Visit Instagram.com.
Log in to your account.
You may need to bypass the verification by SMS or email.
Log out of your account.
Force close the Instagram app and reopen it.
Try to login into your account on the Instagram app.
Method 3. Switch your network
The third method is to try changing your network.
If you're using a Wi-Fi network, try moving to mobile data.
Alternatively, if you're on mobile data, try connecting to a Wi-Fi network instead.
In some cases, the white screen issue can happen because your IP address is temporarily blocked by Instagram.
By switching your network, the IP address will be changed.
Therefore, the block on the IP will be lifted and you should be able to log in to your Instagram account if you're unable to.
Method 4. Update Instagram
The last way is to try updating Instagram.
Some Instagram updates have bug fixes and improvements.
Therefore, updating Instagram can solve the white screen issue.
If you've already updated Instagram to the latest version, wait for another update to get the issue fixed.
Instagram will launch a new update to get rid of any bugs or glitches in the previous update.
Final Words
It's ironic that some Instagram updates are released to fix bugs on the app, but it adds new ones.
The bugs can occur after every Instagram update, so a follow-up update is required.
You are also in the same situation right now because it is common now.
After trying every trick and tip in this guide, you are still getting a white screen, the best way is to wait for a new update.
In some cases, the issue should be solved after 24 to 48 hours even if you did nothing.
What's Next
Good Instagram Comments For Your Friends
How to Know Who Viewed Your Instagram Profile
How to Delete Your Instagram Call History
Arsalan Rauf is an entrepreneur, freelancer, creative writer, and also a fountainhead of Green Hat Expert. Additionally, he is also an eminent researcher of Blogging, SEO, Internet Marketing, Social Media, premium accounts, codes, links, tips and tricks, etc.