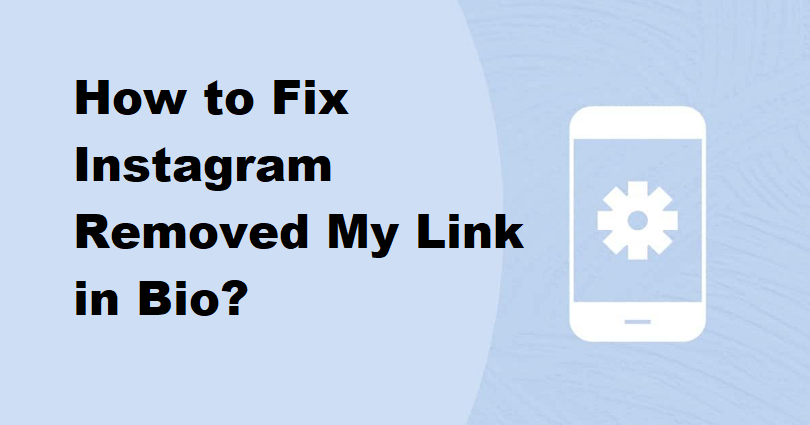 Have Instagram removed the link in your bio?
Did your link disappear from your Instagram profile and do you want to fix it?
If yes, you may not be able to add it back.
The Instagram app is replete with many bugs and glitches.
Some of them occur when IG launches a new update.
In this case, you can do nothing about it to fix the issue except wait.
In this post, I will guide you on why Instagram removed the link in your bio, why it is gone or disappeared, and how to fix it.
Why did Instagram remove my link in bio?
Instagram removed the link in your bio because the link is linked to adult or inappropriate content.
Otherwise, it may be happening due to a bug/glitch on the app that needs to be fixed.
In October, the links of a lot of users are deleted from their Instagram bio.
the issue is present on a global level that's caused by Instagram's end.
A lot of users went to Twitter to report that their links have been removed.
Here are some examples:
"Instagram is driving me crazy today. They've removed the link from the bio on my page, and now I am unable to put it back. I am so pissed. Please let me know if there is anything that could be done".
"Is anyone having issues with their link on Instagram? My link has been removed from my bio on my main account, and on my back up it has reverted to an old link that doesn't even work anymore".
"So Instagram removed my link from my art account and I can't add it back. On LBX Expo weekend of all times…".
How to fix Instagram removed my link in bio
To fix Instagram removed link in your bio, the best bet is to use a tool like Linktree and add it to your bio.
If the issue is happening because of a bug/glitch, you can download an older version of the app to fix it temporarily (only for Android devices).
Otherwise, you have to wait until Instagram resolves the issue on their end because it's not working as it is supposed to.
Go to twitter.com to find out if others are getting the same problem by searching for the problem.
If there are tweets that are saying the same story, it shows that Instagram is down or some features on the app are not running.
In this case, you will have to wait for Instagram to release a follow-up update to resolve the issues.
Main points
If you're using an "inappropriate" or "adult" link on Instagram, use a tool like Linktr.ee to bypass the block.
As of late October, Instagram "removed" the links from the bios of thousands of users.
A lot of IG users said that their bio links were deleted and they can't add them back.
A quick solution for this is to download an older version of Instagram from UptoDown or copy this link and paste it into your browser: https://instagram.en.uptodown.com/android/versions (for Android users only).
Your task is to wait until Instagram resolves the link feature on their end.
In addition, try uninstalling and reinstalling the app to see if it solves the problem (the process removes Instagram's cache and you'll have to log in again).
Instagram does not have proper support along with constant bugs on the app.
That is the reason they are not good enough to pay attention to the user's concerns.
One of the problems is the removal of the link in your bio.
For the time being, you need to wait until the feature is fixed by Instagram because the problem is from their end.
In the meantime, the "Link" sticker can also be used in your stories in order to promote your service as well as your website.
What's Next
How to Fix Link in Bio Not Working on Instagram
How to Fix "Add external link" Not Working on Instagram
How to Fix Instagram Bonuses Not Showing
Arsalan Rauf is an entrepreneur, freelancer, creative writer, and also a fountainhead of Green Hat Expert. Additionally, he is also an eminent researcher of Blogging, SEO, Internet Marketing, Social Media, premium accounts, codes, links, tips and tricks, etc.