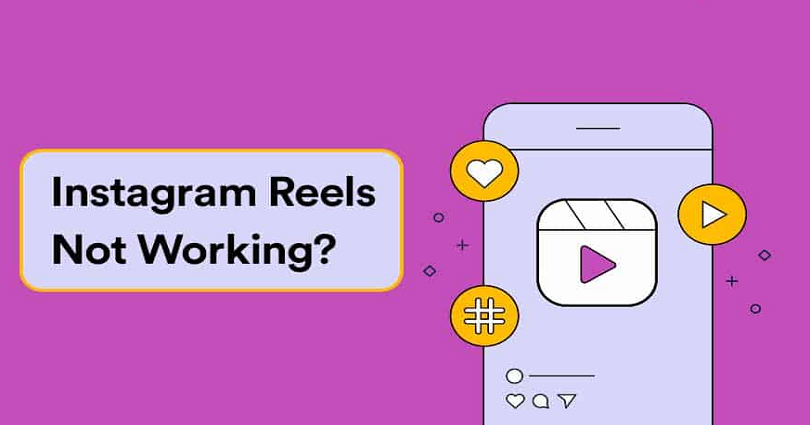 Are Instagram Reels not loading for you when you try to see them?
This is another common problem that many Instagram users get.
Even if your internet connection is good, you might still face this issue.
So, you have to find the right way to get Reels to start loading again.
In this post, I will tell you why is Instagram Reels not loading and how to fix it.
Why is Instagram Reels not loading?
Instagram Reels is not loading because the app of Instagram is down.
If Instagram is not down, it is happening because of a bug on the app, your internet connection is not fine, or you don't have the latest version of the application.
Some updates add bugs to the app including the loading problem for Reels.
If so, Instagram will come up with a new update shortly to fix the existing error on the app.
If an update shows "Bug fixes and improvements", you should update the app asap.
How to fix Instagram Reels not loading
To fix Instagram Reels not loading, you need to ensure whether Instagram is down or not.
If Instagram is up, you can try to change your network or update Instagram.
You can also uninstall and reinstall the app or wait for 2 days will fix the issue.
If everything else fails, try logging out and logging in to your account again.
Method 1. Check if Instagram is down
Before you try to fix the Instagram Reels loading problem, you need to make sure if Instagram is down.
There are two methods you can use to check if Instagram is down.
The first method is to visit DownDetector from this link: (downdetector.com/status/instagram).
After opening the website, check if it has a spike in the graph.
If there's a spike in the graph, it definitely shows that Instagram is not up.
The second method is to go to Twitter.com and search for "Instagram down" in the search bar.
After doing so, go through the top and latest tweets to see if there are a lot of people tweeting about the issue.
If there are a lot of tweets quoting it, it means that Instagram is probably down for everyone on IG is facing it.
In this case, you can only wait for a few hours to get a fix from Instagram's engineering team.
Method 2. Change your network
In some cases, you may face a block on your IP address from Instagram.
This can happen when you do too many actions at the same time.
In other cases, you can get it due to the poor internet connection or if it is not active.
Therefore, an Instagram Reel might take too long to load and will result in time out.
Your internet speed can be checked with the help of a tool like Speedtest by Ookla.
If your internet speed is below average (<2 Mbps), you need to upgrade it.
To fix this, you can also change your network.
If you're on Wi-Fi, you need to start using mobile data.
If you're on mobile data, switch to Wi-Fi instead.
After changing your network, force close the Instagram app, re-open it and see the Reels should load now.
Method 3. Update Instagram
This is a necessary step that you should always have the latest version of Instagram.
Having said that, some updates come with bugs on the app.
Some bugs will stop features from working on the app such as loading like Reels.
In this case, Instagram will provide a new update to fix them.
Visit the App Store or Google Play Store and search for the term "Instagram".
If the update is available with bug fixes and improvements, you need to update the app as early as possible.
Method 4. Uninstall and reinstall Instagram
According to the Help Center of Instagram, uninstalling and reinstalling the app is also their recommendation for the troubleshooting method.
But before you do that, it is suggested that you check your connection and restart your device first.
The process of uninstalling and reinstalling Instagram will update it to the newest version of IG.
Additionally, the cache of the app will be removed—which can solve certain errors on the app including Reels not loading.
Method 5. Wait for 24-48 hours
Another way to deal with it is by waiting for 24-48 hours and Reels will start loading again.
Most errors on IG do not last for more than 48 hours (in rare cases, it can take some days).
The error can be the "Try Again Later" or the "Couldn't Load Users" error.
I've personally faced the Instagram Reels not loading problem before.
In my case, the issue occurred on the app because I didn't provide my age on the app.
However, Instagram did not ask me to provide my age on the app for several days.
During this span, Reels and other options on Instagram weren't loading.
Instagram Reels started loading again after adding my age to the app when I was asked to do it.
Method 6. Log out and log in to your account
Firstly, go to Instagram app.
Tap on the menu icon.
Now, tap on "Settings".
Lastly, scroll down and tap on "Log Out" to sign out of your account.
After logging out of your IG account, log in to your account.
After doing so, you need to check if Instagram Reels can load.
What's Next
How to Know Who Viewed Your Instagram Profile
Good Instagram Comments For Your Friends
How to Delete Your Instagram Call History
Arsalan Rauf is an entrepreneur, freelancer, creative writer, and also a fountainhead of Green Hat Expert. Additionally, he is also an eminent researcher of Blogging, SEO, Internet Marketing, Social Media, premium accounts, codes, links, tips and tricks, etc.