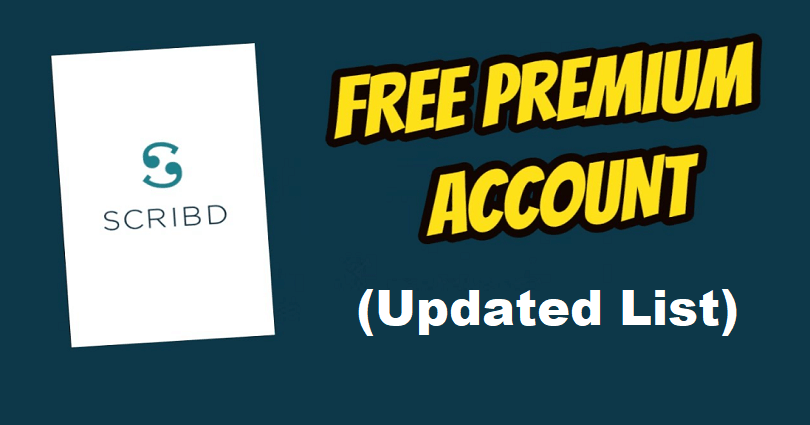 Scribd is a digital reading subscription app that allows you to read as well as listen to ebooks, audiobooks, magazines and so on.
As a reader, you can keep up to date, explore new passions and become the best version of yourself.
It offers the library of more than one million bestselling ebooks, audiobooks, and articles from prominent newspapers.
Additionally, it contains a personal library that can be saved in your pocket.
You can sign in to Scribd using your Android device, iPhone, iPad and Fire devices.
You can also access Scribd on your internet browser to see millions of titles.
The favorites can be saved to build collection, create your own library and bookmark titles.
If you're an author, the platform also allows you to publish your work on it and it will be showcased to 100 million visitors every month.
This article has a list of free Scribd premium accounts with email addresses and passwords with no generator and credit card needed.
Is Scribd free?
No, Scribd is paid not free, but it also gives you a 30-day free trial.
After the free trial, you will be charged $9.99 per month.
You can cancel your subscription whenever you want on the platform that you've used to subscribe.
Just remember that Scribd is a worldwide platform, but it does not mean that every title will be available in your country because of international sales agreements.
You can also download Scribd from the App Store or Google Play Store without paying anything.
How to get a free Scribd account
To get a free Scribd account, visit their website scribd.com and click on the "Read free for 30 days" button.
After clicking on the button, you have to create an account.
You can create an account with the help of Facebook, Google, or your email address.
After that, the next thing is to provide your credit card information as you have to pay $9.99 after 30 days.
You can cancel your subscription before 30 days to prevent the payment.
Free Scribd premium accounts 2023
| | |
| --- | --- |
| Email address | Password |
| dixeka7820@paxven.com | Baz$C0@SuK |
| pivol75959@lubde.com | P7oz-&EtL8 |
| bivoc19645@paxven.com | naWUp*u0e3 |
| coxeha9828@nazyno.com | sw+g*d7yUT |
| xihiri2300@paxven.com | y?zidOn#3r |
| remome3419@nazyno.com | $1efowLSln |
| lefebi6403@nazyno.com | Y0phEB&ocR |
| wijamoy703@lubde.com | !Wlk8qaRi* |
| xeyociv128@hostovz.com | TRA6r12O&h* |
| niwip22490@ktasy.com | hepr2$@45Wr |
| yojege9046@hostovz.com | tru6345mu$I |
| saunders.caroline.m@gmail.com | DEb@R72oth48 |
| bered13774@hoxds.com | kuzO532n6_E |
| parishlanewines@gmail.com | stLx@235ez0g |
| thebalancedyoga@gmail.com | YO$52A8ejE |
| keenanjm@gmail.com | vL8aC125=h7N |
| shaun.cford@gmail.com | wO=Tha2612rEt |
| doyej2734@hoxds.com | B4_rL12wlCH |
| woodgeragencies@gmail.com | froK36-0pePo |
| nicksleath@gmail.com | 8hL-p21hOJoc |
| chrisecostanza@gmail.com | Huh521*o3T |
| thegrapewizard@gmail.com | 3iCh=724XoFi |
| design.alif@gmail.com | huRl-nI6535 |
| patervincentosb@gmail.com | Z#fra251y0 |
| joedavies87@gmail.com | 5e?o4782Tra |
| sgriffiths973@gmail.com | Pu*3aP632ow |
| jakejorgovan@gmail.com | stiT&O357t8 |
| hidesignheidi@gmail.com | _Wu-H236o5R1 |
| cel.brophy@gmail.com | w=At53rlq3vu |
| michele.roberts.events@gmail.com | 7+hE22t57@W |
| jamiedsjlammers@gmail.com | wOt+Hl629s18 |
| johnbeveridge50@gmail.com | 9H8p=921hLsO |
| thehavilandclub@gmail.com | C1k@ej01Ocr7 |
| subbu6699@gmail.com | fr0@k25LbL |
| jctekksims@gmail.com | =Uf2562r04Hi |
| cullinanherd@gmail.com | t00R42IQ=tu |
| auntiegummy32@gmail.com | swexl%316uH |
| katarina.lijic@gmail.com | hlwr#b357B |
| unh.waysmeet@gmail.com | cr6KOs57p-d |
| rajalingam4852@gmail.com | d17a37?BRowr |
| doug90254@gmail.com | chEX*u640Wl |
| jameswilson29@gmail.com | mom-acR238g |
The Scribd premium accounts free in the above list are based on a first-come-first-serve.
To access all the premium features, you need to sign in to the account, the features are ebook reader, audiobook listener, and document reader.
If you are not able to log in to an account, it may be happening because someone has changed the password for it.
It could also be happening due to the removal of the account.
In this case, you can always use another Scribd Premium login.
Just keep in mind that some Scribd accounts might be without an active subscription because it has expired.
I will add new and free Scribd premium accounts to the list periodically.
You can bookmark this page to get Scribd premium accounts free (for Chrome, click on the star icon on the URL field) and revisit it later.
What's Next
Free Duolingo Premium Accounts
Canva Pro Team Invite Link Free
Arsalan Rauf is an entrepreneur, freelancer, creative writer, and also a fountainhead of Green Hat Expert. Additionally, he is also an eminent researcher of Blogging, SEO, Internet Marketing, Social Media, premium accounts tips and tricks, etc.