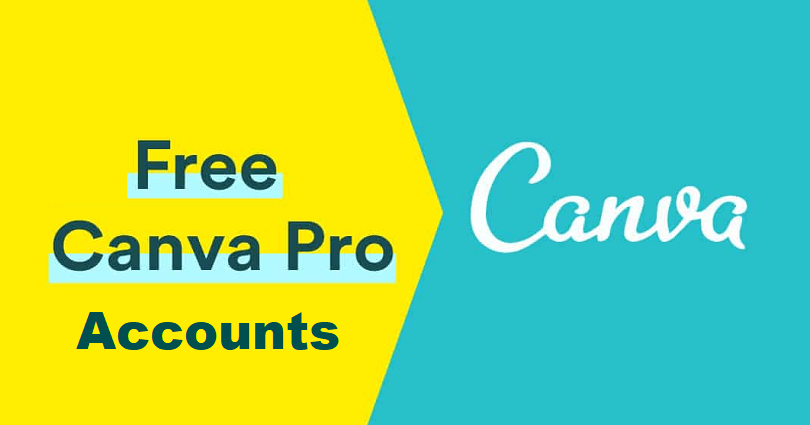 Canva for teams is a wonderful thing for all sizes of businesses and it provides all-in-one workplace design solution.
The platform can be used to create logos, social posts, and branded content.
Marketing teams can create and schedule social media posts, on the other hand, sales teams can focus on presentations.
Internal teams will help you to send newsletters, flyers, or updates.
You can create visual storytelling via Canva for teams and you can communicate effectively with it.
It contains thousands of design templates that can be customized by your team.
The branded templates can also be created to always stay on-brand.
This post has a list of free Canva Pro accounts or premium accounts with email addresses and passwords.
What is Canva Pro?
Canva Pro has premium features that help you to create professional designs and content without putting much effort.
Although Canva offers free service for individuals and teams, the free version has limited features.
If you're a team or part of a team, you can always upgrade to Canva for Teams to get access to content management, collaboration, and approvals.
With Canva Pro, you can get access to more than 100 million images, graphics, and videos.
In addition, it helps you to build reusable templates for your brand and you can keep your brand promotion consistent.
To remove the image backgrounds, use the background remover to do it in a single click and use animation styles.
How do I get Canva Pro for free?
To get Canva Pro for free, the requirement is to be a primary, secondary, or high school student.
Students can get access to Canva for Education, which is free for the sake of educators.
To join Canva for Education, you need the invite of your teacher from their own account.
Unluckily, Canva for Education cannot be used for college and university students at the moment.
Free Canva Pro accounts 2023
Free Canva Pro accounts:
| | |
| --- | --- |
| Email address | Password |
| mahar42703@keshitv.com | yi6Och_D |
| pikagax324@dmonies.com | -o8eyU_R |
| wolobo1756@eilnews.com | W-5r_x6S |
| feheve3248@keshitv.com | FrL20*pE |
| majede6980@keshitv.com | fRAd5wa+ |
| yowiv77376@edinel.com | Ph54a-uD |
| loyodoy376@ktasy.com | 8rlGA*T& |
| habar71830@hoxds.com | k&KE_O07B |
| xeyociv128@hostovz.com | TRA6rO&h* |
| niwip22490@ktasy.com | hepr2$@Wr |
| thebalancedyoga@gmail.com | YO$A8ejE |
| doyej2734@hoxds.com | B4_rLwlCH |
| bered13774@hoxds.com | kuzOn6_E |
| parishlanewines@gmail.com | stLx@ez0g |
| yojege9046@hostovz.com | tru63mu$I |
| keenanjm@gmail.com | vL8aC=h7N |
| shaun.cford@gmail.com | wO=Tha2rEt |
| saunders.caroline.m@gmail.com | DEb@Roth48 |
| woodgeragencies@gmail.com | froK-0pePo |
| joedavies87@gmail.com | 5e?oTra |
| chrisecostanza@gmail.com | Huhl*o3T |
| thegrapewizard@gmail.com | 3iCh=XoFi |
| cel.brophy@gmail.com | w=Atrlq3vu |
| patervincentosb@gmail.com | Z#fray0 |
| nicksleath@gmail.com | 8hL-phOJoc |
| sgriffiths973@gmail.com | Pu*3aPow |
| jakejorgovan@gmail.com | stiT&Ot8 |
| hidesignheidi@gmail.com | _Wu-Ho5R1 |
| design.alif@gmail.com | huRl-nI65 |
| jctekksims@gmail.com | =Ufr04Hi |
| jamiedsjlammers@gmail.com | wOt+Hls18 |
| johnbeveridge50@gmail.com | 9H8p=hLsO |
| thehavilandclub@gmail.com | C1k@ejOcr7 |
| rajalingam4852@gmail.com | d17a?BRowr |
| michele.roberts.events@gmail.com | 7+hE2t@W |
| cullinanherd@gmail.com | t00RIQ=tu |
| auntiegummy32@gmail.com | swexl%36uH |
| jameswilson29@gmail.com | mom-acR8g |
| unh.waysmeet@gmail.com | cr6KOsp-d |
| subbu6699@gmail.com | fr0@kLbL |
| doug90254@gmail.com | chEX*u0Wl |
| katarina.lijic@gmail.com | hlwr#b57B |
The free Canva Pro accounts in the above list are based on a first-come-first-serve.
To access all the paid features, you need to sign in to them.
If you are not able to use an account, it probably means that someone has updated the password for it.
It could be the result of the removal or banning of the account.
In this case, you can always use another Canva Pro Login.
Just keep in mind that some accounts might not have Canva Pro due to the expiration of the subscription.
I will add new and free Canva Pro accounts to the list periodically.
You can bookmark this page to get Canva Pro free accounts (for Chrome, click on the star icon on the URL field) and revisit later.
What's Next
Canva Pro Team Invite Link Free
Free WOW Presents Plus Accounts
Arsalan Rauf is an entrepreneur, freelancer, creative writer, and also a fountainhead of Green Hat Expert. Additionally, he is also an eminent researcher of Blogging, SEO, Internet Marketing, Social Media, premium accounts tips and tricks, etc.