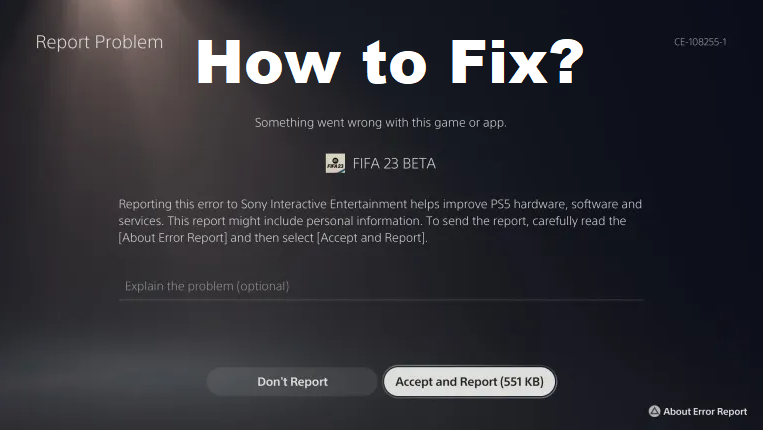 Is FIFA 23 Beta crashing when you try to log in on PS4 or PS5 and looking for a way to fix it?
Is it still crashing after uninstalling and reinstalling the game?
A lot of users are getting the "Something went wrong with this game or app" error.
The next part of the error is, "Reporting this error to Sony Interactive Entertainment helps improve PS5 hardware, software, and services".
The issue can be reported, but it won't prevent the game from crashing.
In this post, I will tell you why is FIFA 23 Beta crashing or not working and how to fix it on PS4, PS5, or Xbox.
Why is FIFA 23 Beta crashing?
FIFA 23 beta is crashing because there is a bug or the servers are down.
You can experience this problem when there are too many people trying to play the game.
A lot of users are reporting about the "Something went wrong with this game or app" crash on Twitter.
Here are some tweets:
"Does anyone else have the issue on PS5 where it constantly closes your app before you get to the Home Screen?".
"I have the closed beta! The game loads up the main menu only to then suddenly crash every time".
"So my game keeps crashing every time I log in. Any help and is this happening to anyone else on PS5?".
"#fifa23beta continues to crash every time I try to log in on PS5".
"Please fix the PlayStation error screen every time we try loading and connecting to the EA serves".
Apart from these complaints, hundreds of other complaints are also posted about the FIFA 23 beta crashing.
Currently, the EA team is working to fix the error, so the best bet is to wait until they fix the problem.
How to fix FIFA 23 Beta crashing
3 ways to fix FIFA 23 Beta crashing:
Remove friends from your friends' list until the list comes below 100 friends.
Follow the steps by signing in to a different user > the main menu > profile settings > another controller that is logged in > switch to the main account > ultimate team.
Change some profile/controller settings > save > quit FIFA 23 beta > restart it.
If FIFA 23 beta is still crashing, the ideal method you can use is to wait until EA fixes the bug on their end.
According to @EAHelp, a friends' list bug in the game is present.
If your list of friends has over 100 friends, the game will crash.
Therefore, you need to delete some of your friends until you have less than 100 friends.
In addition, you can tag or message @EAHelp on their official Twitter account.
What's Next
How to Fix "You have disconnected" Error in MultiVersus
How to Fix "Easy Anti Cheat is not installed" in MultiVersus
Best Perks for LeBron James in MultiVersus
Arsalan Rauf is an entrepreneur, freelancer, creative writer, and also a fountainhead of Green Hat Expert. Additionally, he is also an eminent researcher of Blogging, SEO, Internet Marketing, Social Media, premium accounts, codes, links, tips and tricks, etc.