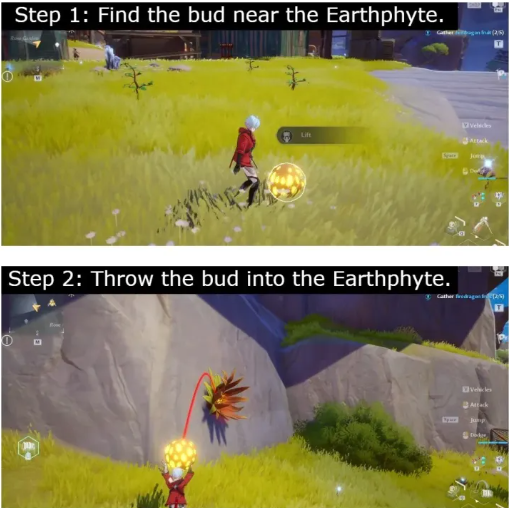 Tower of Fantasy is replete with multiple missions/quests that you need to complete for rewards.
The game also contains side quests, stories, cutscenes, bosses, and so on.
You can get the rewards in the game are in-game currencies.
You need to perform an activity that is to solve the colored plant puzzles.
These puzzles are called Earthphyte puzzles.
You will get rewards by matching the colored bud to the Earthphyte, the rewards like a gold nucleus.
However, you might not know how to solve it because you will not get any hints.
In this post, I will guide you on how to find or solve Earthphyte puzzles in Tower of Fantasy to get their rewards.
How to solve Earthphyte puzzles in Tower of Fantasy
Here is a step by step guide on how to solve Earthphyte puzzles in Tower of Fantasy
Firstly, find the same-colored bud near the Earthphyte and lift it up.
Throw the bud towards the Earthphyte.
Align the bud and throw it into the Earthphyte.
Lastly, collect the rewards.
Just remember that you need to locate the color of the bud that matches the middle of the Earthphyte.
For instance, if the middle of the Earthphyte is yellow, your task is to find a yellow-colored bud in the vicinity.
If you lift up a different colored bud, it will not fit so do not do that.
The colored bud is located near the Earthphyte (around the vicinity of it).
However, in rare cases, it might spawn very far from the Earthphyte.
Therefore, you have to keep looking around the map in order to find it.
After locating the bud, you need to keep lifting it up and throwing it towards the Earthphyte.
In the end, throw the bud into the Earthphyte to solve it.
After throwing the bud into the Earthphyte, you'll receive a reward.
Usually, the reward that you will receive is 1 gold nucleus.
The process can be long so do not complete many of these puzzles is not suggested.
What's Next
How to Complete the Beam Challenge in Tower of Fantasy
All 5 Astra Scenic Points in Tower of Fantasy
How to Defuse the First, Second, and Third Bomb in Tower of Fantasy
Arsalan Rauf is an entrepreneur, freelancer, creative writer, and also a fountainhead of Green Hat Expert. Additionally, he is also an eminent researcher of Blogging, SEO, Internet Marketing, Social Media, premium accounts tips and tricks, etc.