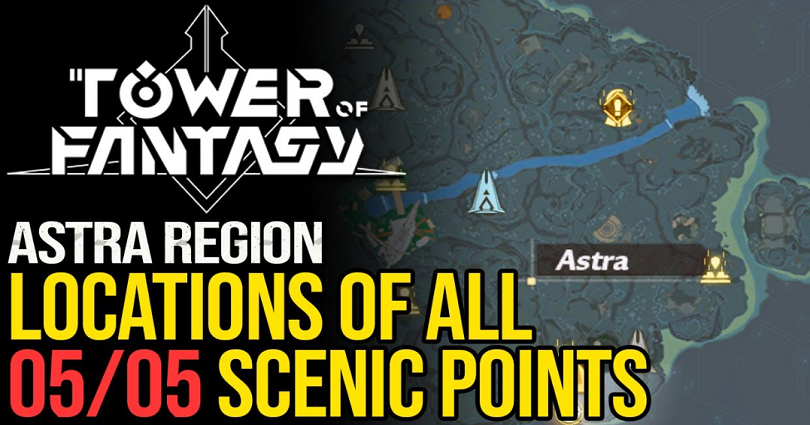 Tower of Fantasy contains a lot of missions/quests that you need to complete for rewards.
The game also contains side quests, stories, cutscenes, bosses, and so on.
You can get the rewards in the game are in-game currencies.
You need to perform an activity that is to investigate the scenic points in Astra.
You can investigate 5 scenic points in Astra because there are only five.
When you investigate a scenic point, it will take a photo of it.
In this post, I will guide you on how the location of all 5 Astra scenic points in Tower of Fantasy.
Astra Scenic Points in Tower of Fantasy
1. Astra Shelter
The Astra Shelter scenic point is situated on the left of where you first spawn in Astra Shelter.
It will not be shown to you until you've completed the dungeon quest.
2. Northern Ring Ranges
The Northern Ring Ranges scenic point is available northeast of the Astra Shelter.
3. Mega Arena
The Mega Arena scenic point is available on the Football Field.
4. Ring of Echos
This scenic point is available south of the Ring of Echos and north of Crimson Pillars.
The location is on top of the rock pillar where you'll have to use your jetpack to reach.
To reach the platform, use your standard jetpack, 3x dash, and jetpack while managing "Dodge" Stamina.
A Stamina trick can be used by pressing "CTRL" + "SPACE" twice and forward until you reach the top.
5. Tomb of Thorns
The location of the Tomb of Thorns' scenic point is at the south of Crimson Pillars.
If it shows "0/5" after investigating all points, you have to claim it at the terminal.
Follow these steps: go to the terminal > chronicles > claim the rewards.
What's Next
How to Defuse the First, Second, and Third Bomb in Tower of Fantasy
How to Complete the Beam Challenge in Tower of Fantasy
Code-locked Door Password in Tower of Fantasy
Arsalan Rauf is an entrepreneur, freelancer, creative writer, and also a fountainhead of Green Hat Expert. Additionally, he is also an eminent researcher of Blogging, SEO, Internet Marketing, Social Media, premium accounts, codes, links, tips and tricks, etc.