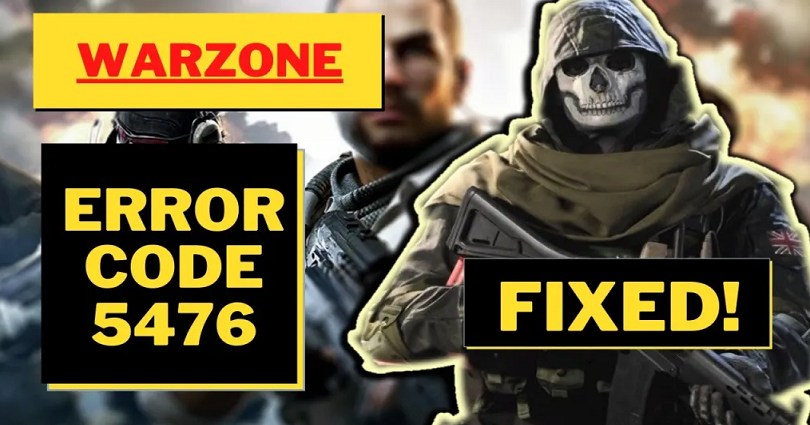 Are you facing a "Dev Error 5476" error message in Call of Duty: Warzone?
The last part of the error message is, "To contact customer service support, go to http://support.activision.com/modernwarfare".
The error message occurs due to the latest Warzone update.
If you've recently updated the game, you will not be able to play it due to a glitch.
In this post, I will tell you why you're getting "Dev Error 5476" in Call of Duty: Warzone and how to fix it.
Why am I getting "Dev Error 5476" in Warzone?
You're getting "Dev Error 5476" in Warzone due to a glitch in the game.
The glitch happened due to the latest Warzone update.
The issue message impacts users who made blueprints/custom builds/custom variants in Multiplayer.
Many users are complaining about the error on Twitter, so it's on a broader level, global level.
A username named @Rube97420622 tweeted, "Please help @ATVIAssist. After the latest Warzone update, I can't log on to my account. When I try to start it on my PS5, it says dev error 5476".
Another user named as @SHAZAM_TTV stated that he tried every fix on the internet but it does not work.
How to fix "Dev Error 5476" in Warzone
To fix "Dev Error 5476" in Warzone, the ideal way is to wait until Raven Software fixes the issue.
On the other hand, you can also remove all of your custom variants in the game from all controllers/accounts.
Method 1. Wait for it to be fixed
According to @RavenSoftware on Twitter, the issue is known to them.
They are currently investigating the "Dev Error 5476" error and are working to resolve it.
Their Trello board says that the status of the fix is "Investigating".
After fixing the issue, the status will be changed to "Fixed".
If you're one of the users who are encountering the error, you need to for wait a new update to be released.
The new update will resolve the existing bug/glitch in the game that is the reason of the error.
Method 2. Remove all custom variants
Use an additional user account and open Warzone.
Turn on your second controller and it will add your main account to the game.
Now, change all of your loadouts to VG.
Change your operator, calling cards, and emblems to a black ops one.
Now, log out of the user account.
Lastly, restart Warzone.
A PS5 user managed to find a solution for the "Dev Error 5476" problem in Warzone.
The solution is to ensure that whoever logs into the account on PlayStation removes their blueprints, custom builds, and custom variants.
As a result, the camo glitch will be fixed in Multiplayer.
A username named as @eSports_Umar on Twitter is the one who found the fix.
What's Next
How to Fix "Easy Anti Cheat is not installed" in MultiVersus
How to Fix "You have disconnected" Error in MultiVersus
Best Perks for LeBron James in MultiVersus
Arsalan Rauf is an entrepreneur, freelancer, creative writer, and also a fountainhead of Green Hat Expert. Additionally, he is also an eminent researcher of Blogging, SEO, Internet Marketing, Social Media, premium accounts, codes, links, tips and tricks, etc.