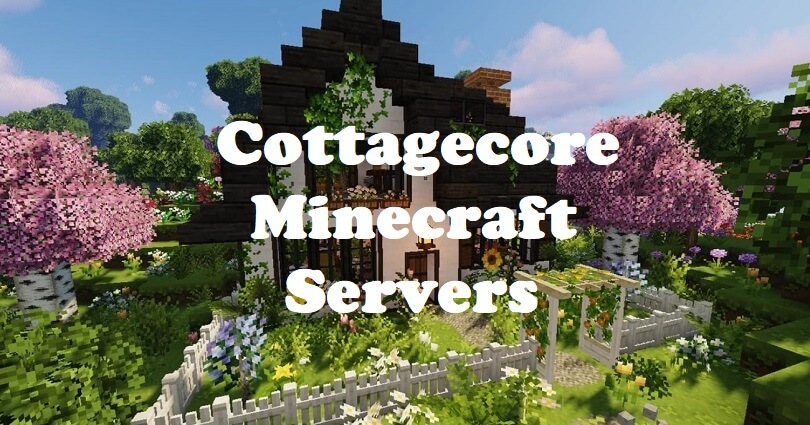 Cottagecore in Minecraft is a popular aesthetic that includes the creation of cozy and rustic environment.
Cottagecore servers contain small, quaint houses designed from natural materials such as wood and stone.
Gardening and farming are the main parts of the Cottagecore in Minecraft, as players can make beautiful gardens and fields.
In short, the whole focus is on creating a peaceful and idyllic homestead in the game.
This post has a list of 5 of the best Cottagecore Minecraft servers for Java, Bedrock, and cracked versions.
To add your server to the list, you need to buy a Minecraft server promotion from our Facebook page. https://www.facebook.com/greenhatexpert/
1. Mob Arena
Server IP address: mobarena.mc.gg
The server has a beautiful spawn on a floating island with vines, waterfalls and nature.
The floating island has Cottagecore buildings including windmills and gazebos.
Mob Arena is a dedicated server when it comes to fighting mobs along with a myriad of classes.
There are more than 16 classes that you can select from including Thor, Poseidon, and Hades.
The server contains a cottage-core theme to give you an ideal experience.
2. Starfruit Gardens
Server IP address: mc.starfruit-gardens.com
Starfruit Gardens contains a cottage core inspired by them which is ideal for users who want to enjoy a friendly community.
This small server gives preference to the players recommendations, and they are always open to new ideas.
The features are custom generation for the overworld, nether, and end, with unique structures and cosmetic items.
They have over 100 custom enchantments and adorable cottage-core textures.
It also has Pyrofishing and Pyromining, Towny-Mcmmo, and Jobs, apart from that, it does have chest shops, dead chests, crates, and separate survival and resource worlds.
3. BlossomCraft
Server IP address: play.BlossomCraft.org
BlossomCraft is a Cottagecore, that is focused on community and you will get a great experience of Minecraft.
The server contains an economy plugin along with no-grief policy.
Players can join whether they are from the Java and Bedrock editions of Minecraft.
The server has different plugins that give rise to the game and voting can boost the ranks and perks free.
4. SnowFoxMC
Server IP address: play.snowfoxmc.net
SnowfoxMC is a custom PvE Survival server and it belongs to a couple of software engineers.
They have designed unique plugins to make it unique from other Minecraft servers.
The aim of them is to give the friendly community and the ideal Minecraft experience with paying attention to aesthetics.
With detailed in-game and out-of-game documentation, players can use the information by accessing it.
5. AsianSMP
Server IP address: AsianSMP.mcpocket.net
AsianSMP is a Cottagecore Minecraft SMP that has an Asian-themed map and without paywalls.
The focus of the server is to provide the ideal environment to players so they can make friends there.
At the starting point, the aim of the server was to create a fun place for the Asian friends of the creator's so they can hang out but later it was made available to the public.
The server also has multiple features such as grief prevention, player shops, and a custom resource pack to give rise to the overall experience.
What's Next
Top 5 Aesthetic Minecraft Servers
Top 7 Minecraft Servers With Guns
Arsalan Rauf is an entrepreneur, freelancer, creative writer, and also a fountainhead of Green Hat Expert. Additionally, he is also an eminent researcher of Blogging, SEO, Internet Marketing, Social Media, premium accounts, codes, links, tips and tricks, etc.