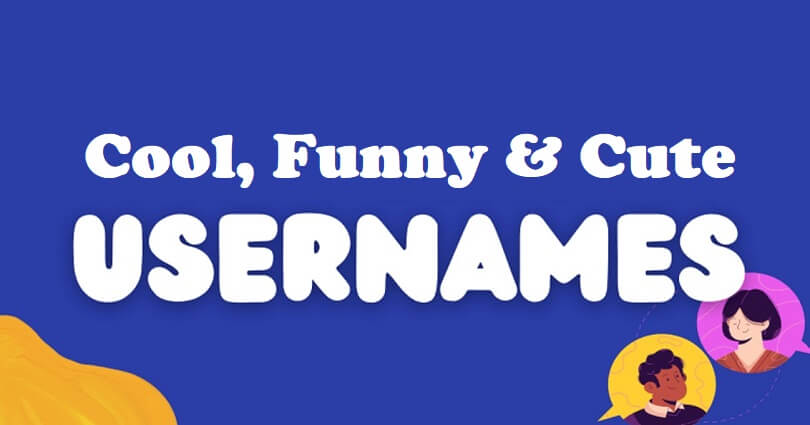 It is a hard task to choose a username because a lot of them are already taken.
Social media platforms including TikTok, Twitter and Instagram usernames are unique.
It means that you cannot choose the same username as someone else is using.
For instance, if someone is using "Peter" as a username, you will not be able to select it.
If you still want to use "Peter" as a username, add numbers or underscores to it.
However, when you use number or underscores in it, the username will not be attractive.
The reason behind it is that it will be hard to search for that username.
In this post, you will see a list of 200+ cool, funny, and cute usernames you can use for both boys and girls.
These usernames can be used in games, social media, and so on.
Cool usernames
Here's a list of cool usernames which can be used:
Crusader
Mythus
Legend
Devastation
Apostle
Zeus
Eclipse
Aether
Sacred
Ghost
Fury
Chaos
Amon
Vex
Nexus
Despair
Demon
Skeleton
Dusk
Venom
Surtur
Mythic
Glaive
Cataclysm
Predator
Apathy
Mercy
Endless
Raptor
Cryptic
Athelstan
Constant
Divide
Nether
Luminous
Omni
Deceiver
Saxon
Lennox
Element
Colossus
Titus
Galactus
Elder
Immortal
Gladius
Archivist
Demigod
Deity
Exile
Emperor
Fate
Horace
Potent
Nova
Cosmos
Divinity
Archaic
Galaxy
Astro
Prophesy
Augur
Herald
Sage
Titan
Godly
Celestial
Empyrean
Harbinger
Rune
Madden
Poseidon
Tranquil
Vandal
Elixir
Visionary
Celtic
Prophet
Seer
Collector
Zero
Crimson
Assassin
Behemoth
Leviathan
Guardian
Magic
Warden
Slayer
Arthur
Goliath
Ruin
Curator
Forbidden
Ancient
Turnus
Odin
Crisis
Creed
Phage
Reverent
Mystique
Affinity
Zephyr
Xenon
Jupiter
Shiro
Funny usernames
Here's a list of funny usernames that can be used by you:
LordBrain
KashRegister
DonaldDuck
WillieStroker
AlreadyTaken
HitlerMussolini
MikeLitoris
MoeLester
HymanShocker
RickRoll
DianaDbag
McDonaldBerger
JackDaniels
ChristianGuy
DejaViau
TahraDactyl
SukhDeep
PhatHo
MisterLove
KrystalBall
JackGoff
ManFuk
BudLight
DatBich
OliverLoser
GoldieLock
MozartPicasso
Cute usernames
Here's a list of cute usernames to use:
Kitty
Barbie
Bear
Rose
Angel
Baby
Princess
Ducky
Char
Sugar
Fluffy
Eve
Puppy
Babe
Ash
Maddy
Bunny
Belle
Kat
Yumi
Amber
Abbie
Ari
Blu
Alice
Muffin
Pixie
Destiny
Chloe
Claire
Meow
Pouty
Rawr
Doll
Cloudy
Emmy
Crybaby
Panda
Pumpkin
Kiwi
Penguin
Lilly
Zoe
Mia
Little
Bug
Missy
Sweetie
Honey
Sophie
Laura
Pudding
Darling
Duckling
Hun
Cutie
Bambi
Munchkin
Cupcake
How do I choose a cool username?
To choose a cool username, the best way is to keep it simple so it can be easy to remember.
Another way to get inspiration for cool usernames is to use Greek mythology on Wikipedia.
Greek mythology can give you inspiration for names related to gods, heroes, and creatures.
You can also use the synonyms of a word in order to select a cool username.
For instance, if you want to use "Victor" as a username but it's taken, you can go to the search engine of Google and search for "Victor synonyms" on Google.
After that, you can choose one of the synonyms of the word as a username.
What are OG usernames?
OG usernames are one-word usernames that are usually taken by new users of the game or social media sites.
Here is an example of an OG username "Hello".
This type of usernames can be auctioned for hundreds or thousands of dollars, keeping in view how rare or short it is.
The shorter the username, the more demanding it sells for.
Additionally, if the username is the real word in the English language, the price will be more.
What's a good username?
A username can be categorized as a good username if it is short, simple, and one that does not contain any numbers or special characters.
Here is an example of the username, "Alex".
However, it's very difficult to select a good username as most of them are already in use.
If your username is already taken, do not try to include numbers or special characters in it.
You can add other words to your username including "im", "iam", "the", or "its".
So, people will be able to search for it easily.
Your username will look more professional this way.
Final Words
In this article, I have tried my best to provide the best usernames for games and social media platforms.
These names are inspired by card games, Greek mythology, Discord, and actual words taken from the English Language.
Is your selected username is already taken?
If yes, you can use these few tricks and tips to use it.
First of all, try adding words to your username including "im", "iam", "the", or "its".
You can maintain your ideal username easily by adding a word to it and it is the easiest way to do this.
In the worst case, you need to use special characters or add numbers to the username.
However, it is not recommended as your username will not be easy to remember or remain suitable for you.
What's Next
Good, Aesthetic, and Cute Roblox Usernames
Good, Cool, And Aesthetic Usernames For Wattpad
Good, Aesthetic, and Best Reddit Usernames
Arsalan Rauf is an entrepreneur, freelancer, creative writer, and also a fountainhead of Green Hat Expert. Additionally, he is also an eminent researcher of Blogging, SEO, Internet Marketing, Social Media, premium accounts, codes, links, tips and tricks, etc.