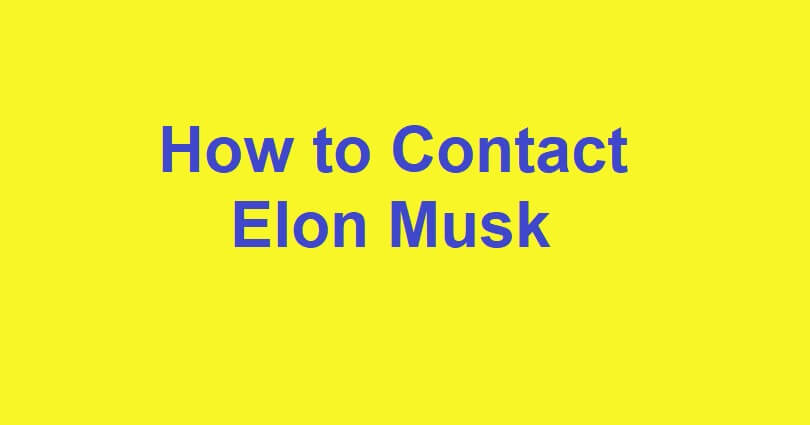 Elon Musk is one of the richest men in the world and is currently standing at the top of the list, he is an engineer and an inventor.
Elon is the CEO of different companies such as Tesla, SpaceX, Twitter (recently acquired), and so on.
Tesla is a company of energy and electric vehicles whereas SpaceX is a spacecraft launcher as well as the manufacturer.
He is on a mission to make humans a multi-planetary species by first reaching the mars.
Elon has now become one of the most famous people in the world, so, it will be hard to contact him.
In this article, I will tell you how to contact Elon Musk, what is his email address, and how to meet him in person.
How to contact Elon Musk
To contact Elon Musk, you can use Twitter to post a tweet and tagging @elonmusk or replying to one of his tweets.
You can also get in touch with Tesla's press, sending an email to Elon, or go viral on social media platform by using his name.
If your tweet gets a lot of engagement, he is more likely to reply to your tweet.
For instance, if you tag @elonmusk on Twitter in a tweet and you get more than 1k likes on it, he might notice it.
The reason behind it is that your tweet will be shown in his notifications more often.
Method 1. Contact him on Twitter
To contact Elon Musk on Twitter, you need to use his handle that is, @elonmusk.
After acquiring Twitter, Elon has become the CEO which is why he is more active on it.
Another method to receive a reply from Elon is to post a tweet about his companies and something interesting to attract him.
For instance, @emin_adin tagged Elon Musk and asked him if he can help Turkey with its communication systems by providing them with Starlink satellites.
Elon replied to him saying that Starlink is not approved by the Turkish government yet.
To notify him, you need to Make sure to tag @elonmusk so he will be able to know when someone responds to that tweet.
The more engaging your tweet is, the more notifications Elon will get.
If someone asks about Tesla, Elon frequently replies to those tweets.
For instance, @teslaownersSV tweeted this, "When is fsd beta v11.3?".
Elon replied to the tweet and said that he hopes to ship v11.3 by the end of next week.
Just keep in mind that your tweets should create a lot of engagement to attract the attention of Elon.
Method 2. Contact Tesla's press
You can use Tesla's email addresses to contact Elon and you can choose one of them as it has 4.
If you are a journalist, you can also use the above email addresses to ask him about his new or upcoming products.
Method 3. Send him an email
The email address of Elon Musk is elon@tesla.com.
According to an interview, Elon claimed that he is fairly responsive on email.
He also said that in an hour of crisis, an employee reminds him about it if he does not reply within 24 hours.
Additionally, he also said that he usually replies within 24 hours.
Despite his busy schedule, he still takes some time from his daily routine to reply to his emails personally.
He only responds to important emails forwarded by his employees.
In a Forbes interview, Elon stated the timing when he replies to emails that is, between 12 am and 3 am as he has the freest time.
He often gives short responses because he has to deal with a lot of emails.
This method also worked as Fidas managed to meet him in person by going viral on social media.
He started his journey on TikTok to get a hug from Elon Musk. It was based on daily challenges.
On the first day, he went to SpaceX and made a sign that said "Searching for Elon Musk".
The video went viral and got more than 1 million views and over 86k likes.
On the 21st Day, he met a popular YouTuber named Mr. Beast and asked him if there was a chance for him to meet Elon.
Mr. Beast replied, "Honestly, no. Thanks for coming by".
The video also went viral and got more than 15 million views and over 1.9 million likes.
Finally, on the eve of the 2023 World Cup, a kid requested Elon to hug Fidias.
After 69th day, Fidias traveled to the United States to finally hug him.
Method 5: Contact Him on Instagram
To contact Elon on Instagram, you need to go to his IG account and post a comment on one of his posts. He will reply to your comment if he finds it interesting or likes it.
Elon Musk's email address
The official email address of Elon Musk is elon@tesla.com.
Other Tesla's email addresses include: press@tesla.com, eupress@tesla.com, apacpress@tesla.com, and china-press@tesla.com.
The email address of Boring Company is tunnels@boringcompany.com.
How Do I Contact Elon Musk with an Idea?
To contact Elon Musk with an idea, you can write a letter and send him through mail. His mail address is Corporate Secretary, Tesla, Inc. 3500 Deer Creek Road, Palo Alto, CA 94304 United States.
Does Elon Musk Respond to Emails Directly?
Yes, he responds to emails directly within 24 hours and he told it to his Twitter staff.
Does Elon Musk Have a LinkedIn profile?
No, he does not have a LinkedIn profile because he cannot manage it due to the lack of time.
Does Elon Musk Have a Facebook Page or Account?
No, he does not have a Facebook page or account because he is currently managing two social media accounts including X (Twitter) and Instagram.
How Can I meet Elon Musk in person?
To meet Elon Musk in person, you need to go to a Tesla event.
The old events include Cyber Rodeo at Giga Texas, the Tesla Semi Delivery Event, the Tesla Semi Delivery Event, and the Model S Plaid Delivery Event.
Usually, Elon is the speaker/presenter of these events.
Cybertruck event is one of the most popular Tesla events.
To know about the latest events, you can use this link: https://www.tesla.com/events.
What's Next
Arsalan Rauf is an entrepreneur, freelancer, creative writer, and also a fountainhead of Green Hat Expert. Additionally, he is also an eminent researcher of Blogging, SEO, Internet Marketing, Social Media, premium accounts, codes, links, tips and tricks, etc.