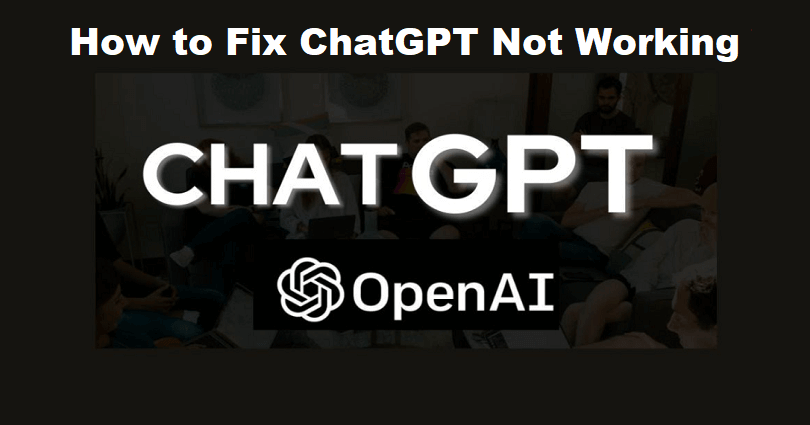 Is ChatGPT not working as it has to or it shows an error message?
The developer of ChatGPT is OpenAI and it is also an AI that replies you in a conversational manner.
You will get answer to follow-up queries, reject requests that are not appropriate and question assumptions.
This company is paying attention to developing and promoting advanced AI technology.
The aim of OpenAI is to build AI that helps humanity to do advanced research from AI.
In 2015, it was founded in San Francisco, California and the founders are Elon Musk and Sam Altman.
In this article, I will tell you why is ChatGPT not working or is it down and how to fix common errors with the AI.
Why is ChatGPT not working?
ChatGPT is not working because you have submitted incorrect formatted requests, insufficient data, network problems or API rate limitations.
Network or server issues will stop the AI from getting the model or retrieving responses.
Find out if the ChatGPT server is getting issues by visiting status.openai.com.
To prevent rate limited, you have to keep your requests simple and send them after breaks.
How to fix ChatGPT not working
To fix ChatGPT not working, the first task is to inspect if the server is down by navigating to this link status.openai.com.
If the server is working, try clearing your browser's cache and cookies or move to a different browser.
If the website is functional for a long time, you have to refresh it or sign out and log in again in order to make it work.
If you're being rate limited, you can create a new account too.
Solution 1: Check the status of OpenAI or wait for a few hours
Visit https://status.openai.com/ to know the status of OpenAI.
A green bar indicates that the service is working fine.
If you see either of red, orange, or light green bars, it means that it is down.
Wait for a few hours and start using ChatGPT again.
Solution 2: Clear your browser's cache
For Microsoft Edge: Edge > Three Dots > Settings > Privacy & services > Choose what to clear > Cached images and files + Cookies and other site data > Clear.
For Google Chrome: Chrome > Three Dots > More Tools > Clear browsing data > Cookies and other site data + Cached images and files > Clear data.
For Firefox: Firebox > Menu > Settings > Privacy & Security > Cookies and Site Data > Clear.
Solution 3: Use a different browser
Try to use ChatGPT on different browsers such as Chrome, Microsoft Edge, Firefox, or Brave.
If you're a desktop user of ChatGPT, try using it on a mobile device on Safari or Chrome.
Solution 4: Sign out and Sign in to ChatGPT
Click on "Log out" on the left sidebar to sign out.
Log in again to ChatGPT start using it.
Note: You can also refresh the page rather than log in again.
Solution 5: Create a new account
Log out of ChatGPT and sign up for a new account by clicking on "Sign up".
Create a new account from another email address.
Note: This process will help you to bypass rate limits.
What's Next
How to Fix "Too many requests" in ChatGPT
How to Fix "Err_too_many_redirects" in ChatGPT
How to Fix ChatGPT Network Error
Arsalan Rauf is an entrepreneur, freelancer, creative writer, and also a fountainhead of Green Hat Expert. Additionally, he is also an eminent researcher of Blogging, SEO, Internet Marketing, Social Media, premium accounts, codes, links, tips and tricks, etc.