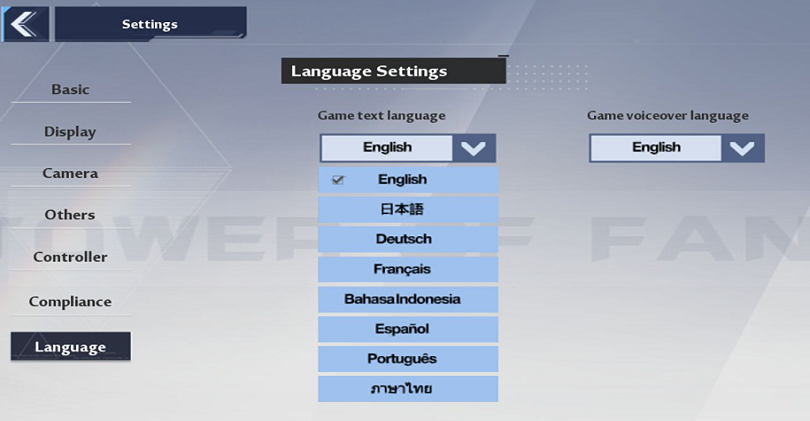 Tower of Fantasy is a new MMO open-world game by Hotta Studio and Perfect World.
The initial launch of the game was in China in their own language (Chinese).
However, the game was released globally on August 10, 2022.
By default, the text language of the game is English.
However, you can change it to other languages if you want to including Spanish or Portuguese.
In this post, I will tell you how to change the text language in Tower of Fantasy on PC and mobile (iOS or Android).
How to change text language in Tower of Fantasy
Firstly, open Tower of Fantasy and log in to your account.
On the top right, tap on the menu icon.
Select "Settings" to open your settings.
Select "Language" on the left sidebar.
Now, tap on the "Game text language" dropdown box.
Select the text language that you want to switch to.
Currently, Tower of Fantasy is supporting 9 text languages.
The languages are English, French, German, Indonesian, Japanese, Portuguese, Simplified Chinese, Spanish, and Thai.
Why can't I change the text language in Tower of Fantasy?
If you're using Tower of Fantasy on your PC and the option to change the text language is not visible to you, you need to change your Windows language and region to English.
If the button to change text language is not available for you, you have to change your windows language and region to English.
It can be done by searching for "Region Settings" using Windows Search > Language & Region > Windows display language.
Switch the Windows display language to your preferred language.
In the end, scroll down to "Region" and change your country.
On the other hand, you can delete or remove the "MyCultureName.ini" file from "TowerOfFantasy/Hotta/content/PatchPaks".
What's Next
How to Redeem Codes in Tower of Fantasy
How to Change Your Username in Tower of Fantasy
Tower of Fantasy Discord Server
Arsalan Rauf is an entrepreneur, freelancer, creative writer, and also a fountainhead of Green Hat Expert. Additionally, he is also an eminent researcher of Blogging, SEO, Internet Marketing, Social Media, premium accounts, codes, links, tips and tricks, etc.