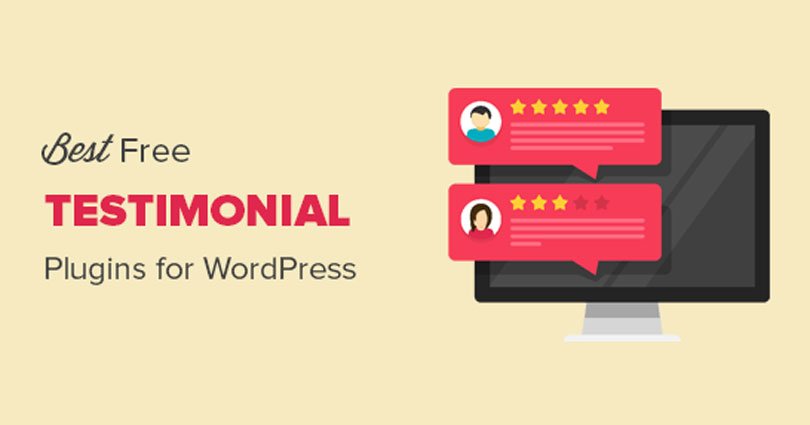 9 Best Testimonial Plugins for WordPress
Are you searching for the best testimonial plugins for your WordPress website?
Testimonials add social proof to your site that enables the visitors to trust your website. in this post, I have selected carefully the best WordPress testimonial plugins which you can use on your site.

Testimonial Rotator is the first WordPress testimonial plugin in my list which is easy to use. It enables you to create a testimonial carousel and add rotating testimonials anywhere on your site. In addition, you can also make multiple rotators and manually enter the data of customer including job title, feedback, and photo.

Do you want to allow your customers to submit reviews and display them on your website?
If yes, then you are at the right place.
It is because Easy Testimonials enables you to add customer feedback form to your site. So in this way, you can collect testimonials. You can also enter testimonials from the admin area of your WordPress manually.
After doing so, you can show testimonials using a simple shortcode with ease.
Testimonials Widget is another flexible WordPress testimonial plugin for your WordPress site. Apart from its name, it enables you to add testimonials anywhere on your site.
It has a sidebar widget allowing you to show testimonials in sidebars with ease. Testimonials are shown in a carousel with a beautiful slide-in and fade effects.

Strong Testimonials is another WordPress testimonial plugin for WordPress which is the most customizable plugin. It has multiple display options such as grid layout, testimonial slider, masonry layout, single column layout and so on.
It also has a custom form that enables your customers to add their testimonials and reviews with ease. If your customers are giving reviews on social media, then this plugin can also embed Twitter, Facebook and Youtube etc.

It is a complete testimonial management solution for your website and it is the 5th plugin in this list. It supports multiple display styles including sidebar widget and a feedback form to get user testimonials. User submitted testimonials use Gravatar to get the photo of the client. However, you can upload photos directly from the admin area of your WordPress manually.

WP Testimonials is one of the Best testimonial plugins for WordPress which is also highly customizable. It enables you to add testimonials and sort them into tags and categories.
After creating testimonials, you can show them with a shortcode. This shortcode has several parameters that enable you to customize the appearance of testimonials. The plugin also has a widget like a shortcode.

BNE Testimonials is also an easy option to use, to add testimonials on your site. It also has a shortcode and a sidebar widget to show testimonials with ease.
It consists of a slider and plain list layout for testimonials that inherits the style of your theme for display.

Testimonial has simple options that is why it is a straight forward WordPress testimonial plugin. You can select your own colors in it.
It supports draggable box items and enables you to select different fonts, text color, font sizes and featured photo. The plugin does not contain a rotator or slider therefore, testimonials will be shown in grid or list style.

Testimonial Slider seems to be a modern WordPress testimonial slider which improves the user experience. It has a slider as well as plain list layout. In addition, you can also add a front-end contact form to get customer testimonials.
You can add testimonials anywhere using the sidebar widget or shortcode. Testimonial slider is mobile friendly and works great on all size of screens.
I hope that you liked the post on Best Testimonial Plugins for WordPress.
You may also want to see my best PDF plugins for WordPress.
Do not forget to share this post.
Arsalan Rauf is an entrepreneur, freelancer, creative writer, and also a fountainhead of Green Hat Expert. Additionally, he is also an eminent researcher of Blogging, SEO, Internet Marketing, Social Media, premium accounts, codes, links, tips and tricks, etc.