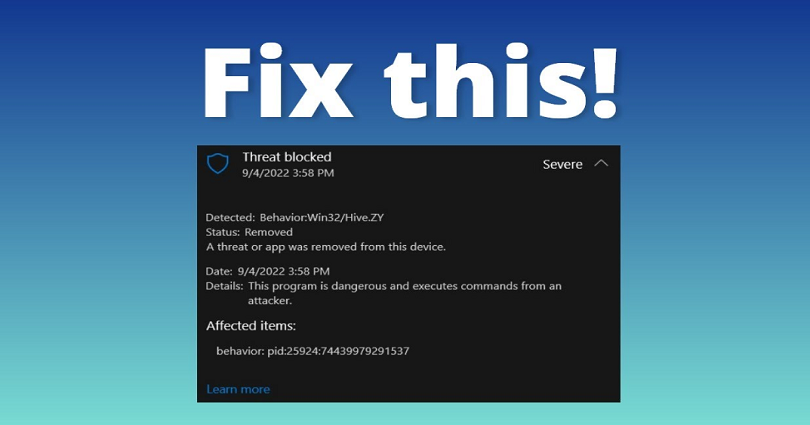 Are you facing a "Behavior:Win32/Hive.ZY" error message on Windows?
The error's detail is, "A threat or app was removed from this device".
"This program is dangerous and executes commands from an attacker".
"Affected items: behavior: pid:25924:74439979291537.
It displays that the threat is blocked and that the status of it is "Severe".
In this post, I will guide you on what is the "Behavior:Win32/Hive.ZY" threat on Windows Defender and how to fix it.
What is Behavior:Win32/Hive.ZY?
Behavior:Win32/Hive.ZY is a bug that is occurring due to the latest Microsoft Defender Antivirus update.
If you're encountering the threat, you do not have to worry about it because it's not an actual virus.
A lot of users are reporting the error on different forums including Reddit and the Microsoft Community.
Here is a comment from Apptils Horray, "Every time I open any chromium-based program, Windows Defender notifies me that it's found and removed the win32/hive.zy malware".
On Reddit, here is an example u/tooshiftyforyou, "A few minutes ago, I got a "threat detected" from Windows Defender for "Behavior:Win32/Hive.ZY". The notification quickly disappeared and it said that the threat had been taken care of".
"20 seconds later the same threat notification popped up again".
The post contains more than 1,600 upvotes in less than 9 hours and contains over 910 comments.
You will get the error message every time you open Google Chrome, Discord, Spotify and so on.
Don't panic as it's a bug with Electron-based or Chromium-based apps.
You are getting it because there is a false entry in the Windows Defender antivirus' database.
How to fix "Behavior:Win32/Hive.ZY" on Windows
To fix "Behavior:Win32/Hive.ZY" on Windows, your best bet is to wait for a new Microsoft Defender Antivirus update.
According to DaveM121, an Independent Advisor for the Microsoft Community, users are facing the threat due to the latest Microsoft Defender update.
The update is KB2267602 (Version 1.373.1508.0).
The threat is a false positive and it's a bug and thousands of users are reporting it around the globe.
For now, the Microsoft Defender Team is investigating the bug and the patch will be released soon for it.
You shouldn't click "Allow a threat" through Defender.
Do not try to update Chrome or Edge as the issue will not be fixed.
The bug is from Microsoft's side, and it affects more than just Chromium-based apps.
The error gets out when you open other apps like Windows Settings.
Currently, there is nothing you can do except waiting until Microsoft fixes the bug and releases a new update for Microsoft Defender.
Update: A fix has been released with the follow up update (Version: 1.373.1537.0), please "select Check for updates" in the "Windows Security Virus & threat protection" screen to update it.
What's Next
How to Fix Error Code 46 in Valorant
How to Fix KB5016691 Update Not Installing on Windows 11
How to Mod the Google Snake Game
Arsalan Rauf is an entrepreneur, freelancer, creative writer, and also a fountainhead of Green Hat Expert. Additionally, he is also an eminent researcher of Blogging, SEO, Internet Marketing, Social Media, premium accounts, codes, links, tips and tricks, etc.