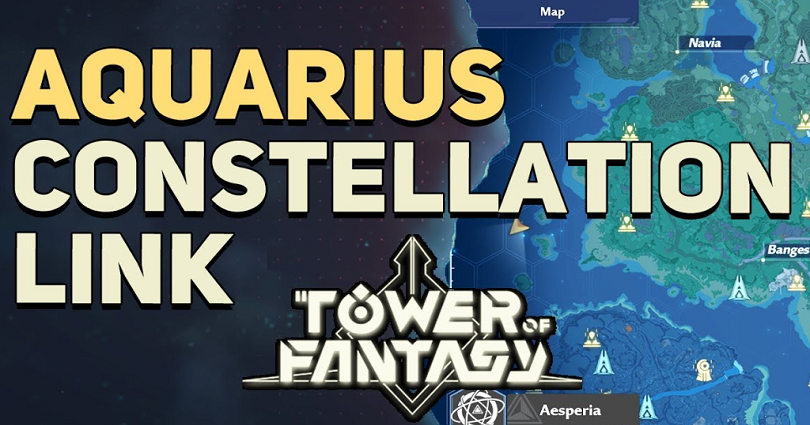 Tower of Fantasy is replete with activities that you can complete for rewards.
There are various rewards that you will get in the game including the gold nucleus, black nucleus, and so on.
You need to perform an activity that is to complete the constellation links.
It can be done by locating the smart telescopes in the game and interacting with them.
After interacting with a smart telescope, an incomplete constellation like the Aquarius link will be shown.
You will also see the name of the constellation.
You have to complete it to obtain a reward like a black nucleus.
However, you might not have any idea how to complete a constellation due to the lack of hints.
In this post, I will guide you on the location of the Aquarius constellation link and how to solve it in Tower of Fantasy.
Aquarius constellation link location in Tower of Fantasy
Link Location: North of Rose Garden, at the end of a cliff.
Coordinates: 512.3, 863.4.
Move to the end of the cliff and interact with the smart telescope.
How to solve the Aquarius constellation link
To solve the Aquarius constellation link, your goal is to form an "E" pattern.
After forming the "E" pattern, you will see "Connected".
You'll get 1x Black Nucleus (Proof of Special Order) for solving the puzzle.
Aquarius stands for "water-carrier" in Latin, and it represents water.
Aquarius is one of the oldest constellations and the 2nd century astronomer named Ptolemy listed it.
The brightest star known as Beta Aquarii is at an apparent magnitude of 2.9.
What's Next
Nut Tea Recipe in Tower of Fantasy
How to "Make a Fruit Cake" for Nico in Tower of Fantasy
Best Healing Food in Tower of Fantasy
Arsalan Rauf is an entrepreneur, freelancer, creative writer, and also a fountainhead of Green Hat Expert. Additionally, he is also an eminent researcher of Blogging, SEO, Internet Marketing, Social Media, premium accounts tips and tricks, etc.